Ever wondered how flossing can improve your overall health?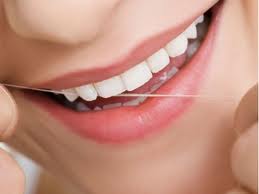 Reduce bad breadth
Flossing eradicates food particles caught between your teeth. Food particles slowly but surely rot in your mouth area unless eliminated and lead to tooth decay, and bad breath. Flossing helps to keep your teeth healthy and your breath fresh.
Prevent Gingivitis (Gum Disease) and Periodontal Disease
Over time, tartar buildup resulting from the failure to floss can cause inflammation in the mouth, which is called gingivitis, or gum disease. If not treated, gum disease can turn into Periodontal disease, which damages the bones that hold teeth in the mouth, and can eventually lead to tooth loss.
Prevent Heart Disease
Flossing daily helps to prevent gum disease. This is a well known fact. What is not so well known is that flossing protects your heart. Flossing your teeth on a daily basis helps to prevent heart disease in two ways. Here they are: flossing your teeth daily helps to keep your gums from becoming inflamed. Inflamed gums are filled with bacteria. That bacteria circulates through your system and ends up in your arteries. The bacteria sort of just sticks there and plaque builds up causing clogged arteries. Also, as an automatic response, your body's gum inflammation cause an immune response to the inflammation. This automatic defense response may also cause your arteries to narrow. You brush your teeth daily, isn't that enough? No. Brushing cannot clean under the gum line. Only flossing cleans that area and it is gum disease that may lead to heart disease.
Flossing reduces complications with Diabetes
There is evidence that diabetes can be aggravated when someone has gum disease. That's why oral hygiene measures of brushing and flossing are very important to accomplish. In addition, a person who suffers from diabetes has organs that usually heal more slowly. Tissue inflammation can therefore develop more rapidly, particularly at the gum level. It is very important to remove dental plaque and tartar regularly to avoid developing or complicating gum disease.
So, floss daily and add years to your life!