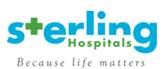 Sterling Hospital
Ahmedabad
Sterling Hospital Road,

Memnagar, Ahmedabad

,

Gujarat

-

380052
Website :

Best Hospital in Ahmedabad

One of the best Multi-Speciality hospitals in Ahmedabad based on the Week-NIELSEN Research national survey 2013.

NABH Accredited Hospital

This hospital is NABH accredited. National Accreditation Board for Hospitals & Healthcare Providers (NABH) is a constituent board of Quality Council of India, set up to establish and operate accreditation programme for healthcare organisations.
About Sterling Hospital, Ahmedabad
Sterling Hospital, Ahmedabad is 290 beds tertiary Care Set-up, known for its patient-centric approach, best-in-class medical facilities & quintessential care. Persisting on its corporate philosophy of patient centric approach, ethical medical practices, and world-class healthcare, Sterling, Ahmedabad has been offering a range of high quality medical and surgical care.

Sterling Hospital, Ahmedabad: Specialities
Anesthesiology

Bariatric Surgery

Bone Marrow Transplant

Cardiology

Critical Care

Dentistry

Dermatology (Skin)

Diabetology

Endocrinology

ENT (Otolaryngology)

Gastroenterology

Gynecology

Hematology

Joint Replacement Surgery

Laparoscopic Surgery

Liver Transplant

Neonatology

Nephrology

Neurology

Neurosurgery

Pediatric Surgery

Plastic & Reconstructive Surgery

Pulmonology

Renal Transplant

Rheumatology

Spine Surgery

Surgical Gastroenterology

Surgical Oncology

Urology
Sterling Hospital, Ahmedabad: Services
Special programmes include Bone Marrow Transplant, Liver Transplant & Renal Transplant
Blood Bank
Dialysis Unit
Molecular Lab
Pharmacy
Sterling Hospital, Ahmedabad: Doctors List
| Doctor Name | Specialisation | View Profile |
| --- | --- | --- |
| Dr. Hemang Baxi | Cardiology | |
| Dr. Kashyap Sheth | Pediatric Cardiology | |
| Dr. Kuldeepsingh Rohria | Dermatology (Skin) | |
| Dr. Smita Anish Nagpal | Dermatology (Skin) | |
| Dr. Tushar Rajani | Dermatology (Skin) | |
| Dr. Ruchir Shah | ENT (Otolaryngology) | |
| Dr. Navin Patel | ENT (Otolaryngology) | |
| Dr. Urmit Shah | Ophthalmology | |
| Dr. Kaushal Anand | Gastro Surgery | |
| Dr. Anup Gupta | Cardiology | |
| Dr. Gopal Patel | General Surgery | |
| Dr. Kiran Dave | Vascular Surgery | |
| Dr. Raj Bhagat | Allergy | |
| Dr. Shrenik Shah | Cardiology | |
| Dr. Sanjay Gupta | Cardiology | |
| Dr. Amol Agarwal | Cardiology | |
| Dr. Rasesh Pothiwala | Cardiology | |
| Dr. Ujjawal Soni | Dentistry | |
| Dr. Sudhanshu Patwari | Gastroenterology | |
| Dr. Nilay Mehta | Gastrointestinal Medicine | |
Reviews on Sterling Hospital, Ahmedabad
Write a Review on Sterling Hospital, Ahmedabad
Map of Sterling Hospital
Ahmedabad