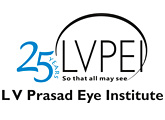 L V Prasad Eye Institute
Hyderabad
Kallam Anji Reddy Campus, L V Prasad Marg,

Banjara Hills, Hyderabad

,

Telangana

-

500034
Website :

NABH Accredited Hospital

This hospital is NABH accredited. National Accreditation Board for Hospitals & Healthcare Providers (NABH) is a constituent board of Quality Council of India, set up to establish and operate accreditation programme for healthcare organisations.

Best Ophthalmology Hospitals in India 2013

One of the best Ophthalmology hospitals in India based on the Week-NIELSEN Research national survey 2013.
About L V Prasad Eye Institute, Hyderabad
At L V Prasad Eye Institute, offer comprehensive patient care, clinical research, sight enhancement and rehabilitation, community eye health, education, and product development. LVPEI is also a World Health Organization Collaborating Center for Prevention of Blindness. Equipped with cutting-edge technology and distinguished professionals in the field of eye care,they emphasize on the provision of quality eye care to people from all sections of society.
L V Prasad Eye Institute is a non-profit organization governed by: the Hyderabad Eye Institute (HEI) and the Hyderabad Eye Research Foundation (HERF).

Awards
L V Prasad Eye Institute, Hyderabad: Awards & Certifications
L V Prasad Eye Institute Hyderabad are NABH accredited
Timings
L V Prasad Eye Institute, Hyderabad: Timings
News & Articles
L V Prasad Eye Institute, Hyderabad: News & Articles
Gallery
L V Prasad Eye Institute Gallery
L V Prasad Eye Institute, Hyderabad: Specialities
L V Prasad Eye Institute, Hyderabad: Services
L V Prasad Eye Institute, Hyderabad: Doctors List
| Doctor Name | Specialisation | View Profile |
| --- | --- | --- |
| Dr. Virender Singh Sangwan | Ophthalmology | |
| Dr. Bhupesh Bagga | Ophthalmology | |
| Dr. Sayan Basu | Ophthalmology | |
| Dr. Sunita Chaurasia | Ophthalmology | |
| Dr. Prashant Garg | Ophthalmology | |
| Dr. Pravin V Krishna | Ophthalmology | |
| Dr. Varsha Rathi | Ophthalmology | |
| Dr. Mukesh Taneja | Ophthalmology | |
| Dr.C. Jagadesh Reddy | Ophthalmology | |
| Dr. Rohit Khanna | Ophthalmology | |
| Dr.K. Madhavi Latha | Ophthalmology | |
| Dr. Rajeev R Pappuru | Ophthalmology | |
| Dr. Jay Chhablani | Ophthalmology | |
| Dr. Subhadra Jalali | Ophthalmology | |
| Dr. Annie Mathai | Ophthalmology | |
| Dr. Raja Narayanan | Ophthalmology | |
| Dr. Padmaja Kumari Rani | Ophthalmology | |
| Dr. Mudit Tyagi | Ophthalmology | |
| Dr. Preetam Kumar | Ophthalmology | |
| Dr. Veerendranath Pesala | Ophthalmology | |
Reviews on L V Prasad Eye Institute, Hyderabad
Write a Review on L V Prasad Eye Institute, Hyderabad
Map of L V Prasad Eye Institute
Hyderabad