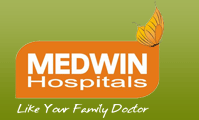 Medwin Hospitals
Nampally
Raghava Ratna Towers,

Nampally, Hyderabad

,

Telangana

-

500001
Website :

Best Hospital in Hyderabad

One of the best Multi-Speciality hospitals in Hyderabad based on the Week-NIELSEN Research national survey 2013.
About Medwin Hospitals, Nampally
One of the finest hospitals of the subcontinent located in Hyderabad, Andhra Pradesh, India. The deeply ingrained credo Healthcare with a smile has earned Medwin Hospitals accolades and acclaim from more than 150 private and public sector enterprises that rely on Medwin Hospitals for treatment of their employees. Over the years, it has constantly evolved the quality of super-specialty healthcare. So much so, that today the name of Medwin Hospitals is synonymous with excellence in healthcare.
Medwin Hospitals, Nampally: Specialities
Anesthesiology

Cardiology

Cardiothoracic Surgery

Dermatology (Skin)

Endocrinology

Gastroenterology

General Surgery

Micro-Biology

Nephrology

Neurology

Neurosurgery

Obstetrics and Gynecology

Oncology

Ophthalmology

Orthopedics

Pathology

Pediatrics

Physiotherapy

Psychiatry

Pulmonology

Radiology

Rheumatology

Surgical Gastroenterology

Surgical Oncology

Urology

Vascular Surgery
Medwin Hospitals, Nampally: Services
Out Patient Service
Day Care Centre
In Patient Service
Emergency Care
Intensive Care Unit
Operation Theatre
Special Diagnostic Lab
Dialysis Centre
Laboratory Service
Blood Bank
Health Check-ups
Sleep lab
Pharmacy 24x7
Medwin Hospitals, Nampally: Doctors List
| Doctor Name | Specialisation | View Profile |
| --- | --- | --- |
| Dr. Ramakrishna | Anesthesiology | |
| Dr. Sudha Bandarkar | Anesthesiology | |
| Dr. Padmini Kumari | Anesthesiology | |
| Dr.B. Ramesh Babu | Interventional Cardiology | |
| Dr.C. Shankunhtala | Cardiology | |
| Dr. Immamuddin | Cardiology | |
| Dr. Subba Reddy | Cardiology | |
| Dr. KMK Reddy | Cardiology | |
| Dr. Chandrakanth | Dentistry | |
| Dr. Sateesh Reddy | Dentistry | |
| Dr. Kiran Kumar | Dermatology (Skin) | |
| Dr.K.D. Modi | Endocrinology | |
| Dr. Ramesh Kumar | Gastroenterology | |
| Dr. Aslam Abbas | General Medicine | |
| Dr. Girsh Narayan | Nephrology | |
| Dr. Ratan Jha | Nephrology | |
| Dr.B. Srinivas Rao | Nephrology | |
| Dr.M.K. Singh | Neurology | |
| Dr.G. ShivaKumar | Oncology | |
| Dr.P. Srinivasan | Oncology | |
Reviews on Medwin Hospitals, Nampally
Write a Review on Medwin Hospitals, Nampally
Map of Medwin Hospitals
Nampally