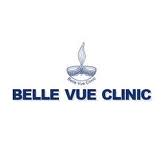 9, Dr. U. N. Brahmachari Street,

Formerly Loudon Street, Kolkata

,

West Bengal

-

700017

Best Hospital in Kolkata

One of the best Multi-Speciality hospitals in Kolkata based on the Week-NIELSEN Research national survey 2013.
About Belle Vue Clinic, Kolkata
Kolkata's premier medical care institution, Belle Vue Clinic, which has established a name for excellence, is a dream come true for its founder, the Late M. P. Birla and his wife, Late Smt. Priyamvada Birla.
Kolkata's most trusted premier health care institution since 1967 at affordable costs
Belle Vue Clinic is a multi speciality tertiary care hospitals with 7 operation theatres, HDU, ITU, ICCU, CCU, NICU, Generl Bed, Semi Private, Private and Deluxe Suits
Awards
Belle Vue Clinic, Kolkata: Awards & Certifications
Timings
Belle Vue Clinic, Kolkata: Timings
News & Articles
Belle Vue Clinic, Kolkata: News & Articles
Gallery
Belle Vue Clinic, Kolkata: Specialities
Andrology

Ayurveda

Cardiology

Cardiothoracic Surgery

Dietetics

ENT (Otolaryngology)

Nephrology

Ophthalmology

Pathology

Physiotherapy

Plastic Surgery

Urology
Belle Vue Clinic, Kolkata: Services
AmbulanceBlood Bank
Bronchoscopy
Blood Bank
CCU & ICCU
Colonoscopy
Operation Theaters
Belle Vue Clinic, Kolkata: Doctors List
| Doctor Name | Specialisation | View Profile |
| --- | --- | --- |
| Dr.(Prof). Monotosh Panja | Cardiology | |
| Dr. Sayan Ganguly | ENT (Otolaryngology) | |
| Dr.C.M. Pradyumna | Ayurveda | |
| Dr. Anirban Biswas | Neurology | |
| Dr. Sudipta Chandra | ENT and Head & Neck Surgery | |
| Dr.P.S. Mukherjee | Critical Care | |
| Dr. Himansu K. Dasmahapatra | Cardiothoracic Surgery | |
| Dr.(Prof). Arup Dasbiswas | Cardiology | |
| Dr. Sibananda Dutta | Cardiology | |
| Dr. Jayita Chakrabarti | Obstetrics and Gynecology | |
Reviews on Belle Vue Clinic, Kolkata
Write a Review on Belle Vue Clinic, Kolkata
Map of Belle Vue Clinic
Kolkata