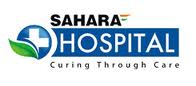 Gomti Nagar,

Lucknow

,

Uttar Pradesh

-

226010
Website :

Best Hospital in Lucknow

One of the best Multi-Speciality hospitals in Lucknow based on the Week-NIELSEN Research national survey 2013.
About Sahara Hospital, Lucknow
Sahara India Pariwar, one of the largest business groups of India has entered the Healthcare sector with a view to become the Best and the Largest Player in this fast growing sector.


The first of the three planned super-specialty hospitals is operational in Lucknow, Uttar Pradesh, India. Presently operating with 250 beds (expandable to 554 beds). Sahara Hospital Lucknow is poised to become one of the top hospitals in Asia.
Sahara Hospital, Lucknow: Specialities
Anesthesiology

Audiology and Speech Therapy

Bariatric Surgery

Breast Surgery

Cardiology

Cardiothoracic Surgery

Cardiovascular Surgery

Cosmetology

Critical Care

Dentistry

Dermatology (Skin)

Dietetics

Emergency Medicine

Endocrinology

ENT (Otolaryngology)

Gastro Surgery

General Surgery

Internal Medicine

Interventional Radiology

Maxillofacial Surgery

Medical Oncology

Micro-Biology

Neonatology

Nephrology

Neuro Psychiatry

Neurology

Neurosurgery

Obstetrics and Gynecology

Oncology

Ophthalmology

Orthopedics

Pain Management

Pathology

Pediatric Surgery

Pediatrics

Physiotherapy

Plastic Surgery

Preventive Medicine / Wellness

Psychiatry

Pulmonology

Radiology

Rheumatology

Sports Medicine

Surgical Oncology

Transfusion Medicine

Urology
Sahara Hospital, Lucknow: Services
Sahara Hospital, Lucknow: Doctors List
| Doctor Name | Specialisation | View Profile |
| --- | --- | --- |
| Dr. Sujan Singh | Cardiac Anesthesia | |
| Dr. Meenakshi Krishna Moorthy | Cardiac Anesthesia | |
| Dr. Tushar Kanti Lala | Cardiac Anesthesia | |
| Dr. Rajiv Lakhotia | Cardiac Anesthesia | |
| Dr. Soumya Sankar Nath | Anesthesiology | |
| Dr. Aarti Agarwal | Anesthesiology | |
| Dr. Adesh Kumar Srivastava | Anesthesiology | |
| Dr. Sundeep Pawar | Anesthesiology | |
| Dr. Mohammad Farrukh Ansari | Anesthesiology | |
| Dr. Shahid Rauf Siddiqui | Anesthesiology | |
| Dr. Mansoor Hasan | Cardiology | |
| Dr. Nakul Sinha | Cardiology | |
| Dr.R.K. Mishra | Cardiology | |
| Dr. Naveen Jamwal | Interventional Cardiology | |
| Dr. Vinod Tewari | Interventional Cardiology | |
| Dr. Ahmad Imran Hanfi | Cardiology | |
| Dr. Shekher Tandon | Cardiothoracic Surgery | |
| Dr. Shilpi Sahai | Critical Care | |
| Dr. Indu Shrivastava | Critical Care | |
| Dr. Depali Mohanty | Critical Care | |
Reviews on Sahara Hospital, Lucknow
Write a Review on Sahara Hospital, Lucknow
Map of Sahara Hospital
Lucknow