Shree Giriraj Multispecialty Hospital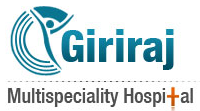 Shree Giriraj Multispecialty Hospital
Rajkot
150 ft Road,

27, Navjyot Park Main Road, Rajkot

,

Gujarat

-

360004
Website :
About Shree Giriraj Multispecialty Hospital, Rajkot
Shree Giriraj multi-specialty Hospital is one of the best multi-specialty hospitals in the Rajkot which provide quality health care at a competitive rate. Shree Giriraj hospital is located at 150 feet ring road, Amin marg cross road,Rajkot ,Gujarat ,India. The hospital would be the forefront of medical technology and expertise and provide a complete range of the latest diagnostics, medical and surgical facilities for the care of its patients. The hospitals have wide range of services and specialties, equipment and technologies, ambience and service quality.
The hospital would play a pivotal role in meeting the medical needs of the region. The facility provided will be of quality standards in terms of hospital infrastructure and advanced technology which would ensure attracting the best of medical professionals. Highly qualified and experienced specialist consultants in various departments would be supported by a dedicated team of doctor, nurses, technicians and Management staff.
Awards
Shree Giriraj Multispecialty Hospital, Rajkot: Awards & Certifications
Timings
Shree Giriraj Multispecialty Hospital, Rajkot: Timings
News & Articles
Shree Giriraj Multispecialty Hospital, Rajkot: News & Articles
Gallery
Shree Giriraj Multispecialty Hospital Gallery
Shree Giriraj Multispecialty Hospital, Rajkot: Specialities
Anesthesiology

Bariatric Surgery

Critical Care

Dermatology (Skin)

General & Laparoscopic Surgery

Internal Medicine

Joint Replacement Surgery

Maxillofacial Surgery

Neurosurgery

Orthopedics

Pulmonology
Shree Giriraj Multispecialty Hospital, Rajkot: Services
Fully equipped waiting area
Pharmacy
X - Ray
USG & ECHO
Trade meal Test and ECHO facilities
Shree Giriraj Multispecialty Hospital, Rajkot: Doctors List
Reviews on Shree Giriraj Multispecialty Hospital, Rajkot
Write a Review on Shree Giriraj Multispecialty Hospital, Rajkot
Map of Shree Giriraj Multispecialty Hospital
Rajkot