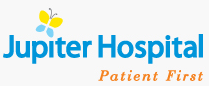 Eastern Express Highway,

Thane

,

Maharashtra

-

400601
Website :

NABH Accredited Hospital

This hospital is NABH accredited. National Accreditation Board for Hospitals & Healthcare Providers (NABH) is a constituent board of Quality Council of India, set up to establish and operate accreditation programme for healthcare organisations.
About Jupiter Hospital, Thane
Jupiter Hospital is a 325-bed hospital with various specialties spread across seven storeys. We house one of South Asia's finest Cancer Care Clinic, best in class Cardiac Care, the region's largest Paediatric Facility, Liver and Kidney Transplantation Facility, Bone and Joint Care, Neuro ICU, Fertility and IVF Facility, a robust laboratory and complete diagnostic facilities to name a few.
Jupiter Hospital, Thane: Specialities
Anesthesiology

Cardiology

Critical Care

Dermatology (Skin)

Endocrinology

ENT (Otolaryngology)

Gastroenterology

General Medicine

General Surgery

Hematology

Histopathology

Interventional Cardiology

IVF & Infertility

Joint Replacement Surgery

Liver Transplant

Micro-Biology

Nephrology

Neurology

Neurosurgery

Obesity

Oncology

Orthopedics

Pain Management

Pathology

Pediatric Cardiology

Pediatric Endocrinology

Pediatric Hematology & Oncology

Pediatric Rheumatology

Pediatric Surgery

Pediatrics

Pediatrics & Neonatology

Physical Medicine and Rehabilitation

Physiotherapy

Plastic Surgery

Psychiatry

Pulmonology

Radiology

Surgical Oncology

Urology
Jupiter Hospital, Thane: Services
Six Operation Theatres
four of which are equipped to handle all Cardiac cases
53 bedded Intensive Care Unit with state of art equipments
Stress Test
Stress Contrast Echo
2D Echo Cardiograph
Holter Monitoring
Ambulatory B.P Monitoring
Dobutamine stress Echoes, Transoesophageal Echoes, Intraoperative TEE and Foetal Echoes are done here
Removal of gall bladder
Appendix
Colon
ventral, inguinal, hiatus, incisional, diaphragmatic
Adrenal gland
Spleen
Stomach
Bariatric surgery
Liver
Pancreatic surgeries
Nephrectomy, pyeloplasty, kidney cyst, tumours
GERD, achalasia, candia & thoracoplasties
Hysterectomy, ovarian cyst and gynaec related surgeries
Jupiter Hospital, Thane: Doctors List
| Doctor Name | Specialisation | View Profile |
| --- | --- | --- |
| Dr. Kumudini Golam | Anesthesiology | |
| Dr. Sonali Saraf | Anesthesiology | |
| Dr. Sunita Bamane | Anesthesiology | |
| Dr. Amrapali Naik | Anesthesiology | |
| Dr. Sarika Desai | Anesthesiology | |
| Dr. Sneha Vaswani | Anesthesiology | |
| Dr. Niranjan Waje | Anesthesiology | |
| Dr. Bhaskar Shah | Interventional Cardiology | |
| Dr. Vijay Surase | Interventional Cardiology | |
| Dr.B.C. Kalmath | Interventional Cardiology | |
| Dr. Ashish Nabar | Interventional Cardiology | |
| Dr. Mahesh Singh | Cardiothoracic Surgery | |
| Dr. Prashant Jawale | Cardiothoracic Surgery | |
| Dr. Anil Tambe | Interventional Cardiology | |
| Dr. Alpa Dalal | Chest Physician | |
| Dr.S. Raju | Chest Physician | |
| Dr. Mehul Thakker | Chest Physician | |
| Dr. Ravindra Rupvate | Chest Physician | |
| Dr. Manoj Maske | Chest Physician | |
| Dr. Dattatray Sonawane | Dermatology (Skin) | |
Reviews on Jupiter Hospital, Thane
Write a Review on Jupiter Hospital, Thane
Map of Jupiter Hospital
Thane