26 Weeks Old Neonatal Twins Delivered at Motherhood, Hyderabad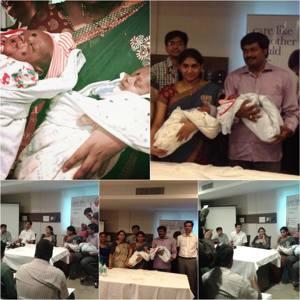 Hyderabad—September 2014— Pre-mature identical twins weighing 744 grams and 788 grams each were delivered at Motherhood, Hyderabad in September this year. The pre-mature twins were kept in the Motherhood Neonatal Intensive Care Unit (NICU) for 3 months under close observation by the neonatal team which is led by Dr. Kiran Kumar Damera. The twins' responded well to the treatment and weighed weigh 2.2 kgs and 2.8 kgs each, at the time of discharge.
Mrs. Satya Keerthi, a software engineer by profession, was admitted at Motherhood - Hyderabad at 26 weeks of her pregnancy in established labour. Dr. Jayasree Reddy, Consultant Obstetrician & Gynaecologist at Motherhood - Hyderabad delivered the twins safely. The neonatology team was led by Dr. Kiran Kumar Damera, a full time Neonatologist with more than 10 years of experience at various hospitals in India and UK.
Neonatology is a sub-specialty of paediatrics, for intensive care of sick newborns & premature babies. The NICU at Motherhood is categorized as level III, dedicated to care for neonates requiring intensive and special care. The Motherhood NICU is equipped with incubators, high-end ventilators, bubble CPAP machines, high proficiency monitors, phototherapy units and arterial blood gas machines.
The NICU at Motherhood has facilities for Kangaroo Mother Care (KMC) for preterm newborns which encourages breast milk pumping and provides storage provisions. In addition, the newborns at Motherhood are comprehensively checked. The screening is done with a simple test, in which few drops of blood from the newborn baby's heel is extracted and tested for early detection of any disorders. The neonatology team at Motherhood consists of 3 Neonatologist providing round the clock monitoring and supporting the 9 NICU units, assisted by 6 trained neonatal nurses and 4 pediatric registrars who are proficient in taking care of sick and preterm neonates.
Motherhood is a chain of single specialty premium birthing boutique. With centres in Bangalore, Chennai and Hyderabad, Motherhood has to its achievement over 1000 gynaec procedures, 3,500 deliveries and more than 60,000 consultancies in a span of 36 months. Being a premium boutique birthing center, standing for exclusivity and personalized care, Motherhood provides the state of the art infrastructure, expert services leading to a carefree pregnancy.
About Motherhood Hospital
Motherhood is a premium specialty birthing boutique with state-of-the-art facility and gynaecology, obstetrics and paediatric services. A chain of Bangalore-based Rhea Healthcare, Motherhood was first set up in Bangalore in the year 2011. In a span of 36 months, Motherhood has branches in Chennai, Hyderabad and two units in Bangalore, with a third unit scheduled to be launched shortly in Hebbal (Bangalore).
At MotherhoodLDR (Labour, Delivery, Recovery) Rooms that converts ones homely rooms into a fully functional medical setup within minutes without the need to move, an impressive nurse to patient ratio leading to a higher responsiveness level for any kind of doubts, 2 well-equipped Operation Theatres, a level 3 Neonatal Intensive Care Unit catered to by a team of dedicated neonatologists from the best centers in the world and a Maternal Intensive Care Unit to ensure the highest standards of safety for the new born and the mother.
With a 24/7 coverage with qualified specialists, Motherhood is all about setting standards in healthcare delivery. Motherhood was also the first center to emphasize the importance of fetal medicine and Anomaly Scans.