Amputated hands Reattached at CARE Hospitals Vizag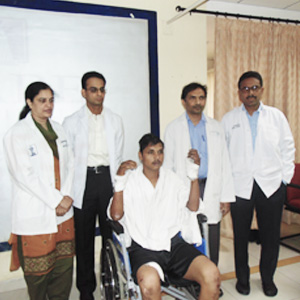 A 29-year-old driver Mr. Sunil Mahankuda whose both hands was amputated in a mishap and both the hands got cut completely had undergone a successful surgery at CARE Hospitals Vizag here on 7th October 2013.
Patient named Mr. Sunil Mahankuda came to casualty, CARE trauma center, Maharanipeta, VIZAG on 7/10/2013 at 12:46am with history of amputation of both hands due to attack with knife by known persons on 6/10/2013 around 4pm at Paligumada ,Berhampur, Odisa. Both hands were brought properly preserved. They are kept in a polythene bag which was kept in an ice box. On examination it was found that both hands were amputated through wrist (carpal bones). Patient was immediately resuscitated & prepared for surgery. A team of plastic surgeons involving Dr P.R.K. Prasad & Dr C.V. Subba reddy and critical care specialists Dr Mohan Maharaj & Dr T.L. Rani, took him for surgery around 2 am & both hands were reattached simultaneously. The surgical Procedure lasted for 8hrs. Two weeks following surgery both hands are doing well & patient is able to move fingers. The amputated part was successfully fixed and both the hands were re-established. Patient is driver by occupation and we hope that he will be able to return to his profession.
In the photo you can see(L T R)Dr.Laxmi Rani, Critical Care Dr.Subba Reddy, Plastic Surgeon Dr.ERK Prasad, Plastic Surgeon Dr.Mohan Maharaj ,Chief Critical Care and Recovered Patient Mr. Sunil Mahankuda also seen