Citizens Hospitals Doctors Partner with International Experts to Offer Revolutionary Procedures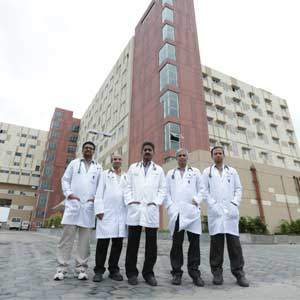 4 August 2014 – As part of the Indian edition of the world's leading medical conference for interventional cardiovascular medicine, Transcatheter Cardiovascular Therapeutics, heart specialists from Citizens Hospital partnered with physicians from Germany, US and India to offer revolutionary minimally-invasive procedures to patients suffering from heart ailments but who are too frail to undergo more traditional, invasive surgical methods. As a result of using these minimally-invasive methods, doctors were able to treat two patients with complex heart ailments in a way that offers not only a cure but a significant reduction in risk and dramatically faster recovery time.
In one case, conducted led by Chairman of Cardiovascular Sciences and Chief Cardiologist at Citizens Hospital, Dr. Sreenivas A. Kumar, MD, a 70 year-old man with a large aortic aneurysm, or potentially life-threatening bulge in the main vessel that carries blood to the body, underwent a percutaneous procedure to seal the aneurysm with a good result. In a percutaneous procedure, doctors make a few small punctures and deliver surgical instruments through small tubes called catheters, rather than making a very large incision and physically exposing the aneurysm for repair. Consequently, this method expands therapy options for many patients with high risk profiles.
"Use of the percutaneous method was particularly advantageous for this patient," commented Dr. Sreenivas. "Because this patient had recently had both kidney surgery and cardiac bypass, attempting this repair through a conventional, open surgical method presented too much risk. However, through the use of a catheter-based approach, our team was able to complete the procedure successfully and expect to be able to discharge the patient in about two days, meaning the patient will spend far less time in the hospital and far less time recovering." Dr. Horst Sievert, MD, Professor of Medicine and HOD Cardiology and Vascular Medicine, Sankt Katharinen Hospital in Frankfurt, Germany, Dr. Narendra Nath Khanna, MD from New Delhi and Dr. P C Gupta, MD from Hyderabad all played roles in this procedure.
In another case, a team of international heart specialists including Dr. Sreenivas; Dr. Gokul M. Reddy, MD, Director of the Cardiac Catheterization Lab at Citizens Hospital; Dr. Martin Leon, MD, Professor of Medicine at Columbia University Medical Center and Director of the Center for Interventional Cardiac Catheterization Laboratories at New York Presbyterian / Columbia University Medical Center; and Dr. Susheel Kodali, MD, Assistant Professor of Medicine at Columbia University Medical Center and Director of the Heart Valve Program at New York Presbyterian / Columbia University Medical Center operated on a 60 year-old with damage to three arteries in his heart. Together, they used an innovative imaging technique called OCT (Optical Coherence Tomography) and another novel approach called FFR (Fractional Flow Reserve).
OCT lets doctors construct live, in-motion 3-D images of the blood vessels they are repairing. Because it uses light to construct images, OCT can provide a clearer picture than some other, more conventional modalities and also requires no use of radiation to acquire an image. With FFR, doctors take precise pressure measures determine exactly how much a coronary artery blockage impedes oxygen flow to the heart muscle. Without FFR, doctors rely only on a visual interpretation of a blockage's impact, whereas FFR tells them its exact impact, giving them much more precise information on where to place a stent, a small metal tube designed to prop open coronary arteries clogged with dangerous fatty build-up.
"Both OCT and FFR are among the many leading-edge therapy options offered by Citizens Hospital's heart care team," stated Dr. Gokul. "We have taken great care in working with leading international heart care technology companies to build a cath lab that offers Indian patients all of therapy options available at top cath labs worldwide. As a result of them, this patient avoided a complex surgery, was treated successfully with a single cardiac stent and will return to daily living much more quickly than with surgery." This case marks only the second time Dr. Leon, who has spoken at conferences and conducted cardiac procedures around the world, has participated in a procedure in India.
Participating in the conference and offering these innovating procedures, which were broadcast as an educational forum for more than 1,000 other heart doctors throughout the country, reflect Citizens Hospital's commitment to connect Hyderabad's medical community with leaders in the global medical community and, most importantly, to expand access to world-class cardiac care for Indian patients. "Citizens Hospital has made a point of forging international collaborations wherever possible to advance the state of healthcare in India and offer our patients the most advanced therapy options possible," added Dr. Rampapa Rao Ambati, MD, President of Clinical Affairs and COO, Citizens Hospital.
About Citizens Hospital
Citizens Hospital provides protocol-driven healthcare based on the latest medical evidence across a broad range of medical specialties for inpatients and outpatients. It coordinates care in a way that emphasizes the needs of patients first. Citizens Hospital values quality and invests in technology proven for clinical effectiveness. Its medical staff consists of experts recognized not only for their clinical abilities but their ability to work as a team to get the best outcomes for patients and extend top-level care with compassion. The hospital places a high emphasis on exceeding rigorous quality benchmarks related to safety and performance. It has struck strategic partnerships with firms possessing similar objectives. These aspects of Citizens Hospital combine to drive its primary mission of bringing the world's top healthcare standards to India.
About FACTS Foundation, Cardiovascular Research Foundation (CRF) and Transcatheter Cardiovascular Therapeutics (TCT)
The FACTS Foundation is an independent, academically focused non-profit foundation dedicated to improving the survival and quality of life for people with cardiovascular disease through high-quality research and education. Since its inception in 2009 FACTS has played a major role in linking up with Indian Cardiologists and those in USA aiming for dramatic improvements in the lives of countless numbers of patients by establishing the safe use of new technologies and therapies in interventional cardiovascular medicine and also innovate new methods of prevention to combat the dramatic rise of epidemic of Coronary artery disease in india. "Transcatheter Cardiovascular Therapeutics (TCT) India Next," the annual scientific symposium of FACTS & CRF, is the India's premier educational meeting specializing in interventional cardiovascular medicine. For more information, visit www.acvs.in , www.tctindia.in. and www.facts foundation.in., www.crf.org.