Dengue vaccine shows promise in first trial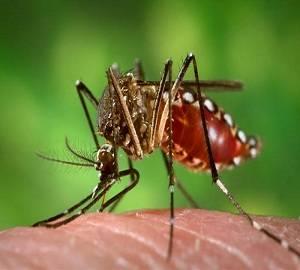 An experimental vaccine for dengue has produced promising results in its first clinical trial.
Dengue fever is caused by a virus transmitted by mosquitoes. Some infections are mild, while others are severe and debilitating, and can lead to death. The World Health Organization estimates that 40 percent of the world's population is at risk for contracting the disease. There are no vaccines or particularly effective dengue treatments now, so finding a potent vaccine would be a big deal.
It is thought to be endemic in more than 100 countries and has become increasingly common in recent years.
Several possible dengue vaccine candidates are currently in development, but the new results are the first to be published showing that an effective and safe dengue vaccine may be possible. Researchers based in France and Thailand tested the effectiveness of a vaccine candidate called CYD-TDV on a group of 4002 schoolchildren in Thailand, aged from four to eleven years old. The trial took place in Thailand because dengue is known to be endemic in this area, and local residents have a good awareness of the disease and its symptoms.
Tests on 4,002 Thai schoolchildren, aged four to 11 years, revealed that the CYD-TDV vaccine was effective against three of the four related viruses that cause dengue.
Furthermore CYD-TDV appears to be safe and well-tolerated, with no vaccine-related serious adverse events being reported in the group who received it.
Study co-author Dr Derek Wallace, from pharmaceutical company Sanofi Pasteur, said: 'Our study constitutes the first ever demonstration that a safe and effective dengue vaccine is possible.'
Dr Wallace revealed that further clinical trials are now underway in a number of countries.
'Our hope is that the positive results of this trial will be confirmed by these larger studies, taking place in a wide range of epidemiological settings,' he added.