Hepatitis B Vaccination And Awareness Camp With Actress Samantha's NGO Pratyusha Support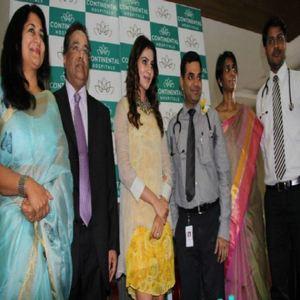 Hepatitis B vaccination and Awareness Camp for Children At Continental Hospitals, 8th October 2014
Continental Hospitals and Actress Samantha's NGO 'Pratyusha' organized a 'Hepatitis B Vaccination and Awareness Camp' on 8th October at the Hospitals premises. Children from 'Pratyusha Support' were given the first dose of the Hepatitis B vaccinations by Dr Anjul Dayal and Dr Srikanth Kona, both Senior Pediatric Consultants at Continental Children Centre, Continental Hospitals.
Dr. Anjul Dayal, Sr Pediatric Consultant at Continental Children Centre, Continental Hospitals thanked Samantha for taking up the cause of the children. He administered hepatitis B vaccination to more than 20 children of Pratyusha Support and greeted them with rose flowers. Dr. Anjul said, "Hepatitis B is the major killer and one of the fastest growing epidemic in the world. It accounts for more than 5000 deaths every year. He further added "We are taking the awareness drive forward with the help of Dr Guru N Reddy's support to vaccinate the adults and our focus will be on MNCs and general public."
Speaking at the event, Samantha, renowned Telugu actress, said "I thank Dr Guru N Reddy and his entire team at Continental Hospitals for the great initiative of offering medical care and support to these children." She further added, "I request everybody present over here to spread the message and create awareness about the hepatitis B and encourage everyone to take hepatitis B vaccine at the earliest." She praised the media and encouraged media's role in spreading the awareness and message to the masses.
Dr Guru N Reddy, Chairman of Continental Hospitals praised Samantha's mission with a great purpose of serving the NGO Pratyusha at such a young age. Dr. Reddy said, "hepatitis B has infected 40 million people in India and, of these, 20 to 40% will go on to develop liver cancer or cirrhosis.
He further added that the innocent poor children, being unaware of the disease, share infected toothbrushes, needles with blood and suffer from the deadly hepatitis for no crime of theirs. "Hepatitis B vaccine is the only vaccine that has shown to prevent cancer of the liver. Our mission is to spread the awareness of the hepatitis; and, I am greatly thankful to Actress Samantha for taking such a great initiative of serving the orphans and poor children and for being associated with Continental Hospitals to spread the message to all. In our hospital, we see at least one patient suffering from liver cancer. And therefore, let us take the vaccination drive forward to spread awareness and eliminate this deadly disease," Dr. Guru N Reddy said.