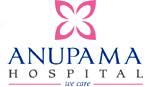 Reviews on Anupama Hospitals
By Vandana - 19/01/2016
one of the best hospitals in kukatpally for all health care solutions. Recently i went with an accident rushed to anupama hospital for treatment. The staff...
Read More
---
By Sattya Vardhan P - 04/11/2013
I went to this hospital and found that the hospital was being managed very well. It has a healthy atmosphere and hygienic. Patients were being taken care...
Read More
---