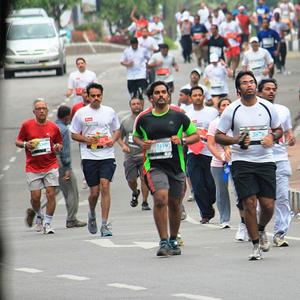 It is definitely a run for fun! Hyderabad Runners Society organized a 42km run starting from Necklace road, passing through Raj Bhavan, Punjagutta, KBR Park, Madhapur, ISB, and University of Hyderabad finally ending at Gachibowli sports stadium. Hyderabadi fitness freaks participated in large numbers and showed their love for marathons. Hyderabad Runners Society, a non-profit organization organized the marathon consecutively for the third time, in collaboration with Airtel. Runners were extremely satisfied with the arrangements made for them throughout the running circuit. For every 2kms, water, biscuits, energy drinks and first aid were provided for the runners.
Prior to the event, many first time runners were trained by designated runners. Children and seniors were accompanied by seasoned runners, only to avoid unfortunate accidents. More than 5,000 people ran through the circuit and the weather too complemented the event without being too sunny or foggy. Men, women, seniors and children who reached the finish line first were rewarded by HRS.
All in all, the Airtel Hyderabad marathon turned out to be a fabulous event with runners across all age groups adorning the main circles. Runners seemed to have enjoyed the run. Owing to stressful jobs and pressurized lifestyles, people have conveniently forgotten to exercise and maintain a fit body. Such events that promote fitness need to be organized regularly to motivate citizens towards a healthy lifestyle.