How To Save Mental Health While Stress At Work or School?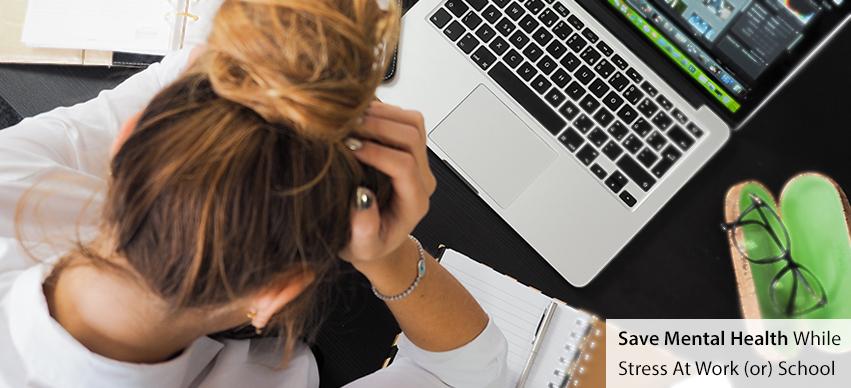 Work and school stress are very common. It's easy to assume that constant pressure is normal. But the truth is, stress can have a serious impact on your physical and mental health. In this article, we're going to discuss how to deal with stress at work and school. We'll also give you some good mental health tips for building resilience so you can cope better when pressures increase in the future."
What's Stressing You Out?
We all face loads of pressures in life, and many of them are unavoidable. Pressure can be caused by a lot of things — a job interview, an upcoming exam or coursework deadline, a presentation, etc. Sometimes even writing a simple essay or research paper can put you under pressure. Of course, you could search for things like "write my paper" on Google in order to find a good essay writing service. But the real struggle is to find the best place to write your research paper, putting yourself under more pressure. Doing something we don't really want to — taking an airplane journey for those who don't like flying, or essay writing for students in this case — can cause stress and anxiety.

The first step to deal with stress is to work out what's causing it. This is easy if the stress is caused by a one-off event like an interview or an exam. But sometimes stress can be caused by more than one thing, and that's okay. You'll at least have an idea of what it's down to like "an unrealistic deadline" or "too much work," and this is good enough to begin tackling it.

How To Deal With Stress Better?
Stress is your body's way of telling you that something needs to change. Things will not get better by ignoring your body. If you're not talking to someone — your parents, teachers, friends, or boss — about it, they won't know you're feeling stressed out, meaning they can't help you. Below are some tips about how to improve mental health and deal with stress better.
Hold On To Your Friends
Having friends you can depend on when things get rough is one of the best and effective ways of dealing with stress. They can advise you or just listen while you offload. Even if you don't talk about your troubles, they can make you feel strong and connected at a time when it's too much to handle on your own — you can do the same for them as well.
Eat A Good Diet
You need to make sure you have a brain-friendly diet. It will help your feelings of wellbeing, enabling you to deal with stress better. Food high in protein like cheese, eggs, fish, lean meat, and nuts contain amino acids that help keep your feelings and thoughts well regulated.
Drinking plenty of water will help you concentrate.
The oily fats in things, such as chicken, oily fish, nuts (omega-3), and turkey are really good for your brain.
Fruits and vegetables contain the vitamins and minerals we need for good physical and mental health.
Also, avoid sugary food — the fats in cakes and biscuits are bad for your mood and your physical health — as they can increase anxiety. In fact, many people cut it out of their diet in order to reduce their stress levels.
Get Regular Exercise
Regular exercise can reduce anxiety, stress, and depression on a great level. We aren't just talking about the occasional stroll around the park or game of footie. According to NHS, you need to get at least 150 minutes of physical exercise each week. It doesn't necessarily have to be a sport — you could run, swim, walk, or even do some gardening if you enjoy that — the more varied, the better.
Practise Mindfulness
Mindfulness is a great way to bring your thoughts into the present, rather than dwelling on all the worries in your life. However, it takes a little practice. Once you've got the hang of it, you can use the mindfulness techniques to easily get rid of that stress whenever it hits you. Some studies even suggest that mindfulness can reduce your overall stress by helping you better cope with pressure.
Find A Hobby
If you don't already have one, consider finding a hobby that's totally separate from your work life or school. You can take on creative projects or learn new skills to perfect them. This will not only help take your mind off the things you're stressed about but also give you a sense of purpose — something you can aim for.
Keep A Balance
This is probably not the first time you've heard the term "work-life balance," and it surely isn't the last. That's because it actually matters. If you find yourself worried or stressed out because of spending long hours on revision or schoolwork, or staying late at work, it's time you talked to someone about how to reduce your workload and manage it better.
Take Regular Breaks
It's very important for you to take regular breaks throughout the day. It's not only good for one's physical health but also improves mental health. Consider using your breaks to do something unrelated to your work. For example, you can take at least 30 minutes off at lunchtime and use that time to read a book or hang out with your school friends or colleagues. Breaks keep you fresh and alert, which makes you more productive and helps keep your stress levels down in the long term. Hence we recommend taking a few days off of work if the other stress-reducing resources aren't working out for you.
Conclusion
Work-related stress often disappears once you remove the triggers. You've probably noticed it as well. For instance, when you're on holiday, the pressure is suddenly off, and you feel more relaxed. However, if you feel anxious, stressed, or depressed even when there isn't any obvious cause, chances are you could be suffering from a serious mental health disorder. Consider talking to your doctor in cases like this and asking them about cognitive behavioural therapy. Don't forget; if things aren't good right now and you're struggling to cope, help is always out there. You just need to reach out for it. You don't have to deal with depression, stress, and anxiety alone.