St. Jude Medical Announces First Implant of Next Generation Quadripolar Pacemaker in India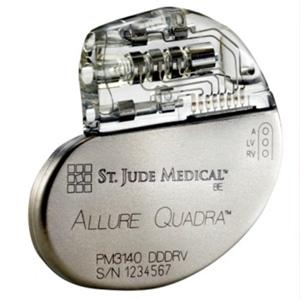 Hyderabad – September 12, 2013 – St. Jude Medical, Inc. (NYSE:STJ), a global medical device company, today announced the first commercial implant of the Allure Quadra™ Cardiac Resynchronization Therapy Pacemaker (CRT-P) in India. The first-to-market quadripolar pacemaker system offers more pacing options for patients with heart failure (HF) and St. Jude Medical is the first company to bring quadripolar lead technology to India. Quadripolar leads allow for increased implant efficiencies, which clinical data indicates can result in fewer surgical revisions. Broad clinical evidence on the advantages of the St Jude Medical quadripolar technology has been documented in more than 100 publications worldwide.
Explaining how quadripolar technology works, Dr. Anil Saxena, Fortis Escorts Hospital, New Delhi, says, "Historically, pacing systems that treat heart failure included a lead with only one electrode in the heart. Later, these were replaced by leads with two electrodes. Nearly 40 percent of patients do not effectively benefit from traditional pacing due to potential complications of cardiac resynchronization therapy such as high pacing thresholds, dislocation of the lead and occasional stimulation of the phrenic nerve, all of which require repeat surgeries. The new quadripolar technology has four electrodes and ten programmable pacing configurations, allowing electrophysiologists to more effectively manage their patients with greater flexibility and improved patient outcomes."
Approximately one in 10 patients who receive a bipolar CRT system has complications that could require additional surgery. Quadripolar technology from St. Jude Medical allows for additional pacing configurations that provide physicians with options not available on traditional bipolar systems. These additional options help manage common pacing complications without exposing the patient to additional surgeries for lead repositioning.
"Our new Allure Quadra pacemaker allows us to expand the proven clinical benefits of quadripolar technology to a new patient population," said Kaustav Banerjee, managing director of St. Jude Medical India. "We believe these benefits result in a cost-effective solution that elevates the standard of care for heart failure patients in India who need cardiac resynchronization therapy."
The new platform of St. Jude Medical low-voltage devices includes the unique, clinically proven AT/AF detection algorithm from St. Jude Medical which allows physicians to identify patients at risk for stroke earlier. The ASSERT, or ASymptomatic AF and Stroke Evaluation in Pacemaker Patients and the AF Reduction Atrial Pacing Trial, was designed to determine whether the detection of arrhythmias using pacemaker-based diagnostics predicts an increased risk of stroke in elderly, hypertensive patients without any history of atrial fibrillation (AF). Results found that pacemaker patients who have no history of atrial tachycardia (AT) or atrial fibrillation (AF), but have device-detected arrhythmias, are approximately 2.5 times more likely to have a stroke than patients who do not have device-detected arrhythmias.
Additionally, the Allure CRT-P device improves HF management through timely access to vital diagnostic data that provides earlier insight into disease progression. The Allure Quadra CRT-P integrates best-in-class quadripolar technology with multiple pacing configurations and features designed to help physicians address the dynamic challenges of HF by optimizing the quadripolar system at implant and follow-up.
The worldwide prevalence of HF has been increasing during the last few decades. More than 26 million people globally suffer from HF, with a prevalence rate in India estimated to range from 1.3 to 4.6 million people.
About St. Jude Medical
St. Jude Medical is a global medical device manufacturer dedicated to transforming the treatment of some of the world's most expensive, epidemic diseases. The company does this by developing cost-effective medical technologies that save and improve lives of patients around the world. Headquartered in St. Paul, Minn., St. Jude Medical has four major clinical focus areas that include cardiac rhythm management, atrial fibrillation, cardiovascular and neuromodulation. For more information, please visit sjm.com.
Forward-Looking Statements
This news release contains forward-looking statements within the meaning of the Private Securities Litigation Reform Act of 1995 that involve risks and uncertainties. Such forward-looking statements include the expectations, plans and prospects for the Company, including potential clinical successes, anticipated regulatory approvals and future product launches, and projected revenues, margins, earnings and market shares. The statements made by the Company are based upon management's current expectations and are subject to certain risks and uncertainties that could cause actual results to differ materially from those described in the forward-looking statements. These risks and uncertainties include market conditions and other factors beyond the Company's control and the risk factors and other cautionary statements described in the Company's filings with the SEC, including those described in the Risk Factors and Cautionary Statements sections of the Company's Annual Report on Form 10-K for the fiscal year ended December 29, 2012 and Quarterly Report on Form 10-Q for the fiscal quarter ended June 29, 2013. The Company does not intend to update these statements and undertakes no duty to any person to provide any such update under any circumstance.