10 Must Check List You Need to Do Before Choosing a Doctor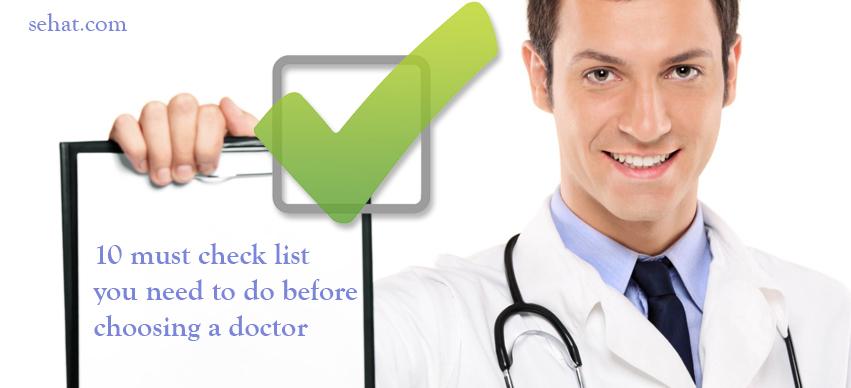 It can be quite difficult to choose a new physician for your health care. It becomes even more difficult if you have recently shifted to a new place. Although the conventional method of asking neighbors, friends and colleagues is a good way to select a Doctor, but it may not be the perfect method. You need a physician, who can understand your health care needs and offer a treatment plan tailored to those needs.
To-do list for Selecting a Doctor – Top 10
There are numerous things considered while selecting a doctor. Here are the 10 main things you should check before short listing a physician.
1. Location
Location is the most important concern while selecting a doctor. Remember, doctors' appointments are usually scheduled during the day. Having a doctor in close vicinity can make it convenient for you to visit.
2. Timings
For those working full time, the timings of the doctor are as important as the location. If the doctor is available at the weekend or before or after normal working hours, nothing like it!
3. Online Access
These days, there are many doctors who offer several online medical services to make it more convenient for busy patients. These services include online test reports, renewal of prescriptions, requesting appointments and much more.
4. Health Insurance
If you have a health insurance, it is important to select a doctor who falls under the insurance network. The best way is to call up the insurance company and get a list of local doctors who take your insurance plan.
5. Evaluate the Doctor
It is crucial to check the credentials, qualifications and experience of the doctor before you begin with a health care plan. This can be done by calling up the practice and speaking. If the information is forthcoming and the staff is ready to answer your questions, you are on the right track.
6. Evaluate Your Experience on the First Visit
Think about your experience the very first time you visit the clinic. Were you greeted and made to feel comfortable while waiting for the doctor? Did the doctor have time to answer your queries and concerns patiently? Or was the doctor too busy to take note of what you had to say? These are things that make a huge difference.
7. Specialization
If you are looking for a specialist, it is best to ask your general or family physician to make a referral. This way, you will not have to spend time finding the right specialist and your physician will be able to update the other doctor about your case.
8. Language Requirements
Make sure that you and your doctor share a common language. Being understood and being able to understand what the doctor has to say is very important. When you and your doctor can communicate in a common language, it allows you to relax and open an effective channel of communication. This does away with uncertainty and misunderstandings.
9. Gender of the Doctor
Discussion of health issues and treatments is a very personal issue that demands confidentiality. Therefore, it is important for you to be comfortable to discuss your medical situation. Choosing between a male or female doctor can affect your comfort level.
10. Performance
The best way to know more about the doctor's performance is by getting in touch with existing or previous patients. Remember, don't expect good service from a doctor who doesn't attend calls or pay heed to patients' concerns.
It is not easy finding the right doctor. It takes time and effort. However, if you use the aforementioned tips to choose a doctor, you will find the selection process to be easier.