11 Benefits of Eating Tulsi Leaves In Empty Stomach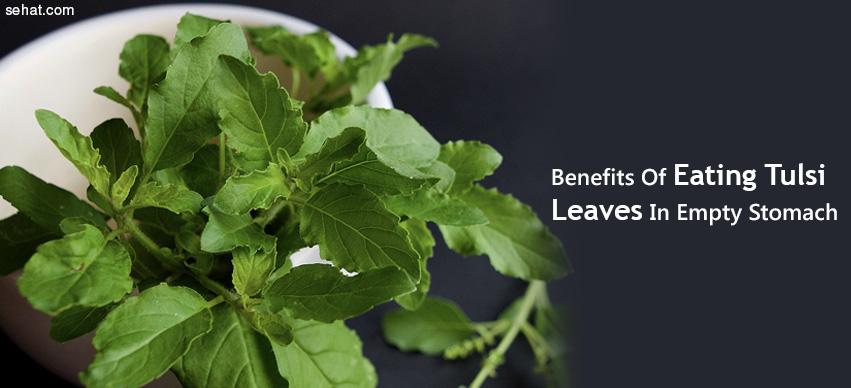 Tulsi, also popularly known as Basil has been used for decades primarily as a home remedy. Tulsi is usually a densely branched shrub that's is widely grown mainly in India for purposes of religion as well as medicine. The tulsi plant can be used in a variety of ways including in the form of tea, fresh leaves, juice, and dried powder. Here, know the benefits of eating tulsi leaves in empty stomach and even know the benefits of drinking tulsi water in the morning.
Benefits of Eating Tulsi Leaves in Empty Stomach
Maybe you are not aware of the benefits of eating tulsi leaves in an empty stomach. Well, tulsi leaves offer numerous benefits both to your inner health and as well as the outer. Over the years, tulsi leaves have been considered as one of the greatest herbs for healing. The main benefits of eating tulsi leaves or drinking tulsi water early in the morning are that it helps to boost your immune system. Tulsi leaves are packed with antioxidants which makes the body strong by fighting off infections. Let's now discuss in details the benefits of consuming tulsi leaves on an empty stomach and the uses of tulsi leaves.
Keeps The Digestive System Healthy
Eating tulsi leaves in the morning helps in maintaining a healthy digestive system. If you consume tulsi leaves on an empty stomach, it will help maintain your PH levels as well as regulate the acidic levels of your body.
Reduces The Mental Stress
Tulsi leaves are packed with adaptogen which can help reduce the levels of stress. If you consume Tulsi leaves on an empty stomach, it will help relax your nervous system and also improve your blood flow. You can try this remedy by eating five leaves after every two days.
Help to Protect From The Common Cold
Consuming tulsi leaves on an empty stomach or drinking tulsi water in morning can help relieve common cold effectively and are packed with anti-microbial properties.
Fights Bad Breath
Tulsi leaves are well known for curing bad breath and other related problems. Tulsi leaves are packed with anti-bacterial properties which are effective for fighting off bad breath. Tulsi leaves are actually used like toothpaste.
Acts as an Immune Modulator
Tulsi leaves have a compound that acts as an immune-modulator which is important in improving and maintaining the immune system of your body. It does this by fighting off harmful diseases causing virus and bacteria and as well boost the formation of healthy immune cells.
Tulsi leaves are also rich in antioxidants which help protect your healthy cells against poisonous free radicals. In addition, studies have shown that Tulsi leaves contain medicinal properties that stimulate the formation of T cytokines, NK cells, and T lymphocytes which are responsible for protecting the body against infection.
Reduces The Risk of Diabetes and Kidney Stones
Tulsi leaves contain essential oils such as Eugenol, Caryophyllene, and Methyl Eugenol. These components support the functioning of the pancreatic beta cells which stores and releases insulin. Insulin sensitivity will increase in the body which in return lowers your blood sugar and therefore treats diabetes.
Additionally, eating tulsi leaves early in the morning can help remove kidney stones from the urinary tract. Also, it helps to prevent the formation of calcium oxalate in the kidney.
Protects The Heart
Tulsi leaves are rich in Eugenol which helps protect the heart by keeping in check your body blood pressure and cholesterol levels. Eating Tulsi leaves on an empty stomach can help protect your heart against heart ailments.
Reduces The Risks of Cancer
Tulsi leaves are also high in anti-carcinogenic and anti-oxidants. These components help stop the development of oral and breast cancer by limiting blood flow to blood vessels that deliver blood to a tumor.
Cures Stomach Problems
Tulsi leaves are important in solving complications related to the stomach. Consuming tulsi leaves early in the morning helps to treat stomach problems such as flatulence, acidity, and constipation among others.
Skin
The benefits of eating tulsi leaves for skin are numerous whether you eat it raw or if you choose to paste it into the skin. Eating or drinking tulsi water in the morning helps to remove toxins from the blood and also aid in reducing the appearance of pimples and acne.
Prevents Lung Disorders
Tulsi leaves are rich in camphene, vitamin C, cineole, and eugenol which help cure infections in the lungs and as well reduce the congestion in them. Also, Tulsi leaves are considered as an essential medicine for damages in the lungs that are mainly caused by tuberculosis and smoking.
How to Eat Tulsi Leaves with An Empty Stomach
There are numerous ways to eat tulsi leaves with an empty stomach. Here are two simple ways how you can do it.
1. Making Tulsi Tea
Ingredients
Two cups of water
A handful of tulsi leaves
Honey not compulsory
Procedure
Take a relatively medium sized pot and put about two cups of water
Put the pot into flames
Allow the water to boil
Turn off the flames and add the tulsi leaves in hot water. Cover the tea for about 20 minutes. Strain off the tea from the leaves
Then serve the tea, you can consider adding honey to improve the taste.
Enjoy the tulsi tea
2. Another Simple Way of Eating Tulsi leaves Early in the Morning Involves
Carefully wash tulsi leaves, about three to four tulsi leaves

Chew them one at a time and then drink about one to two glasses of water

Don't consume anything else for the next 30 minutes
Repeat this procedure each morning for a month, and you will experience the benefits of chewing tulsi leaves including boosting your immunity.
There are other numerous ways on how to make tulsi tea that you can try out. But, if you don't know one, consider using one of these mentioned above. Only drink the amount of quality you feel comfortable with. By now, I believe that you fully understand the benefits of consuming tulsi leaves, especially in the empty stomach. However, those are just but a few of the benefits. The number of benefits cannot be exhausted. Tulsi is indeed one of the most popular and beneficial home remedies to keep close.