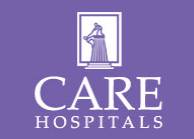 Care Hospitals
, Maharani Peta
D.No.17 - 1 - 1, KGH Road, Maharani Peta, Visakhapatnam, Andhra Pradesh - 530002
29 Specialities

26 Doctors
CARE Hospitals, Visakhapatnam, is a 100-bed superspecialty hospital. In 2008 CARE Hospitals, Visakhapatnam, set up an exclusive Trauma Care Centre.
The Trauma Care Centre has state-of-the-art equipment and is managed by
full-time consultants, who have received training in trauma care and
critical care at reputed institutions in India and abroad. The hospital
also has well-qualified and trained paramedical, nursing and support
staff.

Specialities
Anesthesiology

Cardiology

Critical Care

Dietetics

Emergency Medicine

Endocrinology

ENT (Otolaryngology)

Gastroenterology

General Medicine

General Surgery

Gynecology

Laboratory Medicine

Nephrology

Neurology

Neurosurgery

Obstetrics and Gynecology

Oncology

Ophthalmology

Orthopedics

Physiotherapy

Plastic Surgery

Plastic Surgery & Cosmetic Surgery

Psychiatry

Pulmonology

Radiology

Rheumatology

Surgical Gastroenterology

Traumatology

Urology
Services
24x7 Pharmacy
Ambulance
Clinical Laboratory
Dialysis machine
Ultrasound
X-ray
AMCU beds with monitors and ventilators
Emergency unit, AMCU, NICU, State-of-the-art Operation Theatres
Head Injury Unit, surgical ICU beds with color cardiac multi channel monitors and ventilators
SICU beds with color cardiac multi channel monitors; all the cardiac monitors are interconnected bed to bed, with interchange facility
Non-AC beds on a sharing basis
Single AC rooms
Single non-AC rooms
Deluxe AC rooms
Fully equipped in-house Biochemical Lab
Radiology services with 300 MA and portable 30 MA X-ray (GE)
Color Doppler ECHO, Ultrasound 2000 series including TEE probe
Pulse oxymeters
Blood gas analyzer
Electrolyte analyzer
Surgical operating microscope
Doctors List
| Name | Speciality | View Profile |
| --- | --- | --- |
| Dr. Anooradha Saramanda | Cardiac Anesthesia | |
| Dr.K.S. Praveen Kumar | Orthopedic Surgery | |
| Dr.J. John David | Anesthesiology | |
| Dr.G.S.R. Murty | Cardiology | |
| Dr. Karunakar Padhy | Cardiothoracic Surgery | |
| Dr.C.V. Rao | Cardiology | |
| Dr. Rakesh Godavarthi | ENT (Otolaryngology) | |
| Dr.G. Satyanarayana | Gastroenterology | |
| Dr. Triveni Reddy | General Medicine | |
| Dr.B. Padmaja | Obstetrics and Gynecology | |
| Dr.R. Suryanarayana Raju | Ophthalmology | |
| Dr.N. Anil Kumar | Orthopedic Surgery | |
| Dr. Kshirod Kumar Mishra | Psychiatry | |
| Dr.T. Anantha Lakshmi | Pulmonology | |
| Dr.G. Sailaja Satyanarayana | Radiology | |
| Dr.Y. Meghanath | General Medicine | |
| Dr.B. Satheesh Babu | Surgical Gastroenterology | |
| Dr. Vijay Kumar | Neurology | |
| Dr.K. Sandhya Rani | Obstetrics and Gynecology | |
| Dr. Leena Maitri | Dietetics | |