Dr APJ Abdul Kalam and His Contribution to the Indian Healthcare Sector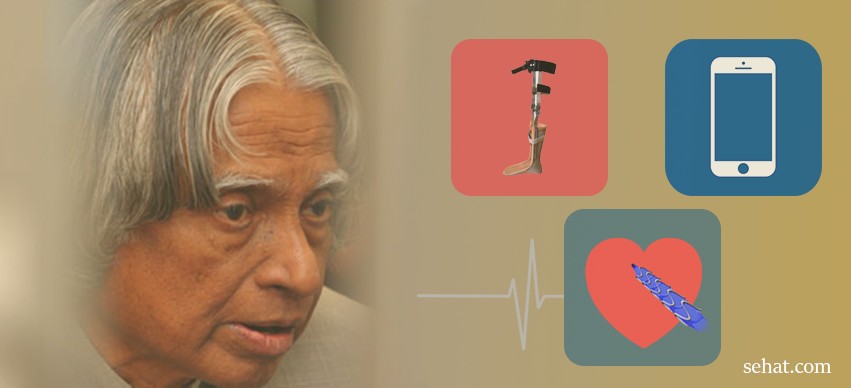 Dr APJ Abdul Kalam will always be remembered not just as one of most loved Presidents of India, but also as a scientist who has contributed a lot to the healthcare sector.
In August 2009, At the Annual General Meeting of the Organization of Pharmaceutical Producers of India Dr. Kalam made sure he attended, he stressed on the importance of making research and development a focal area, so that our country too could see itself as a world leader in drug production. Dr Kalam, also greatly and rightly laid emphasis that pharmaceuticals shouldn't forget their main mission – the supply of quality and cost-effective drugs to the Indian populace.
With his view on healthcare, it isn't surprising Dr. Kalam forayed into this field to ensure average Indians had access to quality healthcare without burning a hole in their pocket.
The Famous Kalam-Raju Stent
According to the famous Care foundation in Hyderabad, the number of cardiac cases reported each year, is on the rise. This in turn, adversely affects the country's economy to the tune of INR 1500 crores each year. While this may sound like an insignificant number, in the years to come, it can affect the economy further. This stems from the fact that the consumables cardiologists use in cardiac procedures is imported, causing India to lose precious foreign exchange. This has an immediate effect on health care that can be rendered in the country. Imports of stents, make cardiac procedures an extremely expensive affair in India, often out of reach for the common man.
A stent is used by cardiologists to dilate a blocked artery and facilitate proper blood flow. This procedure is no less than a blessing to many suffering from cardiac ailments. Unfortunately, in India, these cardiac stents are imported, and this immediately drives up the cost of a single stent to somewhere in the range of INR 40,000 and INR 60,000, at the least!
So, Dr. Kalam took it upon himself to develop cost-effective cardiac stents indigenously. This great visionary and his team of researchers collaborated with renowned cardiologist, Dr. B. Soma Raju of the Care Foundation of Hyderabad and his team to develop the iconic and legendary Kalam-Raju Stent.
After extensive clinical trials, approximately 2000 Kalam-Raju stents were successfully implanted in needy patients. The results were remarkable! And the procedure cost too was brought down dramatically! Each stent cost about INR15,000 in comparison to the imported stents that cost a whopping INR 60,000. This gave way for multitudes of Indian cardiac patients to benefit from the stent procedure. This coil stent has given way to newer designs.
Today, the Kalam-Raju Stent (newer version) is manufactured in a state-of-the-art production unit in India. This allows for several cardiac centers across India to be able to access and use this technology for the betterment of cardiac patients, giving them a new lease of life!
The concerted efforts of Dr. APJ Abdul Kalam and Care Foundation were recognized when in 1998, the Foundation was the recipient of the Defense Technology Spin-Off Award.
Tablet PC for Healthcare Workers
Later in 2012, not completely satisfied with what he had done for the healthcare industry on the whole, the visionary that Dr. Kalam was, once more joined hands with the famed cardiologist Dr. B. Soma Raju to come with a table PC for primary healthcare workers who work in rural health centres.
Dr. Kalam wanted to offer primary level healthcare workers, such as Anganwadi workers, doctors, aayas and responders and also those who attend to an emergency call, with a tablet that was capable of conducting a range of medical processes within a rural environment. This led to the designing and production of the Kalam-Raju tablets.
The former President and Care Foundation joined hands with the Indian Telephone Industries Limited, a PSU that manufactures telecommunication equipment in Bangalore, to bring out a rugged and useful tablet. While Kalam and Dr Soma Raju, where the masterminds behind creating this tablet. Other participants were invited to give this revolutionary idea, shape. Aizyc Technologies from Hyderabad helped to physically design the tablet and come up with firmware and embedded systems; and then there was Opera Technologies from Kochi that also chipped in.
So, what does the Kalam-Raju tablet do? It offers easy access to patient information, medication, new procedures for treatment, upcoming medical innovations and hordes of diagnostic tools. That is not all! First responders in case of emergency can get easy access to a patient's medical history. This is prudent in order to render the right diagnosis and treatment, especially when the patient is incoherent or unconscious and cannot say anything about the medication they are taking or the allergies they suffer from.
Basically, the tablet allows rural primary health care professionals to get access to a wide range of medical information. This includes many selected and reputed medical journals and other important trivia, so that they can offer better health care in environments where hospitals and state-of-the-art tools and equipment are not available. This touch-screen tablet has lived up to what it was made for, and has helped revolutionize and change the face of the rural healthcare landscape.
Orthosis Calipers
While India has recently been declared a polio-free nation by the World Health Organization, many children and adults afflicted by polio, have been rendered immobile. Sadly, polio has left many crippled, and has affected their ability to walk, making them depend on their family.
Patients with motor disabilities are often fixed with Calipers to allow them to walk, remain mobile, and carry out their daily chores.
The years between 1995 and 1996, saw Dr APJ Kalam and his trusted team toiled endlessly. They were without doubt, instrumental in using carbon-carbon and carbon-polymer materials to produce orthosis calipers that weighed 1/10th of the weight of the calipers that were available in the market. These floor reaction calipers make movement and walking less painful and cumbersome, allowing kids to walk more freely and fluidly without much help.
Dr. APJ Abdul Kalam certainly impacted the bio-medical scene of India with his innovative ideas, designs and revolutionary devices.
His contribution to the country has been tremendous, changing the way many things function. Today, as the world deeply mourns the loss of Dr. Kalam at the age of 83, the Indian healthcare sector has lost its biggest proponent and advocate.