How To Take Care Of Your Skin This Holi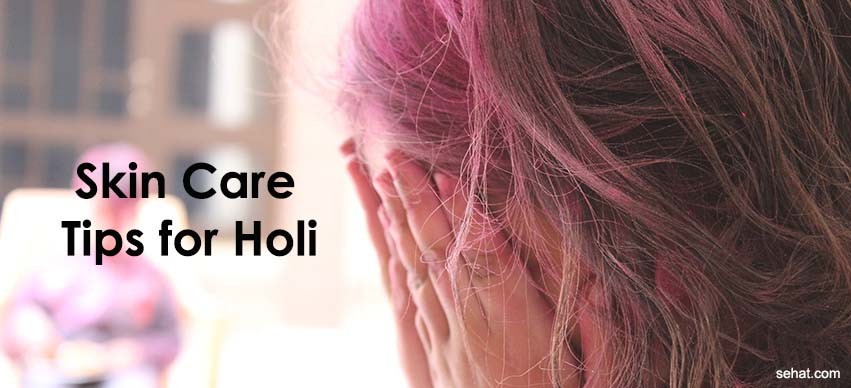 With the festival of bright colors and splashing tinges just around the corner, almost everyone seems to be tightening the belt to enjoy every bit of it. But, many tend to easily overlook the fact that their skin actually feels an utmost dearth of care and protection during the fest season. While we have heard it almost innumerable times, the colors used in Holi can indeed cause a lot of allergies and skin-related problems for you to cope up with it later.
So, if you are looking for some real yet simple ways to take care of your skin this Holi, then here's some help. We have listed below a few tips that are sure to help you take care of your invaluable skin while you enjoy the rich and vibrant hues this festival. Take a look!
While you dig out your old clothes to wear this Holi, make sure what you wear does not expose too much of your skin. Try and cover your skin as much as possible – this will not only help your skin stay protected from the harmful chemicals of colors, but will also help you enjoy the festival without being on pins and needles.


Before you step out to splash hues, ensure to use some good cold cream or oil on your exposed body parts. Using a cream or moisturizer will basically prevent the harsh colors from settling deep into your skin.


Since Holi is usually a festival of outdoors and daytime, make sure to apply a really good sunscreen lotion on your skin. Though we know the benefits of a sunscreen lotion, your skin is sure to stay well-protected against the chemicals in colors and the possibility of getting a severe tan.


Many people tend to forget but it is extremely important to keep your hydrated for utmost care. Since dehydration and harsh chemicals can cause dryness to your skin, you should ascertain to drink as much water as possible in order to keep yourself hydrated. Whether it's plain water or some juice, re-energizing yourself is the trick here.


You can also benefit from some good lip-balm or Vaseline in order to keep your ears and lips moisturized during the festival. It's basically a sure tip to keep your skin healthy and protected from getting dry (as dry skin can actually cause the pores to open wide).


If you feel even the mildest of skin irritation while playing Holi, make sure to quickly rinse the body part with cold water. Although washing it with cold water and applying some soothing lotion generally subsides the itchiness, ensure never to delay a visit to a dermatologist if the irritation or itchiness still persists.



For the post-Holi session, taking the dry colors off your skin should be of prime importance – as longer they stay on your skin, the larger the possibilities of skin problems. Hence, you should remove the colors (even when they are still wet) by taking a shower and using a moisturized soap. You could also bathe with lukewarm salt water to quickly get rid of those hues on your skin.


If your skin is too sensitive or prone to acne, then make sure to wash your face with an antibiotic gel such as Clindamycin. However, you can also use some gram powder (besan) with little milk to completely remove traces of color.


Once you have taken the bath, do not forget to moisturize your entire body. Although the colors do not come off so easily, you should have patience and wait for a day or two to finally get rid of them. However, make sure you do not (strictly) opt for any salon procedure or facial scrubbing as it will only damage your skin further.


Last but not the least, you can try lemon as an effective way to remove the Holi colors – as lemon is considered to integrate effective yet natural bleaching properties. However, do not skip on using a good moisturizer after you have applied lemon.


Well, that brings us to a standstill for listing out the tips and tricks for your skin protection this Holi. Make sure you follow the simple rules mentioned above to enjoy a festival that's fun yet safe. We wish you a very happy Holi.