HPV Vaccine and Its Role in Prevention of Cancer Cervix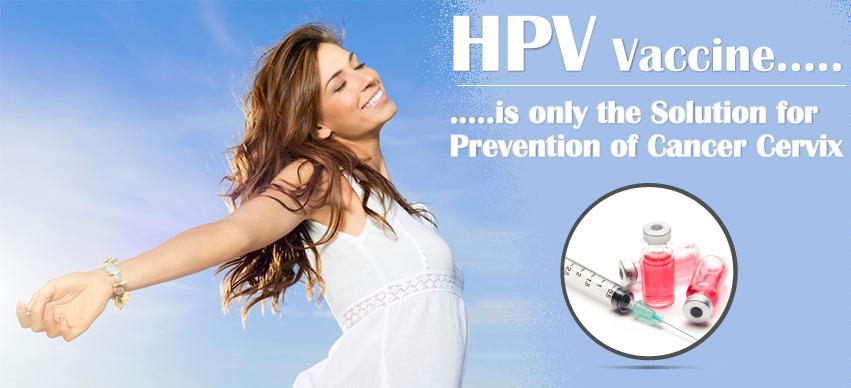 Cervical cancer is the second most common cancer in the world after cancer of the breast among women.
It is commonly seen in women of the reproductive age group, as early as 20 years.
HPV is the main cause for carcinoma cervix.The best method to prevent cervical cancer is by vaccination which has been proven to be beneficial in most of the cases and is also said to be safe.
What causes cervical cancer?
Human Papilloma Virus, or HPV, can lead to cancer cervix. HPV 16 and 18 are the main culprits.
HPV 16,18,33,31 and 45 are the most common oncogenic strains of which HPV 16 and 18 contribute to nearly 70 % of the cases.
HPV starts of as an infection and generally resolves by 6 to 7 months.Sometimes the infection can persist up to 2 years.In cases where the immunity falls or dies down, the virus persists and slowly causes a cervical cancer.There can be cellular changes in the cervical cells that cause lesions of cancer.
Grades of cancer
Early lesions are classified as
CIN (Cervical Intraepithelial Neoplasia).CIN 1 to 3 are the components.
Early HPV infections and CIN 1 are called "low grade"
CIN 2 and 3 are "high grade squamous intraepithelial lesions"
Which are the precancerous lesions?
CIN 2 and 3 are precancerous and can lead to cancer cervix later.It takes 10 to 20 years for an initial infection to cause an invasive cancer.
However, it can progress as early as 2 years in many women.
Who is at risk?
Every woman who is sexually active.
Multiple sexual partners and frequent unprotected intercourse with many partners.
A partner who had an ex-partner with an HPV infection.
Low socio-economic group
Younger woman of 16 to 25 years are at greater risk.
Are you at risk of cancer cervix if you have genital warts?
Genital warts are considered non-malignant caused by different strains of HPV 6 and 11 and carry a low risk for cervical cancer.
How can you prevent a cervical cancer?
Visit your doctor soon irrespective of your age and risk factors. Cervical cancer screening is recommended to all women.You will be subjected to an examination of the cervix and vagina, pap smear and an HPV DNA testing. In case of any abnormality, you will have to undergo further investigations like colposcopy and guided biopsies. If the pap smear is normal, you will be asked to follow up after 3 years for a repeat screening.
Symptoms like post-coital bleeding, foul smelling vaginal discharge, bleeding from the cervix, intermenstrual spotting and loss of weight are all warning symptoms.
What is HPV vaccine?
It is a prophylactic cancer vaccine which has antigen based HPV assembled particles which prevents an infection by antigen-antibody reaction and has known to be 100 percent effective in preventing CIN 2 lesions caused by HPV 16,18,45and 31 years for 10 years and beyond.
Is a repeat dose required?
No, there is no need for a booster dose.
Who can receive the vaccine?
Safely administered to all women between 10 to 45 years.
What are the types of vaccine available?
Bivalent and quadrivalent vaccines offer protection. Quadrivalent vaccines also protect against genital warts and other forms of cancers of vulva and vagina caused by HPV 6 and 11.
How to take the vaccination?
Bivalent vaccines are administered at 0,1, and 6 months.
Quadrivalent vaccines are given at 0,2 and 6 months.
It is given intramuscularly in the deltoid( arm)
A Vaccine is available as a prefilled syringe of 0.5ml suspension stored between 2 to 8 degree Celsius in a refrigerator.
When should you not take the vaccine?
In acute infection.
Fever
Pregnancy
Lactation
What are the side effects?
Mild fever, joint aches, headache, nausea, vomiting, abdominal discomfort, loose stools, etc are common.
HPV vaccine has the best method in preventing a cervical cancer and every woman must get the benefit of it.