Is It Good For Kids To Get Bored In Summer? Psychologists Say So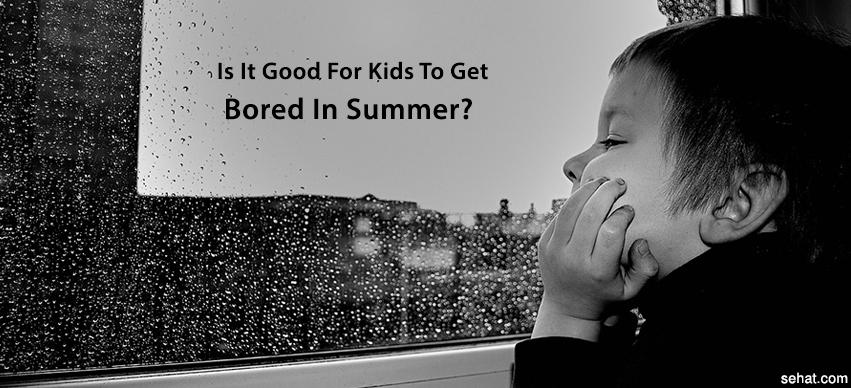 Most of the parents entertain their kids with various camps during the summer months. While some send their kids to chess camps or badminton classes, there are others who push their kids to various lessons that can be anything from cooking to skating.
While these are the activities that keep kids entertained during their summer break, do they really provide the kids with the childcare when our kids are away from school for those few months? A number of Psychologists suggest that children should not be overscheduled during their summer vacation as it can at times keep them away from what really interests them. Many child development experts suggest that the role of the parent is to make their kids eligible to take their perfect place in our society. By being an adult, one has to occupy them and fill up the leisure time in a way that makes one happy. If the parents get occupied in filling up the leisure time of the kid, the kid might never get a chance to learn new things that might interest them the most.
Sending kids to various lessons or at times all the possible camps can deter them from being what they really want to be. Kids often get occupied and so pressurized meeting up to the expectations of their parents that they forget being creative.
A number of Psychologists have mentioned that it is good that kids get bored. There are a number of benefits of boredom and it plays an important role in developing the internal stimulus in kids which will pave the way to true creativity. Experts also suggest that there is a connection between creativity, imagination and boredom and hence it is good that kids get bored at times.
The capacity of getting bored has indeed decreased with the development of technology and with all those attractions the internet offers. The experts, on the other hand, have been busy discussing the importance of being idle and doing nothing.
As per psychoanalyst Adam Phillips, boredom is good for a child as it improves the developmental achievement in the kids. He also mentioned in his book that boredom in kids can help them contemplate their life and kids hence should not be rushed. Many parents often have expectations from their child, but do not take time to know what interests the child more. When a child gets bored, he/she is taking time to think and understand what he/she likes.
There are instances when parents list down the activities the kids might be interested in doing during their summer vacation, but instead, they should sit along with their kids to know what they would really be interested in. This needs to be applied for kids who are above the age of four years. Parents and kids should together make a list of activities they can enjoy during the break they have during summers.
The activities can be anything basic or advanced like spending time by reading a book or playing cards with friends and family or even going camping. If you are in for more elaborate activities, then you can even think about making dinner or even practising something like photography. Whenever your kid comes to you saying that he/she is bored, you can ask them to have a look at the list and pick up activity.
Many parents, on the other hand, think that kids are wasting their time by getting bored. But instead, they are thinking about what they can do. Though kids can mop around for a little bit, they would for sure realize what they are more interested in, rather than going ahead with some activity they are not interested in.
Experts suggest that there is no problem when the kids get bored. It is indeed not a sin and kids need to learn how they can get bored so that they can motivate themselves. This will give them the confidence and courage so that they can do the things all by themselves. By being bored, kids often get self-reliant.
A much similar theory was also stated by philosopher Bertrand Russell in the year 1930 in one of his books where he mentioned the potential value boredom has. It was mentioned that both imaginations as well as capacity will develop when kids learn to cope up with boredom.
It is often said that kids have to be left undisturbed for them to develop quickly, just like the way a young plant is left undisturbed in the soil. By creating too many impressions and pushing them into various activities might not turn up to be too good for them. This can indeed make them intolerant of boredom which is otherwise not good in the long run.
What Can Parents Do?
Well, as mentioned earlier, parents should stop planning for their kids when it comes to summer activities. Start by giving them the needed space and time so that they can understand what interests them the most. If your kid is not keen in joining a summer camp, just let it go. Assure them that it is ok to get bored and plan for some activities which you can do together. This especially holds true in younger kids who are often confused about their likes and dislikes.
Now that you are aware that boredom is good for kids, let your kid get bored during this summer break. Just make a little change and you can yourself see how your child comes up with something creative with his/her imaginary skills.
Sehat provides a list of best Psychologists in Hyderabad from which you can research and choose the right doctor for your condition.