Job Prospects For American Medical Students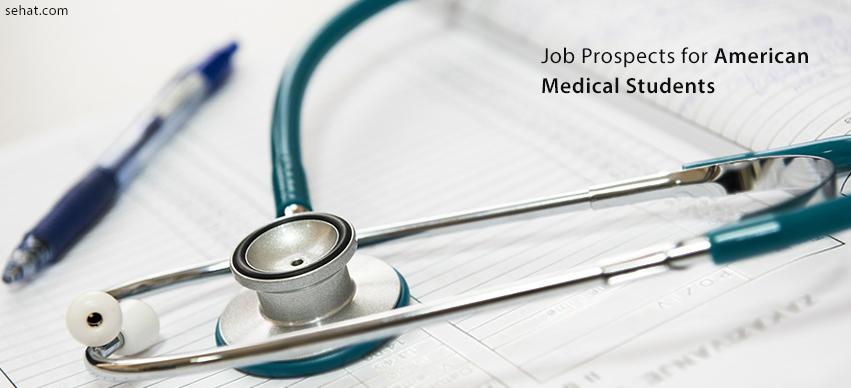 A medical degree is among the hardest courses in the university. Students have to sacrifice most of their time to master thousands of pages of medical material to pass equally hard examinations. This rigorous education structure is designed to weed out people who cannot stand the pressure. The ones who prevail become the crème of society and are given the responsibility of safeguarding human lives. As a result, medicine is only for the chosen few. Fortunately, careers in medicine are highly rewarding in terms of prestige and remuneration. There is also the general satisfaction medical practitioners feel when they save lives.
What Are The Job Prospects For American Students?
The future of American medical students is very promising. In 2018, the medical industry surpassed both the retail and manufacturing industries to become the number one source of jobs in the U.S. Not once in history has this phenomenon ever occurred, until recently and the future seems even more favorable to the healthcare industry. A quick recap of events shows that in 2000 the manufacturing industry had 7 million more workers than the healthcare industry. In 2008, the retail industry employed 2.4 million more workers than healthcare.

There are several factors that are facilitating this healthcare boom in the U.S. First of all, the number of aging Americans is increasing at a high rate. It is estimated that more than one-quarter of all American workforce will be 55 years or older by 2025. This aging population will need more healthcare. Secondly, the health care industry is subsidized by the government. Through healthcare programs like Medicare and Medicaid and other medical related benefits for government workers and veterans, the U.S. government spends billions of dollars each year to ensure all American citizens get the best healthcare.


The government also offers subsidies for private healthcare institutions and insurance companies through tax breaks. With all this government backing, the healthcare industry is practically immune to both booms and recessions. While other industries were busy laying off workers during the Great Recession, employment in the healthcare industry flourished, increasing every month for that duration. Thirdly, medical care cannot be affected by automation and offshoring.


Most of the job losses in the manufacturing industry can be attributed to the adoption of robotics that has replaced the human resource. Also, many manufacturing companies have offshored their jobs to overseas markets, where there is a large pool of cheap labor. China and India have been the biggest beneficiaries of offshoring. Healthcare can only be offered domestically and is therefore resistant to globalization. Furthermore, there has been an influx of administrative and managerial jobs in the healthcare industry in the last 20 or more years. This has enabled non-medical practitioners to offer their talents and services towards improving healthcare services.

Medical Degrees In The U.S.
There are more than 500 medical degrees in the U.S., which translates to more than 1000 types of careers spread out across the healthcare industry. Here are the most lucrative medical jobs in the U.S. offering very good salary returns:
| | |
| --- | --- |
| Medical Job | Annual Median Salary |
| Physician Assistant | $104, 860 |
| Dentist | $151, 440 |
| Nurse Anesthetist | $165, 120 |
| Orthodontist | $208, 000 |
| Nurse Practitioner | $103, 880 |
| Pediatrician | $172, 650 |
| Obstetrician/Gynecologist | $208, 000 |
| Oral and Maxillofacial Surgeon | $208, 000 |
| Physician | $192, 930 |
| Prosthodontist | $185, 150 |
| Anesthesiologist | $208, 000 |
| Surgeon | $208, 000 |
| Nurse Midwife | $100, 590 |
| Registered Nurse | $70, 000 |
| Physical Therapist | $86, 850 |
| Podiatrist | $127, 740 |
| Speech Language Pathologist | $76, 610 |
| Respiratory Therapist | $59, 710 |
| Optometrist | $110, 300 |
| Psychiatrist | $208, 000 |
| Pharmacist | $124, 170 |
| Veterinarian | $90, 420 |
| Chiropractor | $68, 640 |
| Dietitian/Nutritionist | $59, 410 |
| Radiation Therapist | $80, 570 |
| Rehabilitation Counselor | $34, 860 |
| Esthetician and Skincare Specialist | $30, 080 |
| Audiologist | $75, 920 |
| Occupational Therapist | $83, 200 |
Education Requirements For A Medical Doctor
Medical practitioners have to undergo different levels of training, depending on their area of speciality. Generally, doctors go through the most rigorous education training of all medical practitioners. They have to complete a 4-year undergraduate degree program in various scientific fields, such as Biology, Physics, Chemistry, and Human Genetics. Then, they have to attend medical school for another 4 years. To get admission into medical school, they have to pass the MCAT Test.

After medical school, they have to go through residency or a doctor's internship program before they are eligible for medical licensing. The residency takes 3 to 7 years depending on speciality while licensing requirements differ from state to state. With all the heavy coursework needed to complete a medical degree, you will require someone help to edit my essay and offload some work from you once in a while. Edubirdie is an online essay editor company that offers college essay editing services. You should definitely take advantage of this online essay editor free of charge to allow you to concentrate more on getting the perfect grades for a coveted career in medicine.

Are You Still Up For The Challenge?
If you have decided to pursue a medical career, just know the road will be very tough and there will come a time when you will feel like quitting. However, we would encourage you to push on, because of the wide range of opportunities that will be at your disposal once you successfully complete the course. Time management is one of the challenges that you will encounter as a medical student. You will have to sacrifice most of your free time to study. It will be the most trying time of your life because you will have to desert most of your friends and your only companion during this period will be booked.

When you feel like quitting, just remember that the lives of people lie in your hands. You will never forgive yourself when you quit. Therefore, just push on until you see light at the end of the tunnel. So many people have done it before, why not you.