An Inspiring New Approach to De-Addiction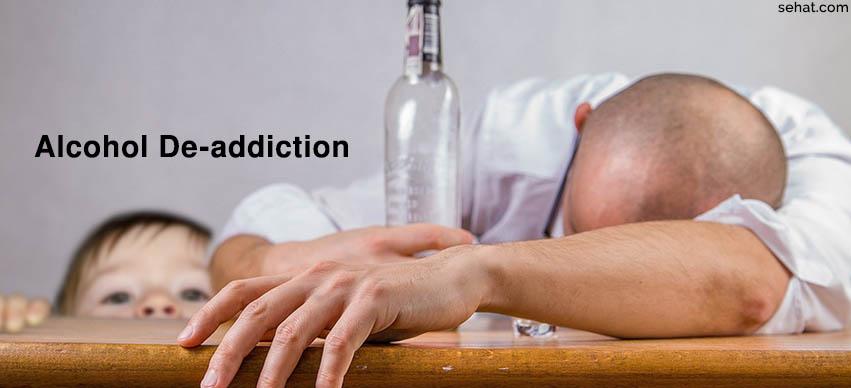 Alcoholism is one of the most common forms of addiction affecting millions of people, and a condition caused due to excessive abuse. People suffering from this experience physiological and psychological problems that affect their health, careers, family and finances. Typically, the addict and/or loved ones go into denial as they try to protect the addict and avoid the associated social stigma. The collateral damage caused is immense and may last a lifetime.
What does addiction eventually lead to?
We all know that alcoholism is a habitual disease, an illness, an affliction and a sickness. Among other eventualities, much of what happens to the addict is:
Severe health problems affecting almost all essential organs of the body.
Lack of self-esteem and character deprivation.
Angry outbursts and acts of violence.
Unexplained mood swings, anxiety, severe depression, and often,suicidal thoughts.
Exclusion from society resulting in isolation.
Loss of a job or a career.
Breakup of personal relationships, and possible divorce.
Drunken driving endangering other people's lives and property.
Financial disruption
Loss of peace of mind and happiness
Lack of judgment.
But we must be aware that alcoholism is treatable, preventable and manageable. The chances of recovery are good if alcohol abuse is treated in its early stages and as soon as it begins to manifest itself in the above.
Inspiration and Motivation- The new approach:
Vasant Agarwal says " Whether we accept it or not, almost everyone is an addict, from the mild to the severe, of some persuasion or another, to some degree or another, for some reason or another and with some consequence or another. This is not only a fact of life, but the inconvenient truth". This is something to think through in our daily lives.
The question is, why is incarceration and strict discipline in rehab centers not working? And if it is, why is the relapse rate so alarmingly high worldwide? This is because when a student is consistently failing, either the tutor, the tuition or both are lacking, and some compelling new form of instruction has to be instituted. It is his belief that motivation, inspiration and self-realization along with clinical guidance, is the new paradigm. This is the U.S.P of the book.
"Addiction is fission where the elements of life are separated to produce negative energy. Recovery is fusion where the particles coalesce to generate positive energy. Honesty is the critical mass in this crucible of life".
This leads us to the true definition of addiction. No, it is not not the one in the Dictionary, but the one in human terms. About what it has done and will do to one's happiness and that of others. It is no longer defined by the substance, but rather the psychological dependence on the substance. Be it drugs, gambling, internet, work, eating or even the TV for that matter, are all considered as addictions. They lead to feelings of guilt, shame, hopelessness, despair, failure, rejection, anxiety and/or anger. Alcohol and drugs are simply what they are. It's what you make them out to be is the problem.
One of the most underestimated of all faculties is our 'common sense'. It is our intelligence, intuition, instinct, experience and knowledge all combined, form our virtual reality, and is something we all have in common, yet invariably fail to exercise for some unknown reason or another. We must ask ourselves this soul searching question, "why don't we apply this to our addictions"? Why?
While most text on the subject deal with the clinical and dark side of addiction, this self help guide is a roadmap that addresses the various components of addiction in a perceptive, practical and hopefully promising manner. It is written from the addict point of view, who is saying "I don't know where to go and what to do. Please help me"! It is written as a must read for anyone seeking or wishing to give help. Although the main focus is on alcoholism, the contents apply to any kind of addiction. His thought is, 'if together, we can save even one soul, it will all be worth it'.
For all those who have suffered the pain and anguish of addiction, his inspirational and motivational story "The Accidental Addict and The Power of Positive Thinking", is now available on www.Kindle.in, and soon on Amazon, and is currently under editorial review at Penguin Random House as well.
Please visit www.4LifeisPositive.com for more about the author and the book. He has an Masters Degree from U.C.L.A., and I.S.C. Diploma from Cambridge University, England. He is currently working with several rehab centers in India, and has received numerous endorsements from many professionals in the area of mental health worldwide. Please contact him on this imperative social awareness and education call for action. His profile is on LinkedIn and Facebook.