Is It Possible To Recoup Normal Sexual Function After Prostate Surgery?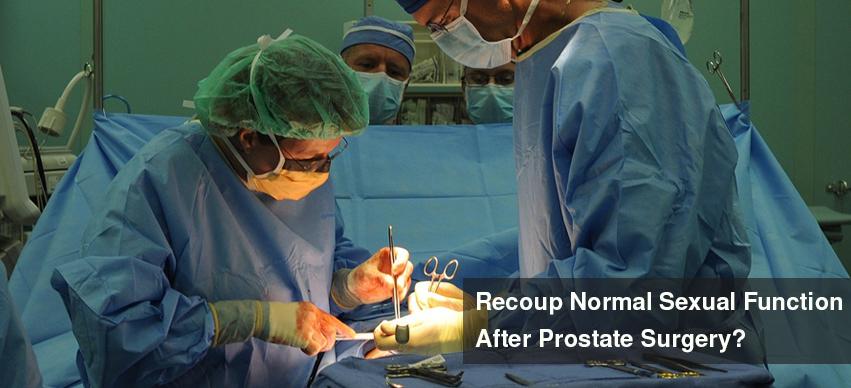 Recent studies show recouping normal sexual function is rare post prostate surgery

A new study was presented at the European Association of Urology Congress in Madrid which stated that it is difficult and rare to regain normal erectile function after radical prostatectomy, which is the most common prostate surgery.
In this procedure, the doctors surgically remove a part or the entire prostate gland and the tissues encompassing it, which even includes the seminal vesicles and a few nearby lymph nodes. The surgery is carried out when a patient suffers from benign conditions that result in urinary retention or in case of prostate cancers or other cancers associated with the pelvis.
The surgery is well received and known to remove the cancer but along with the success comes a major potential side effect – erectile dysfunction, the ineptitude to have an erection. This happens because the nerves surrounding the prostate gland, that control the ability to have an erection get impaired. Many cases have also been observed where this condition has improved with time but recent research has proved that accomplishing an erection of the same quality as before the surgery is unlikely and rare and it has been considerably overestimated by the doctors all this time.
The most accepted method of gauging erectile function is by dint of a questionnaire, the International Index of Erectile Function (IIEF), but it is not just constrained to prostate cancer patients. A few researchers felt that the questionnaire did not take into account the exceptional circumstances of a sudden change in erectile function afflicted by surgery. It also did not allow comparison of sexual activity precedent to the operation. The IIEF questions only cover the sexual activity of the patient only 4 weeks prior to the surgery.
A team ushered by Dr Mikkel Fode, from the Herlev Hospital in Copenhagen took a survey from 210 patients by filling up the IIEF questionnaire, 23 months after their radical prostatectomy surgery. An additional question was also added along with it – "Is your erectile as good as before the surgery?" It was found that only 14 patients (6.7%) reported that their erections were as good as prior to the surgery. And 49 patients (23.3%) showed no decline in the IIEF score.
Mikkel Ford made the below statement:
"The occurrence of sexual dysfunction after prostate cancer surgery is well known but our method of evaluating it is new. His work shows that having an erection as excellent as before surgery is an exceptional event, with a large majority of men(more than 93% in the group used for survey) exhibiting some or the other sexual problems after a prostate surgery".
Encouragingly a large majority of post-operative men respond well to Cialis as evidenced by the glowing reviews of Cialis in many forums. Basically, we may even be asking our patients the wrong question, but bigger trials with a larger audience is required in order to confirm this. We are sure that this work has shed some light and given us a much more realistic view of the real problems which most of the men face after undergoing a prostate surgery. We hope more research will be done in this particular area to solve the problems of a prostate surgery patient.