7 Side Effects of Apple Cider Vinegar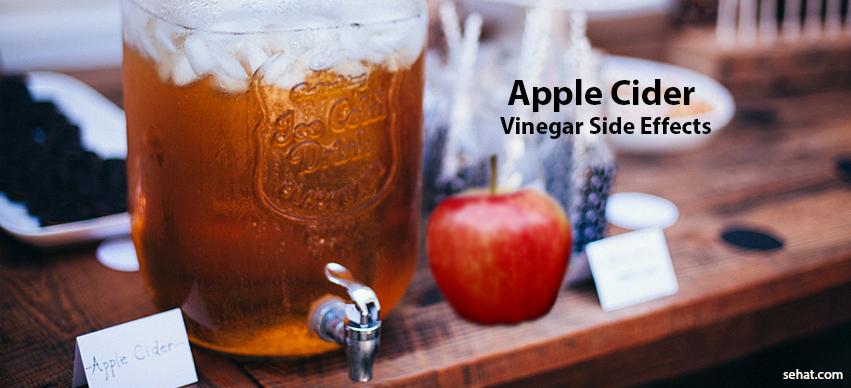 Apple cider vinegar, a fermented drink made using crushed apples is considered a wholesome beverage by many wellness enthusiasts. Sure enough, it possesses copious nutrients like B vitamins, vitamin C, acetic acid, phosphorous, sodium, iron, calcium, and magnesium that work together towards enhancing overall physical salubriousness. However, despite its remarkable health-boosting benefits, its over consumption can also lead to a number of side-effects that can have a detrimental effect on your wellbeing. Here are seven such apple cider vinegar side effects:
1. Erosion of Tooth Enamel:
Apple cider vinegar is considered a great home remedy for teeth whitening, but using it excessively for that purpose can backfire. The acetic acid contained in apple cider vinegar makes the teeth susceptible to erosion, easy decay, enhanced sensitivity and gum problems like bleeding and itching. If you want to make use of ACV, without damaging your pearly whites, it is advisable to dilute it in water before rinsing your mouth with it.
2. Stomach Irritation:
Here's another one of apple vinegar side effects. Drinking ACV on a daily basis can trigger stomach irritation by resulting in acidity and corroding stomach lining, research conducted by the University of Arkansas's Department of Human Environmental Science reports. It can also cause other digestive problems like nausea and heartburn. If you are susceptible to gastrointestinal problems, exercise caution before including apple cider vinegar in your diet.
3. Decreased Levels of Potassium:
Consuming too much apple cider vinegar every day can cause your body's natural potassium levels to deplete, resulting in hypokalemia, a condition that can cause constipation, muscles cramps, palpitations, weakness and abnormal heartbeat. Especially if you have been prescribed insulin and diuretics, you need to make sure you consult your doctor before making ACV a regular dietary inclusion.
4. Diabetic Hypoglycemia:
Apple cider vinegar also has antiglycemic properties that can lower glucose levels in the bloodstream, to a point where it can even result in diabetic hypoglycemia, associated with symptoms like seizures and unconsciousness. It is, therefore, extremely important for patients with type 2 diabetes or insulin resistance to consult their doctor before taking any dosage of apple cider vinegar.
5. Dangerous Drug interactions:
Certain medications like insulin, diuretics, digoxin, bumetanide, chlorothiazide, etc. can have dangerous interactions with apple cider vinegar due to its acidic nature. Not only can ACV interfere with the drug's effectiveness and properties, but it can also result in subsequent kidney damage. Do consult your doctor if you are taking any medications, especially for problems like blood pressure and blood sugar.
6. Sore Throat:
Drinking apple cider vinegar side effects also extend to throat irritation. Yet again the acetic acid contained in apple cider vinegar has a part to play in causing a sore throat. Excessive intake of undiluted ACV can irritate and even damage the esophageal wall. If you want to consume apple cider vinegar, it's suggested that you drink it diluted to prevent throat problems.
7. Increased Susceptibility to Migraines:
Migraine sufferers know what a big ordeal it is to endure them. Turns out that apple cider vinegar can trigger migraine headaches. Since apple cider vinegar helps detoxify the body, it can cause the brain to release out toxins, which can, thereby result in excruciatingly painful migraine headaches in people that may even last for weeks together.
The Ideal Use/Consumption of Apple Cider Vinegar
Though apple cider vinegar does have certain side effects like those mentioned above, one cannot ignore its remarkable benefits like improved skin health, weight loss and enhanced exercise endurance.
The ideal dosage of ACV is consuming a concoction of 2 tablespoons of ACV diluted in a cup of water once a day. If you want to use it topically, again ensure you dilute it in water and then apply it to your skin. Since everyone's constitution is different, consulting a doctor before including apple cider vinegar in your diet/daily regimen is imperative.
As far as possible, opt for an organic variety of apple cider vinegar, in consultation with a certified medical specialist. If you are a diabetic or blood pressure patient, avoid consuming ACV without checking with your healthcare provider. Sehat can help you find the best internal medicine specialists and general physicians in Delhi. Use and consume ACV responsibly to enjoy its many healthful properties.