Teff Grain Recipes - Cooking With Grains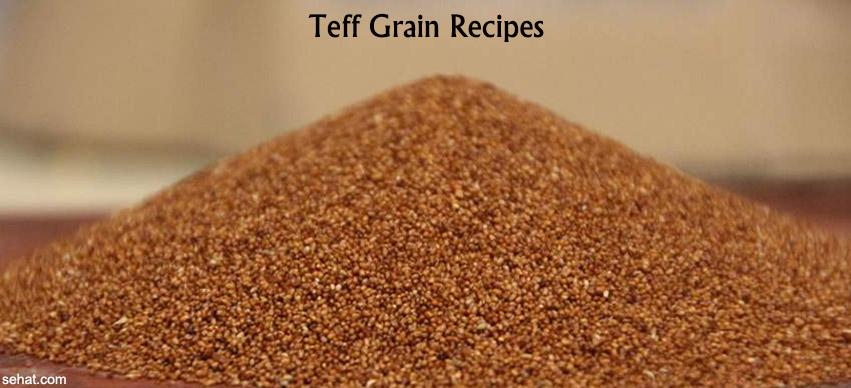 With today's world,devouring fast food and junk food from all-you-can-eat buffet's, closest food trucks and greasy joints, health has taken a back seat for many. Yet, with an increase in the number of health issues faced by people, many have opted for healthy eating. People, everywhere are now, experimenting with traditional grains and adding it to their daily diet.
And not only a traditional, but also a super small grain that has caught the attention of the health foods community.No, it's not Quinoa, it's not Kale. Teff, the new super small grain with awesome health benefits. If you love Ethiopian cuisine, then you will know Teff. Applauded as Hollywood's new superfood and the new quinoa, people are flocking to snack on teff grain recipes.
Teff is a fine grain that has colors ranging from white to beautiful earthy dark brown. Teff is a species of Love grass and is native to Eritrea and Ethiopia. Teff packs in very high nutritive values in a very small package. About the size of a poppy seed, it is so small, that three thousand grains of Teff weigh only one gram. Teff also consumes less fuel because of its much smaller size.
In 1996, the US National Research Council said about Teff as having the "potential to improve nutrition, boost food security, foster rural development and support sustainable land care." But it is not a grain that has been discovered recently. Teff's ancestry can be traced back 3000 years to ancient civilizations of Abyssinia, and it was an important diet staple to the people of that time.
Nutritional Value
Teff leads all grains by a wide margin in its calcium content, which is the same as half-a-cup of cooked spinach, offering 123mg. Due to its high fiber content, it can regulate your bowel movements and help you remain active much longer. This gain is also high in dietary fiber, iron, protein, and minerals. Cooked Teff is 75% water, 20% carbohydrates, 4% protein, and less than 1% fat. Teff also proves to be a rich source of manganese, thiamine, phosphorus, iron, magnesium, and zinc with only 1% saturated fat which is a huge nutritional benefit.
Uses of Teff
When ground into flour, Teff can be used as an excellent gluten free flour alternative which in turn can be used to make utterly nutritious and delicious cookies, bread and other baked goods. But, if you decide to go all natural, then try steaming, boiling or baking with the help of teff recipes. Teff is incorporated widely in Ethiopian food. Injera bread is a well-known teff flour recipe among the people.
Gluten-Free
For everyone who has chosen a gluten-free lifestyle, this powerful super food is a great alternative. It is also useful for those who have celiac and diabetes.
Taste
Not only in nutrition, but Teff also has an amazing nutty, grainy taste and texture that adds a whole different flavor to your food.
Teff Recipes
Teff can also be used with a variety of foods. People have gone the natural way and have infused Teff into their daily foods such as flour, other grains, and food. There are tons of teff flour recipes, teff grain recipes, and teff bread recipe. Here are three of the best recipes available out there!
Happy Teff Eating!
Banana (or Pumpkin) Teff Energy Bar
This vegan, wheat free, gluten free and naturally sweetened bar is one of the easiest teff flour recipes that will leave you yearning for more and will give you the energy to power through your day.
Ingredients:
1/2 cup flax meal
1 cup rice flour
1 cup Teff flour
2 Tbsp Teff grain (optional)
1 cup oats
2 Tbsp cornstarch
2 tsp baking powder
1/2 tsp baking soda
1 Tbsp xanthan gum
1/2 tsp salt
1 Tbsp cinnamon
3/4 cup raw sugar or jaggery
1 cup vegan butter or margarine (chilled)
1/2 cup maple syrup
2 bananas, pureed or 1 cup pumpkin puree
If making banana bars add:
If Making Pumpkin Bars Add:
1/2 cup pumpkin seeds
1/2 cup dried cranberries
1 tsp cloves
1 tsp ginger
1/2 tsp nutmeg
1 orange, zest
Instructions:
Preheat oven to 350°F
Mix all dry ingredients including spices, raw sugar, and orange zest in a stand mixer with paddle attachment, or by hand.
Cut in chunks of the vegan butter
Add nuts or pumpkin seeds and dried cranberries.
Add maple syrup and banana or pumpkin puree. Mix until it all comes together.
Press mixture into a 9x9 pan. Bake 25-30 minutes.
Cool. Cut into bars.
Teff Porridge:
Serves: 4
This is the kind of breakfast that will make you want to get out of bed, seize the day, and will power you all the way upto lunch. It is one of the easiest teff grain recipes to make.
Ingredients:
1 cup Teff grain
3 cups water
Nuts, lightly toasted, chopped
Dates (chopped), raisins, or berries
Maple syrup or honey
Instructions:
Toast teff over medium heat in a heavy saucepan. Stir constantly until it starts to pop.
Add water slowly, stir and bring to a gentle boil. Reduce the heat, cover the saucepan, and let simmer for about 15-20 mins.
Teff may also be cooked in a mixture of water and almond milk (1.5 cups of each).
Serve with your choice of toppings.
Teff Pancakes with Cinnamon
Another easy to make breakfast option that your children and you will definitely like and gorge on without a tantrum.
Ingredients
1 egg
1 cup white teff flour
1 cup milk ( low-fat or regular)
½ tsp vanilla extract or essence
½ tsp powdered cinnamon
2 tsp melted butter (vegan or regular as per preference)
A pinch of sea salt
Instructions:
Combine milk and egg in a glass bowl and whisk it lightly. Whisk in the flour and sea salt and leave it aside for half an hour. Strain it to take off any lumps.
Add butter to a hot pan and pour the batter to coat the pan. Cook it on both sides untill golden brown for 2-3 mins.
Serve hot pancakes with a drizzle of maple syrup or honey.
If you love yogurt then serve it with greek yogurt and fresh blueberries.
So, if you plan to go healthy, then just try this new super food, Teff and get the best benefits of it.
Sehat.com provides list of best Doctors in Hyderabad from which you can research and choose the right doctor for your condition.