Why are Seat Belts Important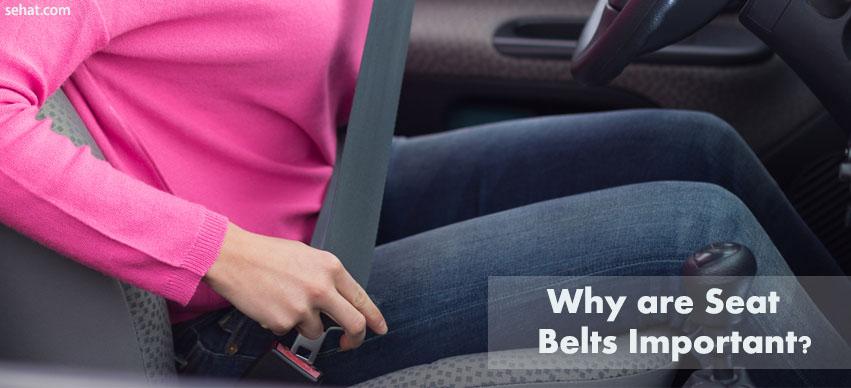 Seat belts have again and again and again come up as life savers, whether it is on superhighways or back roads. A seat belt can save a life in a car accident. As per an estimated research study, every year large number of lives are saved only because of buckled up seat belts. Not surprisingly, seat belts are designed to retain people in their seats. This way they reduce or prevent the extent of injuries suffered in a crash. Basically, they ensure the contact between the vehicle interior and occupant to be as little as possible, thus significantly reducing the risk of flying out of the vehicle.

Importance of Seat Belts
Well, as is a known fact that seat belts are included in vehicles to keep the occupants safe in case of a collision or accident. Irrespective of the price of your car or highly developed security features, seat belt safety has a completely different level. All the countries throughout the world have made it a compulsory traffic rule to wear a seat belt while driving.
Well, Here are Some of The Reasons for Why are Seat Belts Important.
Important Traffic Rule

Every country around the world has made it a basic traffic rule to fasten the seat belt while driving. In many countries, wearing a seat belt is important not only for the driver, but also for other occupants in the vehicle. Moreover, you might end up paying hefty fines in lieu of not wearing the seat belt properly or in case of any sort of negligence towards this traffic rule.






Keeps the Occupant Intact

In the stance of a sudden brake, your face might probably hit the windshield if you are not wearing your seat belt. Basically, the seat belt breaks the scientific law of inertia.




Holds You Tight

If you still wonder about how seat belts save lives, here is the reason. Actually, seat belts hold you tight and quite snugly, not providing the driver, or even the passenger, enough room to move. The seat belts feature a special mechanism due to which they get locked upon a strong sudden impact. This further prevents the driver from banging against other parts in the car, like doors, steering wheel, or dash board thus preventing injuries.




Reduces the Impact

If worn or tightened in proper order during the normal driving posture, seat belts can keep you seated irrespective of the impact of a crash or a sudden stop. You might have heard about accidents wherein the driver is thrown out of the car. The consequences can be really threatening and deadly. The injuries are a bare minimum when you remain seated.




Provides Protection Against Sudden Predicament

When travelling with your family and friends, if there are multiple passengers in the back seat, there are chances of them banging into one another in the incidence of a collision or even a sudden brake. This might, sometimes, cause severe injuries. However, seat belts provide protection from such sudden predicaments.




Provide Protection to Kids and Pregnant Women



Seat belts provide complete protection for pregnant women. It is advised to wear a seat belt when driving during pregnancy. However, make sure to fasten the belt below lower abdomen. "Lap-only-belts" are not recommended for pregnant women as they can cause serious injuries in the instance of sudden impact or collision. Wearing a seat belt correctly, can protect the mother and the unborn child.
The Correct Way to Wear a Seat Belt for Pregnant Women is:
Wear the belt as tight as possible.
Place the lap belt flat over the thighs. However, make sure that it fits comfortably below the abdomen. It should not rest over your baby bump.
Make sure the diagonal strap to rest amid the breasts with the strap rested over your shoulder instead of the neck.
Tips to Wear a Seat Belt Correctly
It is essential to adhere to the following points to wear the seat belt safely and correctly.
Make sure that the smooth movement of the belt is not obstructed by anything.
The lap belt is designed to go over the pelvic area and not your stomach
Wear the belt as tight as possible. Avoid any kind of slacking.
Make sure that the diagonal strap rests on your shoulder and not your neck.
Seat Belt Safety
Besides wearing a seat belt correctly and properly, it is also important to check them for safety. It is important to check the seat belts regularly for damage. The most common types of seat belt damage that reduce its effectiveness in case of a crash or collision include:
A damaged buckle
A hole in the seat belt
A cut in the belt that cause a split in the fabric
Fluffing or fraying around the seat belt edges
Precautionary Tips
Many people find lap belts difficult to buckle, but these are the real savers. Although not recommended for pregnant women, they are the most suitable and safe for other adult passengers. Make sure that the lap belt fits as tightly as possible. Furthermore, three-point seat belts, available in many vehicles with latest technology, are the safest.


Another important point regarding seat belt is the adjustment. There are numerous devices that can be attached to the seat belt so as to pull them into an altogether different position. Besides, you can completely change the way your seat belt rests on your shoulder, with the help of these devices.


Set an example for your kids. Kids do what they see. So, if you want your kids to make proper and correct use of seat belts, buckle up your seat belt for every ride. Also ensure that everyone else in your car fastens the seat belt.


Every child likes to lean or slouch against the windows while travelling. However, this might make your child unsafe during the drive. So, ask your kids to sit upright while using seat belts.
Therefore, buckling up before a ride is the most important thing for a family to do so as to stay safe during the drive. So, buckle up and stay safe!