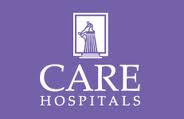 Care Hospitals
Banjara Hills
Road No.1,

Banjara Hills, Hyderabad

,

Telangana

-

500001
Website :

Best Hospital in Hyderabad

One of the best Multi-Speciality hospitals in Hyderabad based on the Week-NIELSEN Research national survey 2013.

NABH Accredited Hospital

This hospital is NABH accredited. National Accreditation Board for Hospitals & Healthcare Providers (NABH) is a constituent board of Quality Council of India, set up to establish and operate accreditation programme for healthcare organisations.
About Care Hospitals, Banjara Hills
The CARE Groups flagship CARE Hospitals, located in Banjara Hills - a prime location in Hyderabad, was set up in the year 2000. Today, the multispecialty hospital has 430 beds, including 120 critical care beds, with an annual inflow of 1,80,000 outpatients and 16,000 in-patients.

The Care Hospitals has 10 Operating Theatres with state-of-the-art equipment. Every year more than 1700 cardiothoracic surgeries and 5000 non-cardiac surgeries are performed. Over 4000 cardiac interventions are carried out in the advanced cath labs every year. The hospital also has the first dual source, 128 slice CT scanner (for high precision cardiac imaging) - the first of its kind in south India.

Care Hospitals offers a wide range of accommodation facilities for the convenience of its varied patient base, ranging from general wards to super deluxe rooms.
Awards
Care Hospitals, Banjara Hills: Awards & Certifications
Best Nursing Student Annual Award
DNB Cardiology Trainee Bags Prestigious Award
Honor for CARE Nephrologist
CARE Cardiologists elected to Editorial Board of Journal of Indian
Academy of Echocardiography
International Recognition for Care Cardiologists
Timings
Care Hospitals, Banjara Hills: Timings
News & Articles
Care Hospitals, Banjara Hills: News & Articles
Care Hospitals is a One of the first hospitals in the country to perform cardiac MRI
Gallery
Care Hospitals, Banjara Hills: Specialities
Anesthesiology

Bariatric & Metabolic Surgery

Bariatric Surgery

Bio-Chemistry

Cardiology

Cardiothoracic Surgery

Critical Care

Dentistry & Maxillofacial Surgery

Dermatology (Skin)

Dietetics

Emergency Medicine

Endocrinology

Endoscopy

ENT (Otolaryngology)

Gastroenterology

Gastrointestinal Medicine

General Medicine

General Surgery

Gynecology

Hematology

Internal Medicine

Laboratory Medicine

Laparoscopic Surgery

Micro-Biology

Nephrology

Neurology

Neurosurgery

Nuclear Medicine

Obstetrics and Gynecology

Ophthalmology

Orthopedics

Orthopedics & Traumatology

Pathology

Pediatric Cardiology

Pediatric Surgery

Pediatrics

Pediatrics & Neonatology

Physiotherapy

Plastic Surgery & Cosmetic Surgery

Psychiatry

Pulmonology

Radio-Diagnosis

Radiology

Respiratory Medicine

Rheumatology

Sports Medicine

Surgical Gastroenterology

Surgical Oncology

Urology

Vascular Surgery
Care Hospitals, Banjara Hills: Services
Ambulance
Blood Bank
Casualty
Operation Theatres
Diagnostic Services
Dialysis Unit
Electrotherapy
Emergency Room
Exercisetherapy
Home Health Care Services
LifeStyle Clinic - A Preventive Medicine Centre
Pharmacy
Non-invasive Laboratory
Care Hospitals, Banjara Hills: Doctors List
| Doctor Name | Specialisation | View Profile |
| --- | --- | --- |
| Dr. Rose Mary | Gastroenterology | |
| Dr.A. Kamala Devi | Anesthesiology | |
| Dr. Abhijit Sukumaran Nair | Anesthesiology | |
| Dr. Hemanth Kumar Kaukuntla | Cardiothoracic Surgery | |
| Dr.G. Rama Subramanyam | Cardiothoracic Surgery | |
| Dr. Goli Nagasaina Rao | Cardiothoracic Surgery | |
| Dr. Vikram Aerra | Cardiothoracic Surgery | |
| Dr. Bylal R Jagannath | Cardiothoracic Surgery | |
| Dr. Nallamala Krishna Reddy | Cardiology | |
| Dr.G. Kishore | Cardiology | |
| Dr.C. Sridevi | Cardiology | |
| Dr. Anuj Kapadiya | Cardiology | |
| Dr. Alluri Raja Gopala Raju | Cardiology | |
| Dr. Ajit Tachil | Cardiology | |
| Dr. Tapan K Dash | Pediatric Cardiac Surgery | |
| Dr.B. Sanjeev Sasmith | Plastic Surgery & Cosmetic Surgery | |
| Dr. Srinivas Gnaneswar | Plastic Surgery & Cosmetic Surgery | |
| Dr.M. Ganshyam Jagathkar | Critical Care | |
| Dr. Sarat C.V. Talluri | Internal Medicine | |
| Dr. Meena Wudali | Critical Care | |
Reviews on Care Hospitals, Banjara Hills
By

Satya Penmetsa

I think, Care is the best hospital when you have a complex medical need especially if it is a related to Cardiology. They have very good team approach...

Read More

By

Praveen Kavuri

This could be the best hospital i had ever visited.The name care is pretty apt for this hospital.I would like to recommend this hospital for my family...

Read More

By

KumarP

I went to Care Hospital for a Executive Health Checkup for my dad. The Executive Health Checkup program is cheap and it is normally completely done in...

Read More
Write a Review on Care Hospitals, Banjara Hills
Map of Care Hospitals
Banjara Hills