NABH Accredited Hospitals in Hyderabad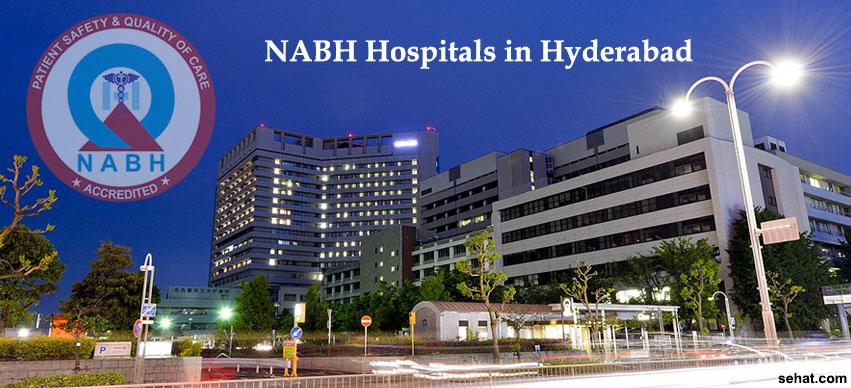 The National Accreditation Board for Hospitals & Healthcare Providers (NABH, India), or NABH, as it is more popularly known in the country, is an institution that is a member of the International Society for Quality in Health Care or ISQUA, for short.The number of NABH certified hospitals is on the rise the world over, and Hyderabad is one of the prominent cities in the country that boasts of a number of NABH accredited hospitals.
ISQUA is an international body that grants approval to Accreditation Bodies in the area of health care to suggest a mark of equivalence of the accreditation program of member countries. The International Society for Quality in Healthcare (ISQua) has accredited "NABH Standards for Hospitals" developed by the National Accreditation Board for Hospitals & Healthcare Providers (NABH, India).
The approval of ISQua indicates that NABH standards are on par with the global benchmarks set by ISQua. The NABH hospitals in Hyderabad will have international recognition, which will not only provide a boost to the medical tourism of Hyderabad, but such NABH certified hospitals will definitely be positioned higher.
As of now, the hospital standards of only 12 countries - Australia, Canada, Egypt, Hong Kong, Ireland, Japan, Jordan, Kyrgyz Republic, South Africa, Taiwan, United Kingdom and India were accredited by ISQua, India being the latest addition to the list. As only those hospitals that have the highest medical and safety standards are approved by NABH, such hospitals get National Recognition given by the Government of India. There are some very definite laid down NABH guidelines for a hospital to be certified by NABH. A hospital, to be approved by NABH, needs to pass a very stringent test based on over 600 quality parameters, each focused on improving the patient experience. In short, a NABH accredited hospital indicates that they are the best in the country,and where clinical processes and practices, administrative services, and patient safety standards have been audited and found to meet the highest national and international quality standards.
The NABH encompasses the entire range of operations and services provided by the hospital, starting from registration of patients to laboratory services that are offered in-house as well as those that are outsourced. It also includes display of patient rights, education, policies and procedures on the care of patients, management of medication, deployment of infection control processes, facility management and safety, and human resources management.
The NABH Standards provide the core framework for quality assurance and quality improvement of hospitals with a specific focus on patient safety and quality of patient care. These standards are equally applicable to hospitals and nursing homes in the government as well as in the private sector. A quality improvement process is in place - which means that these standards are continually reviewed for any improvement.
While There are About 410 NABH Hospitals Throughout the Country, These are the List of NABH Accredited Hospitals in Hyderabad:
1. Rainbow Children's Medicare Pvt. Ltd., Banjara Hills, Hyderabad
2. Star Hospitals, (BanjaraHills) Hyderabad
3. L.V. Prasad Eye Institute, BanjaraHills, Hyderabad
4. Yashoda Super Speciality Hospitals, Malakpet, Hyderabad
5. CARE Hospitals, Nampally, Hyderabad
6. Kamineni Hospitals Pvt Ltd, LB Nagar, Hyderabad
8. Prime Hospitals, Ameerpet, Hyderabad
9. Guru Nanak Care Hospitals, Musheerabad, Hyderabad
10. Yashoda Super Speciality Hospitals, Somajiguda, Hyderabad
11. Usha Mullapudi Cardiac Centre, Hyderabad
12. Aware Global Hospitals, LB Nagar Hyderabad
13. Basavatarakam Indo-American Cancer Institute & Research Centre, Banjara Hills, Hyderabad
14. Care Hospitals, Banjara Hills, Hyderabad
15. Omni Hospitals, Dilsukh Nagar, Hyderabad
16. MaxCure Hospitals (Formerly Mediciti Hospitals), Secretariat Road, Hyderabad
17. Continental Hospitals Limited, Hyderabad
18. Apollo Hospitals, Hyderguda, Hyderabad
19. Aditya Hospital, Boggulakunta, Hyderabad
20. Fernandez Hospital, Bogulkunta, Hyderabad
21. Sai Vani Super Specialty Hospital, Domalguda, Hyderabad
22. Asian Institute of Nephrology & Urology, Somajiguda, Hyderabad
23. SaiSanjeevini Hospitals, Saroor Nagar, Hyderabad
24. Olive Hospitals, Mehdipatnam, Hyderabad
25. The Deccan Hospitals, Somajiguda, Hyderabad
26. Pranaam Hospital, Hyderabad
27. Century Super Speciality Hospitals Pvt. Ltd., Banjara Hills, Hyderabad
The Board Members of NABH Include:
IMA - the Indian Medical Association
Consumer Co-ordination Council
Insurance Regulatory & Development Authority (IRDA)
Indian Nursing Council
Department of AYUSH - the Department of Ayurveda, Yoga and Naturopathy, Unani, Siddha and Homoeopathy, abbreviated as AYUSH
Director General, Armed Forces Medical Services
Directorate General of Health Services (DGHS)
MoHFW - Ministry of Health & Family Welfare
Ministry of Tourism
Drugs Controller General of India
CII - Confederation of Indian Industry
ASSOCHAM - The Associated Chambers of Commerce & Industry of India
FICCI - Federation of Indian Chambers of Commerce and Industry
Academy of Hospital Administration (AHA)