Skin and Hair Care Tips for Holi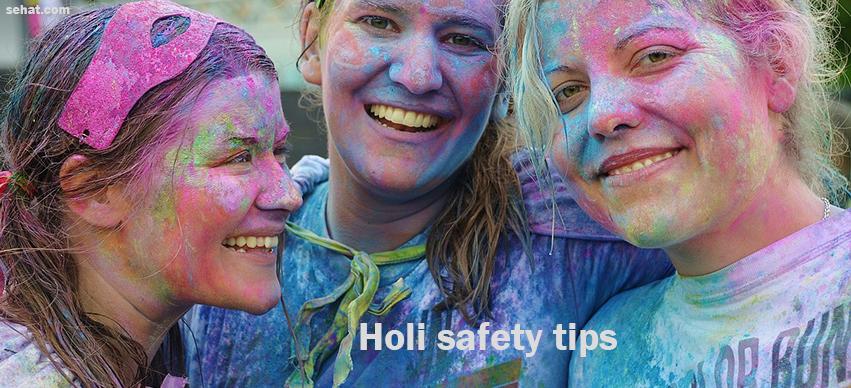 Holi is one of India's most celebrated festivals that marks the beginning of the glorious and colorful spring season. While on one hand you must be gearing up to revel in the spirit of this beautiful festival along with your friends and family, on the other hand you might also be concerned about the damage the harsh chemicals present in Holi colors might cause to your skin and hair. Even though you may have decided to stick to organic colors and play eco-friendly Holi, not always do you have that control and, thus, taking necessary precautions to protect yourself from toxic colors is advisable.
Some of the harmful ingredients present in Holi colors include diesel, mica, acids, and glass powder, amongst many others. These can cause skin problems like allergies, blisters, swelling and redness.
Here are Some Pre-Holi Safety Tips for Hair and Skin that You Should Keep in Mind:
Oiling:
The best way to prevent the penetration of toxic chemicals contained in Holi colors in your skin is to slather oil all over it. Coconut oil is very gentle on the skin and has natural UV-protective benefits. Make sure you also oil your hair with coconut oil to prevent the colors from ruining your hair quality and texture. Dab on some oil on your nails and cuticles too, as the color can get stuck in them easily.
UV-Protection:
In addition to the coconut oil, your skin may also need extra UV protection from the harsh sun, so make sure you apply a layer of sunscreen with minimum 30 SPF protection all over your skin.
Right Clothing:
Wear full-sleeved, cotton clothes. Prevent denims as they tend to become very heavy when wet. Try as far as possible to keep your hair covered with a hat or a bandana.
Right Hairstyle:
Tying your hair up in a bun or a braid is always better before you head out to play Holi. Doing this will prevent the color from seeping into your hair and scalp, thus protecting it from the harsh colors and murky water.
Hydration:
Another skincare tip during the Holi festival of colors is making sure you keep yourself hydrated by continuously sipping water and fresh fruit juices all throughout. Doing this can prevent dehydration, which makes your skin dry and more susceptible to damage by harsh colors.
Here are Some Safety Tips to Keep in Mind While Playing Holi:
1) Minimal Sun Exposure:
Avoid overexposing yourself to the sun as it can cause your skin to absorb the colors and make it difficult for you to get rid of them later.
2) Minimal Use of Bright Colors:
Stick to organic colors in shades of red or pink and enjoy an eco-friendly Holi. Avoid bright colors like yellow, orange, green and purple as they are high on chemicals.
These are Some Post-Holi Safety Tips for Hair and Skin that You Should Keep in Mind:
1) Cleansing:
Face Begin by rinsing your face with cold water and then use cleansing milk to get rid of all the color on the face.
Body - Scrub your body with a mild exfoliating body scrub. Doing this will help you get rid of the stubborn colors easily. After scrubbing, cleanse your body with a mind cleanser.
Hair - Rinse your hair thoroughly with plain, cold water and then wash it with a gentle (preferably herbal) shampoo and condition it. After a couple of days, get a deep-conditioning hair treatment done to restore your hair's lost texture and sheen.
2) Moisturizing:
Moisturize your face and body with an intensive, hydrating cream. Avoid shaving, bleaching, waxing or any skin treatment for a week as your skin is still sensitive due to the exposure to Holi colors.
3) Soothing:
If your skin still feels irritated or inflamed after cleansing and moisturizing, dab on some aloe-vera gel or cucumber juice on the affected areas of your skin. This will have a soothing impact on your skin.
No-Nos:
By all means, avoid resorting to desperate measures like rubbing your skin with kerosene or petrol to get rid of the color stains. Doing this will further dry up and inflame your skin.
Follow these tips and enjoy the wonderful festival with all pomp and glory. If you experience any skin or hair problems post-Holi, worry not as Sehat can help you find the best dermatologists in your city to treat your condition. Wish you a safe and a happy Holi!