Things To Know Before Breast Augmentation Surgery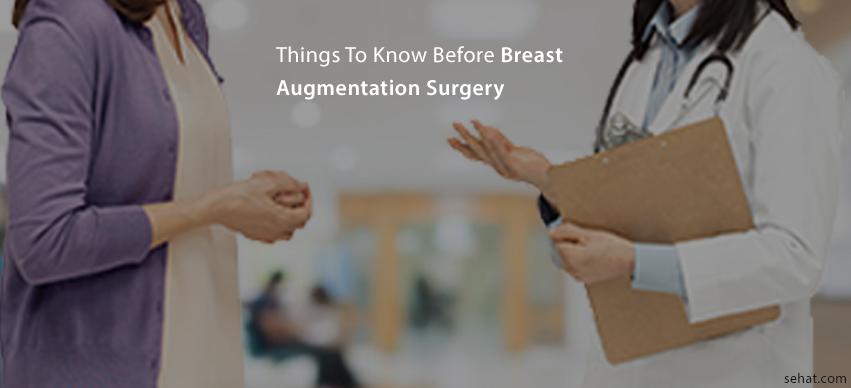 There are several reasons why women want to opt for breast augmentation. Enhancing the size and shape of our breasts is something we consider especially if we want to look better. Some women may also have experienced a loss of breast volume because of pregnancy and weight loss that is why they want to opt for this kind of treatment to balance the appearance with the rest of the body. Nevertheless, it pays to have all the knowledge about everything before the surgery.

Here are 5 things to know before breast augmentation surgery.


1. Your Age Will Determine If You Are An Ideal Candidate

When it comes to saline implants only, health patients who are 18 or older are eligible for a breast augmentation surgery. However, for silicone implants, only patients who are 22 or older are deemed by FDA as eligible. Ideally, candidates should not be pregnant or breastfeeding. They should also be non-smokers and are living a healthy and stable weight. Patients who are informed with realistic expectations are also ideal candidates.

2. Implants Come In Different Types, Shapes, And Sizes

The silicone shell of a breast implant is either filled with saline or cohesive silicone gel. It will all come down to your preference and aesthetic goals. These implants, aside from the differences in material, also comes in different sizes and shapes. Preferably, women choose the round implants because they provide a significant lift, fullness, and cleavage. On the other hand, there are also teardrop implants that provide a more natural look and fullness to the breasts.

3. Silicone Implants Create A More Natural Look

For women, especially thinner women, who want to have a more natural look and feel with their implants, silicone implants are the more preferable options. They are filled with medical-grade gel compared to saline implants where silicone shells are filled with saline or sterile salt water. If this saline leaks, it gets absorbed by the body. This is a possible occurrence, but not a common one.

4. There Are Potential Risks To Be Aware Of With This Procedure

Like any other surgery, there are risks involved with breast augmentation surgery. These are some of the risks involved with this surgery includes implant leaks, infection, excessive scar tissue, pain and tenderness, asymmetry, and dissatisfaction with the overall results. That being said, you will have to be open with your surgeon about your concerns so you can prepare in advance. This is where choosing only the experts is very important. You don't want to undergo this very important surgery without being guaranteed with good results.

5. You'll Need To Avoid A List Of Things Prior To The Surgery

Prior to the surgery, your surgeon will give you a specific list of instructions, but generally, these are things that you need to prepare for prior to the surgery. You need to limit your food and even limit alcohol intake the night before the surgery. You will also have to dress comfortably and warmly. Prior and after the surgery, you need someone to accompany you.