9 Amazing Benefits Of Eating Neem Leaves On Empty Stomach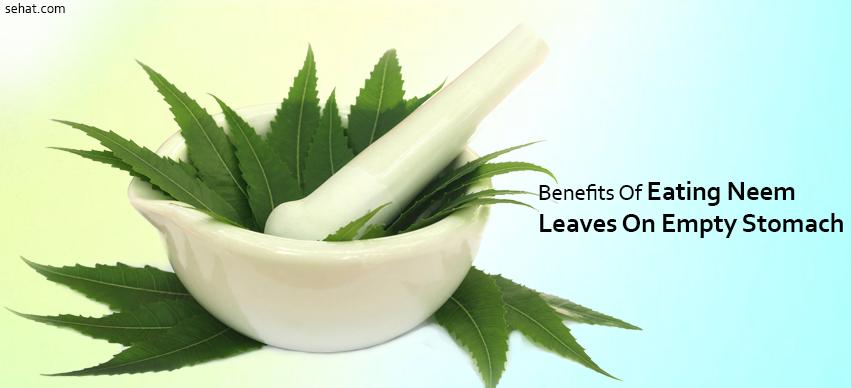 Neem tree is found abundantly in almost all regions of India. Likewise, it has been used for the treatment of a large number of ailments in humans, the references for which can be found in ancient medical texts. The neem tree has been declared by the United Nations as "Tree of the 21st century".
The US National Academy of Science has published a report in the year 1999, entitled "Neem: A Tree for solving global problems". This proves the utility of neem not just as a medicinal plant but also for the purpose of land reclamation, soil conservation activities, fuelwood, and construction work.
Let's take a look at the benefits of eating neem leaves on an empty stomach.
Reasons To Eat Neem Leaves On An Empty Stomach
Although eating neem leaves or consuming the bitter tonic of neem leaf juice might be a challenge for your taste buds, these leaves are loaded with nutrients and active principles which have preventive and curative effects.
Neem is one of the best medicinal plants available to mankind as its leaves have anti-fungal, anti-microbial, anti-malarial, anti-viral, anti-inflammatory, hypoglycemic and insecticidal effects, to name a few.
Benefits Of Eating Neem Leaves On An Empty Stomach
1. Anti-Cancer And Anti-Tumor Activities
Constituents of neem leaves help in eliminating free radicals from the blood without producing any adverse effects. This means that neem leaves also have a blood purifier effect on the blood. Hence eating neem leaves on an empty stomach prevents the occurrence of cancer.
2. Antifungal Activity
This quality of neem leaves was proven by a study which evaluated the effects of ethanol, aqueous and ethyl acetate extracts of neem leaves on fungal pathogens like Aspergillus, Candida albicans and Microsporum gypseum.
3. Antimicrobial Activity
This health benefit of eating neem leaves on empty stomach was proven by a clinical study that revealed that neem leaves had a bactericidal effect against the Gram-negative group of bacteria which can produce serious infective conditions like E.coli, Salmonella, and Klebsiella.
Our intestines are home to several healthy bacteria which under unfavorable conditions such as inadequate diet or consumption of contaminated food and water may turn hostile and cause infection and inflammation within the body. Eating neem leaves on an empty stomach can also provide immunity against these infections, thereby showing a preventive as well as a curative effect.
4. Antibacterial Activity
A study has proven the bactericidal effect of neem leaf extract on the micro-organism Vibrio. It concluded that the constituents of neem leaves were capable of inhibiting the growth of Vibrio species. With a sharp rise in incidences of antibiotic resistance, neem leaves or its extract can prove to be a natural remedy without any side effects.
5. Anthelmintic Activity
The specific action of Azadirachta Indica leaves on helminths like roundworm, tapeworm, and earthworms have been proven by researchers. They concluded that neem leaves displayed significant anthelmintic activity at a concentration of 40 mg/ml.
6. Hypoglycemic Effect
This is a remarkable health benefit of eating neem leaves on an empty stomach especially for people with diabetes. Researches to prove the blood sugar-lowering the effect of neem leaves has been conducted on rats. However, no studies are available which prove the hypoglycemic activity of neem leaves in humans.
7. Anti-Oxidant Effect
Active neem extracts reduce oxidative stress and eliminate free radicals from the blood.
8. Skin Diseases
The utility of neem leaves has been mentioned in Indian Medicine textbooks, either to be eaten or applied locally for treatment of chronic skin disorders like psoriasis, eczema, acne, ringworm, and warts. Eating neem leaves on an empty stomach also helps to purify and rejuvenate the skin.
9. Maintain Oral Health
Chewing neem leaves and twigs help to fight bad odor and plaque formation on teeth. Due to this reason, neem is a common ingredient in several kinds of toothpaste and oral care products.
Apart from its leaves, neem oil extracted from the seeds is being widely used and accepted as a natural or herbal mosquito repellant in contrast to the ones available commercially. Also, it has been found useful for the treatment of vaginal infections in females.
Can We Eat Neem Leaves Daily?
Yes. It is safe to eat the tender, fresh neem leaves daily without any side effects. However, a period of abstinence of about a month or so must also be kept as very large doses of neem leaves can produce adverse effects on the liver and kidneys. Neem leaves contain more than 100 active compounds. Besides, eating fresh neem leaves daily provides the body with all the necessary nutrients like proteins, fats, carbohydrates, iron, calcium, and fiber.
Is Neem Safe During Pregnancy?
Also, eating neem leaves during pregnancy or by women who wish to conceive is not considered to be safe or is prohibited since eating neem leaves or even local application of neem leaves has a spermicidal activity, which means that neem leaves can prevent pregnancy by working as a natural contraceptive.
Eating neem leaves is not advisable in case of children or even lactating mothers since serious side effects like vomiting, diarrhea, drowsiness, and unconsciousness have been noted among children who took neem oil or neem leaves.
Can We Eat Neem Leaves During Periods?
Dysmenorrhea or painful periods and premenstrual syndrome are two commonest menstruation-related disorders among women belonging to the reproductive age group.
Ayurvedic texts mention the benefits of eating neem leaves on empty stomach or drinking neem juice help in the management of painful menstrual periods. Juice made out of few neem leaves and ginger that is mixed well can be consumed. This works as a natural anti-spasmodic to get relief from menstrual cramps.
Conclusion
With an increasing preference for natural and herbal remedies along with a rising trend to opt for a healthier lifestyle for the prevention of illnesses, natural remedies with multiple health benefits such as neem leaves have found its place in several households.
Also, some potential active compounds have been isolated from the leaves which are also used to treat snake bites. The plant is also being increasingly used commercially as a natural insecticide for pest control.