5 Best Remedies To Get Rid Of Tooth Sensitivity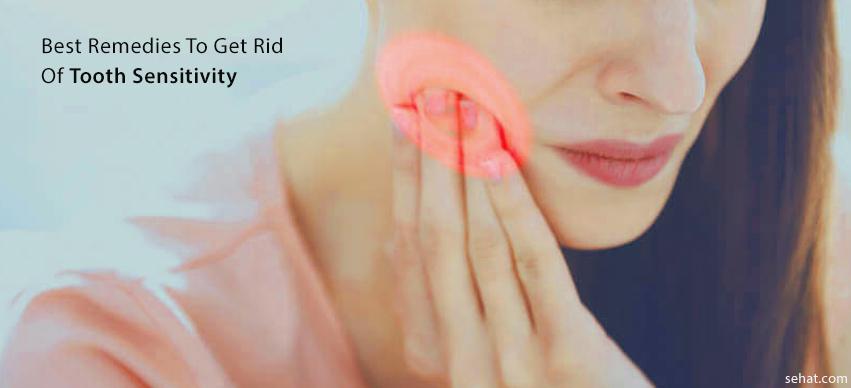 Dental problems can occur due to so many reasons like rapid dental procedures, brushing teeth in the wrong way, eating chocolates and candies etc. Tooth sensitivity is one of the most common dental issues which induce pain and discomfort in teeth while encountering certain substances. The pain in this dental issue is usually sudden and sharp, but not permanent. Sensitivity can happen at any age and at any point in time. Many people are there who experience sensitivity when they get teeth filling done while some people feel sensitivity in the tooth when they use harsh toothbrush or toothpaste. But no need to worry about it as there are many ways to treat tooth sensitivity.

Causes Of Tooth Sensitivity

Tooth sensitivity starts when dentin, a protective material in your tooth loses its outer layer cementum or enamel a protective covering. This exposes nerve ending of the tooth to cold, acidic foods and hot resulting in more sensitivity. Some factors which are highly responsible for tooth sensitivity include tooth decay, damaged tooth, using a hard toothbrush, worn out teeth filling, dental procedures, teeth whitening, receding gums, teeth grinding, eroded teeth due to acidic beverages and foods and much more.

Best Remedies To Stop Tooth Sensitivity
1. Use Capsaicin

This is one of the top preventive methods to which you must give at least one try if you want to get rid of tooth sensitivity. Capsaicin is a compound which is found in hot peppers and chili peppers. Due to this compound, peppers become so spicy. Capsaicin has the ability to treat mouth syndrome by reducing pain and inflammation. To get away from sensitivity you can prefer to use Capsaicin in form of a topical gel or as a mouth rinse. Though it will burn little after a few minutes, it will reduce pain. For best result, it should be used continuously.

2. Avoid Having Acidic Drink

Highly acidic drinks and foods affect teeth's enamel which leads to problems like tooth decay and tooth sensitivity. Not only this, but it can also lead to problems like gums, cavities which even affect nerves. Citrus fruits, citrus fruits juices, and carbonated sodas are few things containing acid. So, you must avoid having all these things and instead try to add them to your meal. Other foods work as a buffer that lower PH levels in the mouth. So, you must make sure that you wait for minimum 30 minutes before brushing your teeth after having any citrus fruit.

3. Use Sensitive Toothpaste

There are several toothpaste brands available out in the market specially designed to deal with tooth sensitivity. Some of them contain an important ingredient named potassium nitrate, this helps in blocking tiny tubules in dentin. Experts believe that it may not work for every person but it is the best option to start with. To get the maximum result, it must be used in the right way. Many people prefer using this toothpaste and as soon as they start getting the relief they stop using it. But, for the effective result, it must be used continuously.

4. Coconut Oil

Most of you must have heard about oil pulling. In oil pulling, high-quality oil is used for coating teeth and protecting them from gum problems and cavities. This procedure is very beneficial for people suffering from sensitivity. Coconut oil is the best oil to be taken into consideration for this procedure. This is because it is antimicrobial and antibacterial. To start this process, all you need is a teaspoon of coconut oil and melt it in your mouth. After this, just swish the oil just like mouthwash all around your mouth and then simply spit.

5. Peppermint Tea, Extract or Leaves

Peppermint is well known for reducing soreness and swelling, so there is no surprise in saying that it can be utilized in many ways to heal tooth sensitivity. If you are having fresh leaves of peppermint then you can simply chew them or in case they are dry you can hold them in front of the tooth. While if you are having peppermint extract then soak a cotton ball in it and place it on the tooth which you think is sensible. In fact, you can even use peppermint with tea simply having few leaves in warm water and steep peppermint tea for around 20 minutes.