Healthy Christmas Diet Tips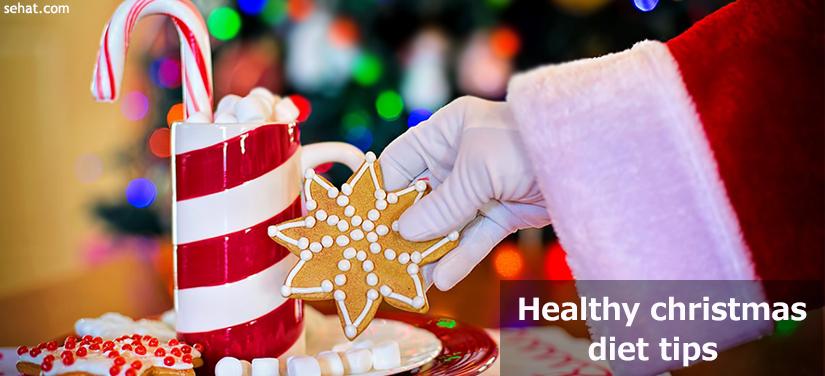 Christmas is a season for reuniting with your friends and closed ones and indulges in some sumptuous foods. This is the time people wait for all over the year for limitless mirth and enjoyment. However, you should also be mindful about the need to watch on calorie intake during the festive days! All those meat pies, turkey roasts and desserts can lead to the ugly flab on your waistline sooner than you realize. Surely, you would not like to begin the New Year with those extra pounds. So, it is prudent that you make use of tips to eat healthy and enjoy Christmas minus the calorie woes. It is not very tedious either. You just have to shop and make dishes with a little care. It is also important to drink beverages with caution. Utilize these handy Christmas diet tips and you will be able to enjoy the festive days with close ones without fretting about gaining excess weight.
Christmas is one of the most awaited festivals of the year and it transcends geographical and religious boundaries. People from all age groups eagerly wait for it and Christmas is also the season for reuniting with close ones. However, the festive spirit of Christmas is never complete without gorging on sumptuous foods, drinking enticing beverages and exchanging gifts. However, the delight and excitement surrounding Christmas may fade after that if you end up in taking lots of calorie thanks to the numerous parties and binge eating. If you have the desire to enjoy the upcoming Christmas to the hilt yet do not want to put on those extra pounds, it is not difficult. The Healthy Christmas diet tips are what you need to fulfill your desire.
Ways to Ensure you Enjoy Christmas Without Putting on Excess Flab
With a little caution and careful planning, you can avoid putting on excess weight and still enjoy celebrating Christmas with your close ones. Use the below listed Christmas health tips:
Beginning with the Breakfast:
The doctors never get tired of saying that breakfast is the most important meal of the day and they are actually right. It holds true for festive days also. If you think skipping the breakfast on Christmas day will ensure your calorie intake will reduce, you are mistaken. Inwards, you will remain hungry and risk of indulging in those pastries, calorie laden pies and cakes will be more. So, start your day with a healthy yet filling breakfast. You can pick a bowl of porridge and top it up with an omelet and some cranberries. You may also take a small bowl of probiotic yogurt.
Choosing Beverages with Caution:
This is among most useful Healthy Christmas diet tips. You are likely to feel the urge to gulp down those bottles of wine and other alcoholic beverages during the Christmas week. However, to check the extra pounds, adopt a cautious approach. It would be good if you drink a few glasses of water on those days. Evade taking many drinks with caffeine. For Christmas dinner, go for red wine. It is better that you skip cocktails, especially those with coconut milk and creams. Those are laden with excess calories regardless of how alluring they taste.
Snacking with Limit:
Whether you throw a party at home for Christmas or spend the day at a friend's or relative's place for partying, snacking is inevitable. However, it is necessary that you resist the temptation to gorge on calorie heavy snacks. The mutton pies and burgers may be absolutely tempting but you have to look aside as the dinner will be calorie laden itself! It would be better to snack on low calorie fruits and some yogurt to beat those sudden hunger pangs. Having an apple or orange is also a good idea.
Careful With the Turkey:
What is a Christmas dinner, without an awesome Turkey dish, after all! Nearly every household makes some Turkey dish during Christmas week, as it is. To ensure you can gorge on Turkey without putting on excess flab, utilize this Healthy Christmas diet tips. Turkey by itself is not unsuitable for the health conscious lot. On the contrary, it is among the top sources of animal protein. It is loaded with protein and is a storehouse of zinc, a mineral required by the human body. However, it is all about preparing the Turkey dish in the suitable way. If you are cooking Turkey, avoid using too much oil and butter. Use least amount of oil required for roasting and remove the skin to cut down on fat. For stuffing use variety of vegetables including carrots, cauliflower, chopped chestnuts and red cabbage. Steer clear of using cranberry sauce and white sauce.
Watch the Dessert:
Those with a sweet tooth should be careful when enjoying meals in Christmas. It is only natural to develop some craving for sweets after gorging on the turkey and other dishes. However, it is best that you limit yourself to a small pudding or similar desserts. You may also take some dark chocolate that has proven health benefits. This is among the most useful Healthy Christmas diet tips you should adhere to.
Say No to Pre-Cooked Foods:
If you are throwing a Christmas party at home, resist the urge to buy pre-cooked snacks for the guests. When you will be preparing the dinner, why not take some time to prepare snacks and appetizers at home too? This way you can ensure you cook the dishes with less oil and sugar. This is not possible when you buy packed snacks. These Healthy Christmas diet tips will help you stay in shape after Christmas parties.
Other Handy Tips to Enjoy a Healthy Christmas
It is not just enough to cook healthy dishes and controlling your portions in Christmas dinner. You need to do something more, including utilizing Healthy Christmas recipes and planning in advance.
Shopping Old Fashioned Way:
yes, it seems quite tempting when you come across the Christmas offers on online grocery stores. When you are struggling to balance work and household chores before Christmas, shopping online may seem convenient. However, it would be better if you take some time from your schedule and walk to the nearby mall or market. Brave the cold for a day and shop the old fashioned way. This will let you burn quite a few calories and you can buy fresh turkey and produce.
Host a Party at Home:
Beyond doubt, you will receive a few invitations on Christmas week from friends and colleagues. The thought of arranging a party at home and later cleaning up may seem tiring. But, on the brighter side, it will help you burn a lot of calories.
Summing it All Up
So, it is not really that hard to enjoy Christmas season and still evade putting on excess layers of flab! By cooking carefully and adhering to some Healthy Christmas diet tips, you can surely control the calorie intake.