High Potassium Drinks To Avoid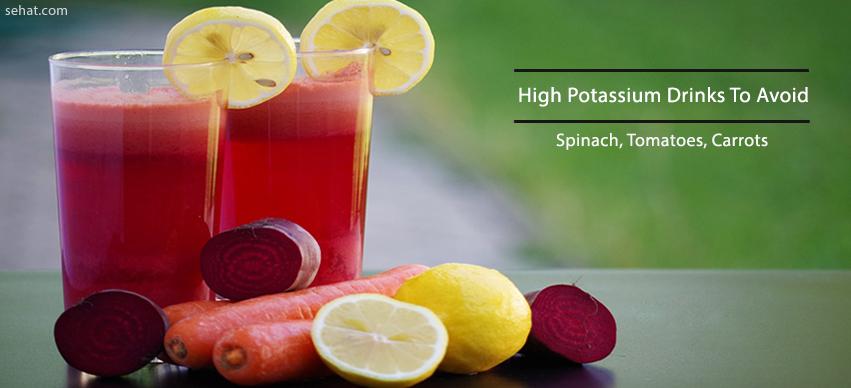 We have always been told right from our childhood about the importance of drinking plenty of fluids and how well hydrated is essential to maintain good health generally. However, since excess of anything is known to be bad for us, there are certain drinks having high potassium content which are to be avoided due to certain conditions. This article will help you understand why our body needs potassium, signs, and symptoms of excess potassium along with a list of high potassium drinks to avoid.
Functions of Potassium
Potassium is an essential nutrient required to maintain the total fluid volume, electrolytes and acid-base balance within the body. Some important functions of potassium are listed below
Normal Reference Range For Serum Potassium: 3.5 – 5.0 mEq/L
Daily Recommended Intake For Potassium: 3500-4700 milligrams for adults
A condition of serum potassium level lower than the normal reference range is called hypokalemia. On the contrary, a condition of serum potassium level greater than the normal range is called hyperkalemia.
Causes For Hyperkalemia
High potassium levels in the blood can be found as a result of the following conditions:
Signs And Symptoms Of Hyperkalemia
Since most of the potassium in the body is stored within the cells of muscular tissues, excess of potassium will show relevant signs and symptoms such as:
Signs and symptoms of high serum potassium do not appear immediately. They develop gradually over a period of a few weeks to even months. Therefore it is relatively difficult to know if you have high potassium levels unless diagnosed previously.
High Potassium Drinks To Avoid
It is important to get adequate potassium along with other nutrients from the diet. It is equally important to avoid an excess of these as they can have deleterious effects on the body. Some of the high potassium drinks to avoid include
1. Fruit Juices
Fruits are known to have high potassium content especially bananas, oranges, mangoes, pomegranates, litchis, etc. One cup of fresh orange juice provides 430-490 milligrams of potassium. Similarly, bananas are known for being rich in potassium and need to be limited if you are suffering from hyperkalemia.
2. Coconut Water
This is a popular and natural drink know for its health benefits since it is rich in electrolytes, potassium is one of those. Coconut water is an excellent drink for rehydrating. Yet, it should be avoided if you have high serum potassium levels or if you have chronic kidney disorders.
3. Vegetable Juices
vegetables such as tomatoes, carrots, and spinach have high potassium content. Juices are often prepared from such vegetables. One cup of freshly prepared carrot juice provides about 650-680 milligrams of potassium. Similarly, a cup of tomato juice provides about 500 milligrams of potassium.
4. Dairy Products
This includes drinks such as buttermilk and full-fat milk taken along with flavoring agents such as chocolate are rich in potassium. One cup of full-fat chocolate milk provides 400-450 milligrams of potassium.
5. Canned Juices
Canned juices need to be avoided if you are looking to avoid high potassium drinks because they contain salt as an added preservative to improve their shelf life.
Reasons To Avoid High Potassium Drinks
Since metabolism and elimination of excess potassium depend largely upon the normal functioning of kidneys, sweat glands, and the gastrointestinal tract, high potassium drinks should be avoided due to the following reasons