Indian Vegetarian Soup Recipes For Weight Loss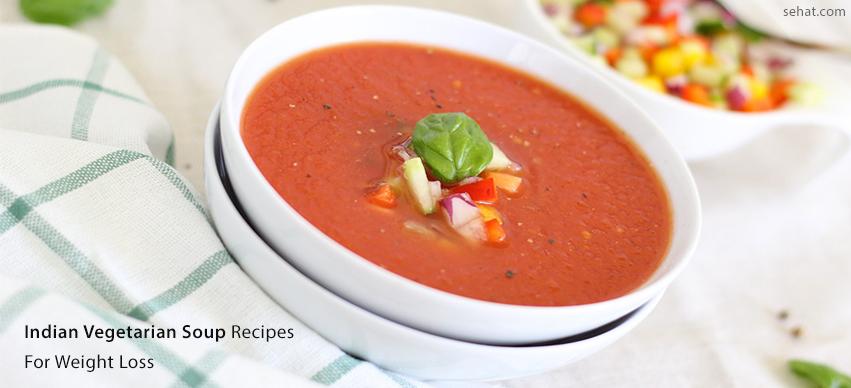 The first thing that comes to the mind with the mention of weight loss is reducing the calorie intake in the body. Curbing appetite is not the only way of burning off those extra pounds from the body. In fact, this can make you weak and ill as well. It is important that your body gets the required nutrition for its proper functioning. And for this, it is needed that you have a balanced and healthy diet.
When your main concern is weight loss, try adding foods in the diet, which will help in the process. Interestingly, soups and weight loss go hand in hand with one another. There are innumerable Indian vegetarian soup recipes for weight loss, which you can definitely try. These soups are laden with the goodness of various vegetables and hence your nutrition is taken care of completely. When cooked in the right manner, these soups taste good as well. Thus, it is understandable that these soups will help you in losing weight without compromising on the taste factor.
1. Tomato Soup
Tomato soup is one of the favorites with people looking to lose weight. It is not only nutritious but its tangy flavor and taste are liked by almost everyone. The best thing is that preparing this soup is also quite easy and can be done in little time.
Ingredients Needed
6 large tomatoes
4 cups of water
1 teaspoon cumin seeds
6 cloves, black pepper powder as per taste
Salt
Butter ½ teaspoon
Sugar 1 teaspoon
How To Prepare
Wash the tomatoes thoroughly and add them to a large pan with abundant water. Pressure cook the same up to 3-4 whistles.
Remove the tomatoes from the cooker, peel them and allow them to cool.
Use a blender and blend the tomatoes till a smooth paste is formed. Strain this with the help of a strainer to remove any seeds or lumps.
Now add this tomato puree to a non-stick saucepan and boil the same. Add the sugar. Let it simmer for about 3 minutes after that.
Add water if you want to adjust the thickness.
Season as needed with salt and pepper. Keep it aside. In another small pan, heat some butter.
Add cloves and cumin seeds to the butter and let them splutter.
Pour this on the soup. Serve the soup hot.
2. Moong Dal And Carrot Soup
The combination of antioxidant-rich carrots and split green gram lentils (moong daal) in the form of soup is not only great to taste but excellent for weight loss as well. Onions and garlic are roasted in a minimum quantity of oil in the recipe. The use of skimmed milk makes the soup nourishing and wholesome. Find a dietician near you for such suggestions.
Ingredients Needed
1/8 cup washed and well-drained moong daal
¼ cup finely chopped carrots
6 cloves of finely chopped garlic
1 small finely chopped tomato
1/8 cup finely sliced onions
2 cloves
½ teaspoon cumin seeds
1 teaspoon freshly ground black pepper powder
Oil
1 ½ teaspoon skim milk 1/8 cup salt to taste
How To Prepare
Heat 1 teaspoon of oil in a non-stick pan. Add garlic and onions and sauté till they turn light brown in color. Add the carrots followed by the tomatoes and cook for about 2 minutes.
Roast the moong daal in a different pan. Now take a large pan or bowl and add the vegetable mixture, the moong daal and 1 ½ cup of water.
Pressure cook these for 3-4 whistles on high flame. Cook for more 3 minutes on low flame. Let the mixture cool.
Use a blender and blend it to a smooth paste. Add this mixture to a non-stick pan, add the milk, water, black pepper powder, and salt and boil for a minute.
In a small pan add cloves and cumin seeds in oil and let them splutter.
Pour this on the soup and serve hot.
3. Mixed Vegetable Soup
If you are following an Indian liquid diet for weight loss, you cannot miss the mixed vegetable soup. You can add vegetables of your choice in the soup, which can be made quite quickly. While the flavor of the soup is enhanced with bay leaves, black pepper makes it spicy and lemon juice imparts a tangy taste.
Ingredients Needed
Chopped tomatoes
Cabbage
Capsicum
Onions
Bay leaves
Black pepper
Oil
Salt
Lemon juice
How To Prepare
Take a saucepan and add the oil. Add the bay leaves and onions and sauté them well. When they become slightly brown in color, add the vegetables of your choice and stir for some time.
Add water to it and let it boil for some time. Add salt and pepper powder and let it simmer for a while.
Take it off the heat. Add some lemon juice from the top if you want some tanginess in the soup.
Serve the soup hot.
4. Red Kidney Beans Soup
This soup works excellently as a simple main course for many people who are aiming to lose weight successfully. The rich and creamy soup is low on calories but high on taste and health factor.
Ingredients Needed
¼ cup red kidney beans
4 cloves of minced garlic
2 medium finely chopped onions
1-inch piece finely grated ginger
1 finely chopped tomato
1 finely grated carrot
¼ cup skimmed milk, red chili flakes
Finely chopped coriander leaves
Oil 2 teaspoons
Chaat masala and
Salt.
How To Prepare
The kidney beans have to be pressure cooked along with the carrots.
In a preheated skillet add 1 teaspoon oil and sauté onion, ginger, and garlic till golden brown.
Add the tomatoes and cook till they become pulpy. Half of the cooked beans and the water from the cooked beans are to be kept aside.
Other beans have to be mashed well. Add salt to the mashed beans and bring it to a boil. Turn off flame and let it cool.
Transfer this mixture to a blender and add the red chili flakes. Blend to smooth puree.
Add the puree to the skillet, add the non-mashed beans and simmer.
See the consistency you want and use water likewise.
Check the seasoning. Add milk if you like (optional). Serve by sprinkling chaat masala and chopped coriander leaves.
Along with soups, fruits also help you lose weight. Try having these amazingly delicious Indian vegetarian soup recipes for weight loss.