4 Facts about the Side Effects of Toenail Fungus Medication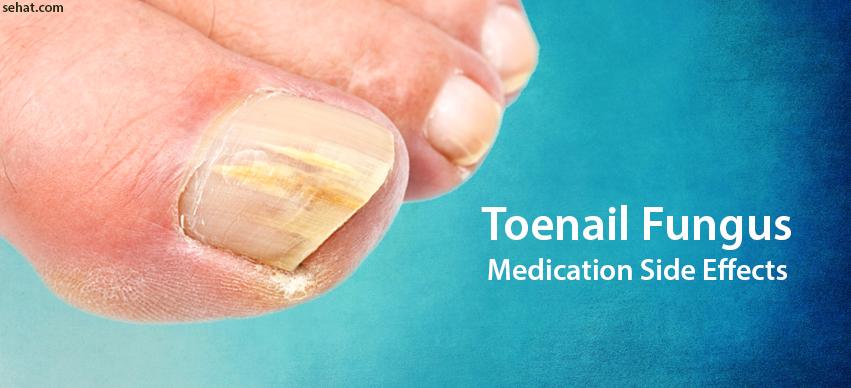 Toenail fungus infection is usually caused by organisms that develop in a dark and moist environment. If this infection is left untreated it causes the toenail to crumble, thicken and change in color. There are many medicines to treat the condition and a number of them come with side effects. Because of these side effects, most medications for toenail fungal infection are available as prescription drugs. This means that the use of these drugs comes with a warning before taking them.
The use of oral toenail medications can cause several symptoms like dizziness, headache, vomiting, upset stomach, liver damage and hives. Creams on the other hand cause burning sensation, peeling, itching, rash and dryness. The skin reaction ranges from mild to severe allergic reaction.
Lamisil (Terbinafine)
Lamisil prohibits the growth of fungi on the toenail by preventing the enzymatic activity that builds the fungal cell wall. It is hard for the fungi to grow and multiply without the cell wall. Lamisil works best with the two major causes of toenail infection which are the Trichophyton rubrum and trichophyton mentagrophytes.
Side effects of Lamisil are indigestion or dyspepsia, rashes and headache. It can also cause liver disease, that's why it is not recommended for people with liver disorders. Lamisil can also reduce the amount of white blood cell production in the body. Users of Lamisil are at risk of developing Stevens-Johnson Syndrome, toxic epidermal necrolysis. Skin blisters are also a common side effect when using Lamisil.
Griseofulvin (Fulvicin)
The FDA noted Fulvicin as a category C risk among pregnant women. It can cause birth defects if taken during pregnancy. Another side effect is that it causes low sperm count and allergic reactions may occur as manifested by symptoms like difficulty in breathing, swelling of the face, hives, diarrhea, vomiting, irregular menstrual cycle, insomnia, tingling sensation and numbness on both hands and face. When used with a different drug, Fulvicin may react negatively and could lead to a dangerous outcome.
Itraconazole (Sporanox)
According to the National Medicine of Drugs, the minor side effects with the use of Sporanox are diarrhea, stomach upset, constipation, gas pain, bleeding gums, muscle pain, sweating, dizziness, nervousness and depression.
In more serious cases, Sporanox may cause fever, chills, pale stools, painful and frequent urination, itching, rash, hives and numbness of hands and feet. This is according to Greg C. Elwood's article "Dangers of Toe Fungus Medication."
If taken with other medications like guanidine, dofetilide and levomethadyl, it may cause life-threatening side effects. It also increases blood sugar levels when taken with medication that has itraconazole and protease inhibitors which may also increase the susceptibility to congestive heart failure.
Fluconazole (Diflucan)
The common side effects of Diflucan intake are a headache, abdominal pain, diarrhea, dyspepsia, nausea and taste perversion. The hepatic reaction that will lead to jaundice and hepatitis may also occur. According to Birthorderplus, the fatal consequence is liver failure.
It is necessary to monitor the blood level when you are treating toenail fungus with over-the-counter creams and medicines. There are several natural treatments that can be used to treat fungus without side effects. However, before using any, get an expert's advice to avoid hassles. Sehat provides a list of best dermatologists in Hyderabad from which you can research and choose the right doctor for your condition.