Basic Skin Care Grooming Tips for The Handsome Hunks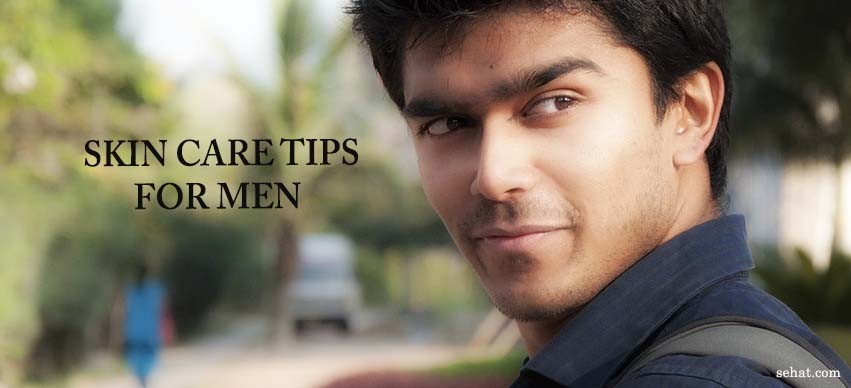 Most men are rather coy and reluctant to broach on the topic of skin care. But even men wish to look at their best. Today, the beauty industry has opened its arms to men, and about 80% of the population has also embraced it with glee. No longer is a man visiting a salon laughed upon, in fact most men now spend wads of notes in grooming and beauty.
While visiting a beauty salon is perhaps the best way to stay at par with the latest trends, a few skin care and grooming tips can also help a man look good at all times. Here are a few of the most well kept secrets that we bring to you today that is sure to help you unleash that lost charm and have dozens of women complement you.
Shaving: Let us start with the most elementary skin care tips that every man can put to use. It is important that you exercise extreme caution while shaving unless you want to suffer from nips, cuts and stings.
Shaving Technique:
Always shave in the same direction as hair growth. Start with lathering the skin with a foaming gel that is not too harsh.
Do not apply too much pressure, for that can cause in growns. Start with the toughest areas like the moustache and chin and then tackle other areas.
Use a mild after shave lotion that will act as an astringent and keep you feeling fresh for hours later.
Razor type

You know your beard best! Depending on the thickness of your beard and the frequency that you shave, change the blade after half a dozen uses. Using a good quality 3-5 blade razor will give you a close shave that you have always desired. Make sure you wash the razor in luke warm water after each use.

A sharp blade also helps exfoliate dead skin. So do not hesitate to change the blade, the minute you find it going blunt.

Face wash:

It is your face that exudes your personality. And regular cleansing will keep it both clean and bright. Wash your face at least 4-5 times during the course of the day. This will help keep your skin pores unclogged despite the pollution, humidity and other factors like dust that can cause for the pores in your skin to clog.

Also remember that you should pick a face wash that is best suited for your skin type. Using a face wash meant for moisturizing your skin when you already have oily skin can cause for your skin to break out further.

Moisturize

Who said moisturizing is only for women? Make sure you use a good moisturizer and pamper your skin before you hit the bed. The best time to use a lotion is at night, for this allows for the skin to soak in its goodness while not being exposed to dust and grime.

Always apply moisturizer when your skin is slightly damp, for this is when the skin absorbs the moisture and locks it in for longer.

Soap to choose

Choose a soap that is refreshing and helps to remove all the grime and build up after a long day at work. Using a loofah with your body wash will help exfoliate dead skin and keep your skin fresh and radiant.

Say no to medicated soap unless you have been prescribed to use one. Over use of medicated soaps do more harm than good as it can make you prone to bacteria and viruses later in time.

Sun protection

It is prudent that even men use sunscreen lotion, for their skin is as susceptible to the harsh rays of the skin. Use a sunscreen that provides both UVA and UVB protection that will ensure that you do not tan and also protect your skin from contracting diseases like skin cancer.

Avoid stepping out in the sun between 10 and 3 pm, for doctors state that this is when the sun's rays are strongest and can cause maximum harm. If you do have to step out or your work calls for it, then use a good sunscreen without fail.

Dermatologists suggest the use of a sunscreen that has at least 30 SPF or more for optimum protection and daily use. Be sure to use the lotion a good 20 minutes before you step out and reapply every two hours if you are still in the outdoors.

These simple skin care tips will protect your skin and keep you looking younger and dashing for years. Be sure you also supplement these tips with a healthy and nutritious diet, which goes hand in hand in ensuring your health is at the best!

Sehat provides list of best Dermatologists in Hyderabad from which you can research and choose the right doctor for your condition.