5 Benefits of Banana Peel On Face and How to Use it For Acne, Warts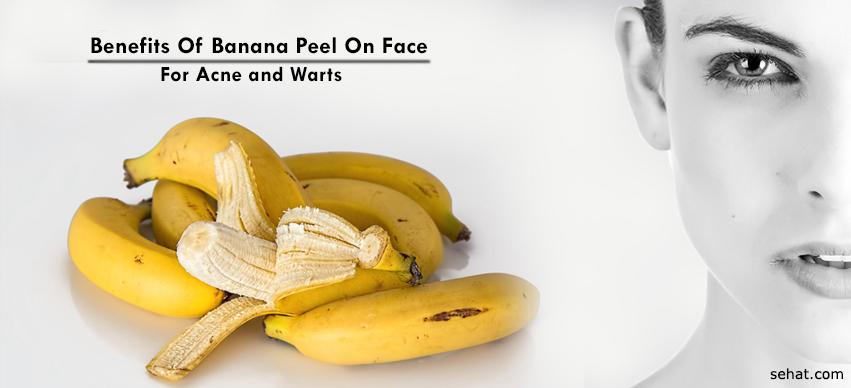 We often judge a person based on their external appearance, that is their attire or how they dress, hair and skin or complexion. Consequently, every person these days desires to have fresh, glowing and flawless skin. Skincare routines have garnered special attention in the recent past by both men and women. People are becoming increasingly aware of using herbal or natural products instead of chemical-based products for maximum benefits.
Just as we eat certain foods to maintain health, these foods are also frequently employed for external use on the skin as masks to achieve desired benefits. Use of fresh fruits and vegetable masks for both skin and hair has been used by people all over the world even before chemical creams and peels entered the market.
Banana is the most widely available fruit in India and also one of the most commonly consumed fruits by the majority of people due to its easy amazing health benefits. Medicinal effects of each and every part of the banana are documented in ancient medical texts. Read more to know about the benefits of a banana peel on the face.
Some Of The Well Known Health Benefits Of Bananas Are As Follows
Banana flowers are used to treat bronchitis, ulcers, and dysentery.
Cooked banana flowers are used for the treatment of diabetes mellitus.
Astringent banana plant sap is used externally for cases of hemorrhages, fevers, and epilepsy; used externally over insect stings, bites, and burns.
Banana peel and the fruit pulp has antibiotic and anti-fungal properties.
Banana roots are used to treat digestive disorders such as diarrhea and dysentery.
It is a common practice to eat the banana pulp and throw away the peel although it is equally rich in vitamins, nutrients, minerals, and fiber. This article will help you understand the different benefits of a banana peel on the face along with how banana peel can be used on the face and how it can be used on the skin.
Benefits Of Banana Peel On Face
As evident from the list of uses, bananas are one of the richest sources of nutrients such as vitamins, magnesium, calcium, fiber, and antioxidants.
Banana peel, although being the most wasted part of the fruit has amazing health benefits and is also rich in vitamin B, proteins, magnesium, fiber, and potassium.
Bananas along with the peel work as a great source of moisture for dull and dry skin since it is rich in vitamin A.
Vitamin C present in bananas provides a natural glow to the skin.
Vitamin A and C in bananas along with the peel have anti-aging effects when applied on the skin and hence can be used as amazing beauty secrete.
Bananas applied to feet also help to treat cracked soles.
If you have puffy skin below the eyes, applying banana peel on it helps to reduce puffiness due to its rich potassium content.
Uses of banana peel have also been documented several times in the treatment of warts.
For warts, apply a small piece of banana peel over the wart for about 30 minutes.
How To Use Banana Peel On Face?
1. For Puffy Eyes
Rub the inside of a banana peel beneath the eye for about 10-15 minutes. To achieve a cooling effect, the banana peel can be kept in the refrigerator for a brief duration and then used. Its potassium content helps to draw out the fluid which causes puffiness. To reduce the puffiness of eyes, bananas can also be consumed. Banana is an excellent home remedy to get rid of hangovers by virtue of its high mineral and antioxidant content.
[Also Read: How to keep your eyes healthy and beautiful]
2. For Acne
Rub a small piece of banana peel over the acne for about 5-10 minutes. Rub the peel until it turns slightly brownish. Let the residual banana over the acne dry off, then rinse the face with water. The antioxidant properties of banana peel help to get rid of the infection within the acne. This can be done 2-3 times a day.
3. For Itchy Skin or Rash
Banana peel can be rubbed over the itchy portion for about 10- 15 minutes to get relief from itching. Vitamin E, vitamin C, and other minerals work as antihistamines and reduce itching.
4. For Wrinkled Skin
Rub the inside of a small piece of banana peel over a wrinkled portion of skin for 5-10 minutes daily. Do not wash the face immediately after rubbing the peel. Let the residual banana over skin dry up, leave it for about 30 minutes and then rinse the face with water. Vitamin C and antioxidants present abundantly within the banana peel help to reduce wrinkles. Therefore, the banana peel also has anti-aging properties.
5. For Pigmentation
Acne marks, scars, and pigmentation due to sun tan can also be reduced by rubbing the inside of a banana on the face for about 5-10 minutes daily followed by rinsing face with water. The rich nutrient content of banana peel is an effective home remedy if you are seeking to get rid of dark circles or hyperpigmentation of the skin.
When speaking of utilizing a fruit to the fullest, this can be fairly possible with bananas. Apart from applying banana peel on face, they are also consumed in some parts of India in the form of delicious and equally nutritious recipes.
Banana peel creams and masks are also becoming increasingly available commercially for acne, itching and anti-aging benefits. It is a better option to use freshly and readily available banana peels instead of purchasing ready to use creams and masks prepared from the same.
Things To Keep In Mind When Using The Banana Peel On Face Are:
The effects of using the banana peel on the face can be seen only with the help of its regular and consistent use. It is relatively impossible to see miraculous changes in the skin only on single-use.
It is also important to use fresh banana peel for this purpose.
Do not keep the banana peel uncovered for a long time before consuming it or using it locally for the skin.
Keep the banana peels away from direct sunlight and also avoid refrigeration. This means that they are supposed to be used fresh, without any storage since they dry up easily.