Green Tea - World's Healthiest Beverage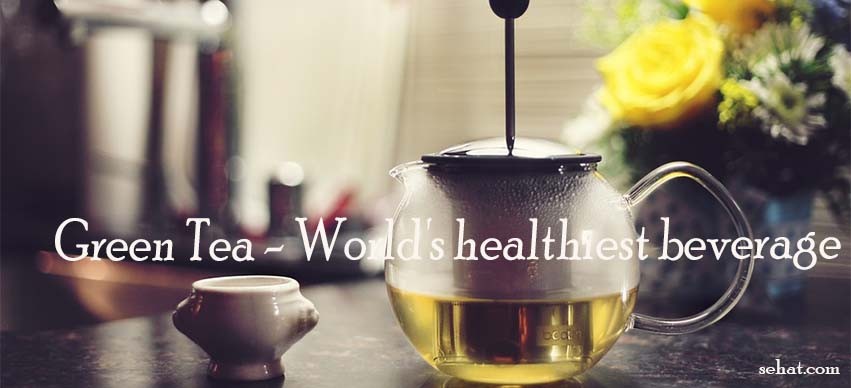 Why Green Tea?
What makes green tea so special? Its many health benefits combined with a mild and delicious flavor have brought green tea almost instant fame over the last few years. As more is learned about the cancer preventative properties and other health aspects of the drink, green tea will continue to be among the world's healthiest beverages.
Green Tea Helps Improve Your Health
Green tea lowers total cholesterol levels, as well as improves the ratio of good cholesterol to bad cholesterol. Moreover, it inhibits the abnormal formation of blood clots which is the leading cause of heart attacks and stroke. Green tea represses angiotensin II which leads to high blood pressure & reduces the possibilities of heart attacks.
Green tea can even help in preventing tooth decay. As the bacteria destroying abilities of green tea helps in preventing food poisoning, it can also kill the bacteria that cause dental plaque.
Green tea drinkers have lower risk for a wide range of diseases, from simple bacterial or viral infections to chronic disease including cardiovascular disease, stroke, periodontal disease, and osteoporosis.
Green tea helps a lot in lowering down the sugar level in a body so its very good for a person who is suffering from diabetes. It will help them in controlling their sugar level without any extra effort. The polyphenols present in green tea extract reduces the amount of amylase produced by conversion of starch into sugar and hence the levels of sugar in the blood also decrease.
One of the great advantages of drinking green tea is still there & I know after listing about this reason you will surely have a hot green tea. That advantage is weight loss. All those who want to be slim, smart & gorgeous will enjoy the green tea because it is natural & don't have any side effect.
Green tea just keeps getting better. To add to the abundance of health-improving qualities of the beverage, researchers claim that it can reduce the risk of skin cancer.