Homebrewed Recipes for Beauty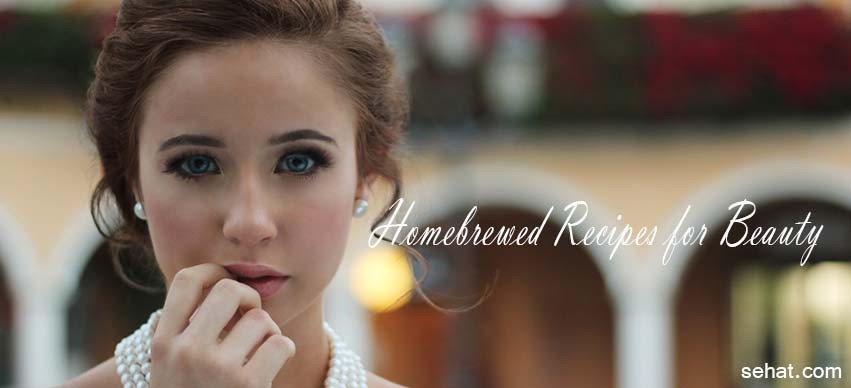 Cosmetics are known for enhancing beauty. Hundreds of new products are launched every year, with each one of them promising mesmerizing beauty transcending over time. However, despite those big promises, there is always an ugly truth that is far more petrifying than simple aging and loss of youth. Every cosmetic present in this world makes use of chemicals, which will eventually harm your health in more than one ways over the long term. As women are becoming more aware of this potent threat, there is no wonder that they are reverting back to homebrewed recipes for beauty. Here are some natural homebrewed recipes that can help you to retain your beauty and yet avoid those harmful chemicals.
Face Care with Honey And Banana Mask
This recipe is great for women with flaky and dry skin and need to moisturize their skin. Mashing a ripe banana and mixing it with honey (2 or 3 tablespoons) will form a paste. Applying the paste on face and neck and washing it off with lukewarm water after 10 or 15 minutes helps to moisturize the skin leaving behind a glowing face.
Exfoliation mask Of Milk and Papaya
Blackheads are a common problem that everyone faces. These can be removed with professional care. However, professional blackheads removal through beauty clinics can be painful. There is an easy solution to this. A homebrewed exfoliation mask made of milk and papaya can be used to gently remove blackheads and other dead cells and dirt from face. Mashing half of a ripe papaya and mixing it with milk (2 to 3 tablespoons) will give the exfoliation mixture. It can then be applied on face and neck. The mask needs to be gently rubbed on skin using fingertips. Papain, an enzyme found in papaya helps to unclog the skin pores and quickly removes dirt and dead skin cells.
Dark Spot Removal With Vinegar And Horseradish Mask
Dark spots and brown patches on skin do not look good. However, some modern day cosmetics can deal with these dark spots but at a cost of skin damage over a long term. You can instead opt for a homemade recipe which can help you to deal with the dark spots without damaging skin. Squeeze out the juice of a horseradish after grating it. A few drops of vinegar (apple cider) must be added to the juice. Apply the solution on the dark spots using a cotton ball. Rinse off your skin after 20 minutes. Apply this solution on affected areas at least 2-3 times each weak.
Treating Dark Circles with Cucumber and Potato Mask
Dark circles below the eyes are a big problem. This can be dealt with cucumber and potato mask. Mix a cucumber and a raw potato after grating them. Close your eyes and apply the mixture on your eyelids and below your eyes. Leave it for 15 minutes and then rinse your face properly with clean water.
Sugar and Lemon Scrub for Beautiful Hands
Take some granulated sugar in a bowl. 2 or 3 tablespoons will do. Squeeze out the juice of lemon in the bowl and mix it with sugar but ensure that the sugar granules are not dissolved completely. Apply the scrub on your hands and rub gently until all the sugar granules dissolve and are absorbed by the skin. Rinse your hands with clean and cold water. 2-3 applications a week is suggested for better results. Your skin will be smooth, soft and wrinkle free!