True Effects of Watermelon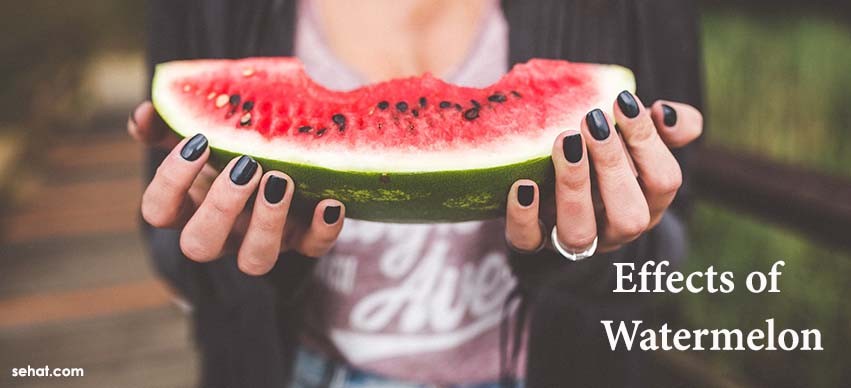 Let's be fair and square – how many times have you heard of 'all those amazing health benefits' that come stuffed in a watermelon? Well whether you have flipped through the pages of your favorite health magazine for it or have borrowed that little piece of advice from your parents, the fact remains that watermelon is indeed a great fat free fruit that provides numerous great health benefits.
But, hold on – the fruit also has somewhat a grey side (although, not so explored). To help you know what's underneath the hard green cover, we have something worth your glance. Listed below are some really good and bad side effects of eating too much of a melon – take a look!
Good Effects
While watermelon is mostly popular for its fat free and refreshing qualities, eating this fruit on a regular basis could be a great way to boost your energy. Since it contains vitamin A, B6, potassium, magnesium and some essential antioxidants, it helps in the formation of adenosine triphosphate and rejuvenation through adequate cellular functioning.
Watermelon helps your skin look younger while eliminating the risk of sun-related skin damage by 40 percent. Known as the nature's richest source of lycopene, watermelon plays a significant role in minimizing the risk of cancer and skin-related diseases.
Concurrently, the nutritious fruit ensures nippy healing of wound and other skin problems (if you have). Since watermelon contains amino acid citrulline (which gets converted into arginine in the body), it expedites the delivery of white blood cells to ruptured muscles or injured parts and helps generate new skin cells.
Eating watermelon on a regular basis can also help improve your sleep. You can consume a good amount of watermelon everyday in order to have sound sleep.
Watermelon can further play a significant role in lowering your blood pressure and blood sugar levels for good health. As it's known to enhance arterial health and its functioning, you can benefit largely from the fruit for maintaining a good balance of blood sugar in your body.
Bad Effects
Alright you may not be aware of, but eating 30mg or more of lycopene can actually result into certain side effects such as intestinal disturbance and cardiovascular problems. Excessive lycopene intake can induce bad effects like diarrhea, nausea, vomiting, bloating, gas problems and indigestion.
Since watermelon is rich in potassium, excessive amount of potassium intake can result into cardiovascular problems and dire health problems. You may experience weak or absent pulse, irregular heartbeats or even a cardiac arrest – hence, make sure you eat watermelon in moderation.
At the same time, people who have kidney dysfunction or other kidney-related problems should ensure that they have consulted their doctors before consuming watermelon up to three cups. High potassium levels may lead to serious kidney dysfunction.
Eating too much of watermelon may also develop allergic reactions such as facial swelling, severe rashes or anaphylaxis.
Well, although the nutritious and water-rich watermelon has both good and bad effects, make sure to eat in a proper way. After all, moderation is the key to one's good health!