Effects Of Stress During Pregnancy On Infant And Child Development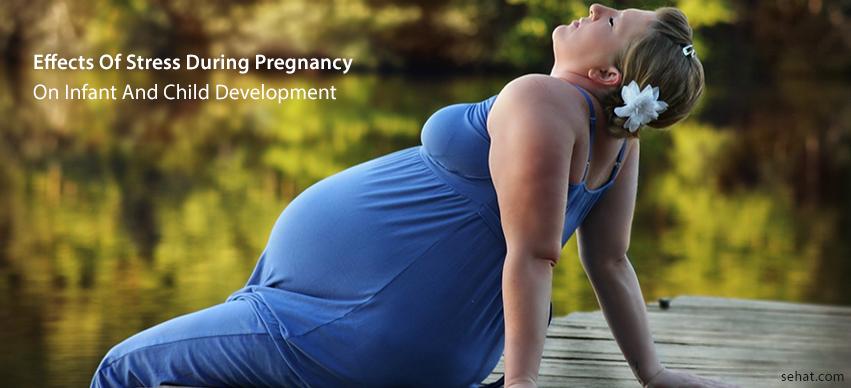 Pregnancy is one of the most crucial phases for all women. Every pregnant woman desires to be mentally as well as physically fit during this phase so that her child is born healthy. Being stress-free during pregnancy has always been emphasized to ensure that the woman has a safe and healthy pregnancy. It is a well-known fact that environmental, psycho-social and cultural factors can have a significant influence upon both maternal and fetal health. It is also known to greatly affect infant and child development during the later years.

Stress during pregnancy can be explained as "The imbalance that a pregnant woman feels when she is unable to cope with demands which are shown both behaviorally and physiologically". Prenatal stress can range from mild or moderate to severe stress. Mild stress during pregnancy is an obvious feature as each woman is constantly worried about the health of her baby as well as herself; but when this stress exceeds the normal, it can lead to detrimental long term effects and alter the child's development.

Prenatal stress is also known to be directly associated with the number of pregnancies, the educational status of the mother and father and the average family monthly income. Some of the prenatal stressors commonly found in Indian families include

Personal life
Death of an older child
Job status
Family make up
Housing
Domestic violence
Fear of an infant's health
The outcome of antenatal screenings
According to studies, about 8 – 13% women each year are diagnosed with anxiety and depressive disorders during pregnancy and about 30% of antenatal depression extends into the postpartum phase. Additionally, mood disorders during pregnancy are equally associated with negative pregnancy outcomes.

Cause for stress and degree of stress along with the ability of a pregnant woman to cope with these are important factors which determine its effects on pregnancy outcomes. This article will further help you to understand how stress affects infant and child development both acutely as well as its long-lasting effects upon the child's health.

Effects Of Stress During Pregnancy On Infant And Child Development
Under stress, stress hormones such as cortisol are released into maternal blood. These stress hormones are known to reduce blood flow to the uterus and fetus leading to intrauterine growth retardation (IUGR). Similarly, adverse pregnancy outcomes due to prenatal stress occur as a result of disruption of adaptations in maternal immune, nervous and endocrine systems which support a healthy pregnancy.

Mild To Moderate Prenatal Stress
Mild to moderate prenatal stress has been linked to increased incidence of preterm birth and delivery of a low birth weight baby, both of which are responsible for long-lasting defects in the behaviour of the child, psychology, physiological functioning, and overall development.
Severe Stress
Severe stress on the other hand, during early pregnancy, has the greatest impact on the birth outcome. Carmicheal and Shaw concluded that severe stress was associated with the pregnant woman giving birth to infants with the following defects:
Neural tube defects
Cleft lip deformity
Some of the birth-related complications associated with stress during pregnancy are:
Preterm labor
Low infant birth weight
Pre-eclampsia
Restricted fetal growth
Infant mortality
Those infants who survive these negative pregnancy outcomes are at a higher risk of having physical and developmental delays later in life.
Long-Lasting or Persistent Effects Of Stress During Pregnancy
Persistent effects on physiological and immunological functioning as well as behaviour throughout the lifespan of the child.
Prenatal stress is also known to affect the stress reactivity of such children. Studies suggest that such stress reactivity is associated with emotional temperament in later life.
Stress during pregnancy is related to weaker cognitive abilities even in the absence of low birth weight and preterm labor.
Studies have shown that exposure to maternal cortisol under stressful conditions creates long-lasting changes in the structure of the amygdala and hippocampus (parts of the brain) in infants and is responsible for the development of signs and symptoms later in life.
Increased risk of developing allergies and asthma later in life.

Studies also suggest that infants of stressed pregnancies are at high risk for contracting childhood illnesses and have a weaker immune function.
Studies have also found that women with high-stress levels, especially during the first trimester have an increased likelihood of giving birth to children with autism disorder.
Severe stress during the first trimester is also linked to a higher risk of the child being born with congenital malformations.
Studies conducted on older children of age group 3 – 16 years concluded a significant association between prenatal stress and development of conditions like anxiety, depression and attention deficit hyperactivity disorder (ADHD).
It is evident that there is a link between maternal stress and negative pregnancy outcomes. This strongly suggests the importance of identification of prenatal stress and providing these women with appropriate psychological intervention in order to improve maternal mental well being and subsequently its impact on infant and child development.

Different women tend to react in a different manner to the same stressor. No matter how mild the stressor may be, prenatal stress tends to affect the mental, psychological as well as physical health status of each pregnant woman.


The current antenatal care techniques are not equipped enough to identify pregnant women who may be suffering from varying degrees of stress due to numerous reasons. A stress assessment tool can be implemented for the first antenatal visit to obtain a broad idea regarding the mental and psychological status of pregnant women at first as well as subsequent visits.


Psychological assessment during initial screening and identification of antenatal stress is beneficial for pregnant women. Pregnant women having any kind of stress can be provided with appropriate therapeutic management and counselling in order to prevent maternal complications and adverse pregnancy outcomes.