Indian Diet Plan To Lose Weight After Delivery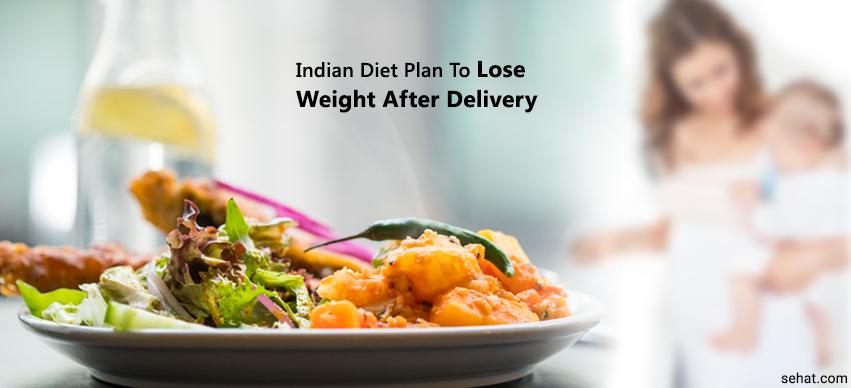 It is well known that pregnancy and delivery are extremely crucial phases for any woman. Women strive to maintain a healthy mind and body right from the beginning of pregnancy. Besides, a properly balanced diet during pregnancy not only ensures adequate nutrition to the pregnant woman but also to her growing fetus.
Since women gain a considerable amount of weight during pregnancy as a basic requirement for a healthy pregnancy and a normal delivery, losing weight after delivery often seems to be an impossible task for several women.
The internet is flooded with a wide range of diet plans for postpartum weight loss. Unfortunately, very few Indian women benefit from such diet plans because our food choices, preferences as well as the availability of certain foods are quite different as compared to that of the Western countries.
This article will take you through Indian diet plan to lose weight after pregnancy. The diet options are mentioned considering those foods that can be easily accessible to Indian women as well as affordable so that maximum women can follow the diet plan and achieve desirable weight loss after delivery.
Indian Diet Plan To Lose Weight After Delivery
The prime aim of any diet plan for weight loss after pregnancy is to help the person lose weight while consuming a nutritious and well-balanced diet and equally supported by an effective exercise regime. Indian diet plan to lose weight after pregnancy can be segregated into the following food types. Women can consume the below-mentioned foods as per their suitability to achieve the desirable postpartum weight loss.
1. Fiber-Rich Foods
Fiber-rich foods such as whole grains, nuts, cereals, oats, fresh fruits, and vegetables in the form of salads. Consuming fiber-rich food is linked to faster visceral fat loss, that is, fats present around the abdomen. An additional advantage of consuming fiber-rich foods is that such foods create a feeling of fullness and therefore also help to suppress appetite.
2. Proteins
Proteins including lean proteins in the diet help to lose weight since the body requires more energy to digest and metabolize proteins. Some of the best sources of proteins are
Sprouts

Sprouts are the best vegetarian source of protein along with vitamin B and vitamin C. Sprouts can be consumed in the form of salads or bhel with slight seasoning to add taste.

Paneer or Cottage Cheese

Paneer or cottage cheese contains proteins as well as calcium. This food causes fullness for a long time even if consumed in small quantities, thereby suppressing appetite. Paneer can be consumed in the form of sandwich, stuffing or salads.

Eggs

Eggs are most readily available and also the most widely consumed breakfast in India. Eggs have high protein content. A single egg contains about 6 grams of proteins.

Eating eggs for breakfast or for any meal of the day instantly creates a feeling of satiety which prevents the need to eat any snacks for almost up to 2-3 hours. Also, eggs help to build overall strength and provide enough energy and proteins required for faster recovery.
2. Soups
Soups can be prepared out of almost any and every food product. Clear vegetable or chicken soups or stocks are rich sources of nutrition and also provide quick satiety. Also, preparing soups is less time consuming and a good replacement to a full meal.
[Also Read: Soups For Weight Loss]
3. Fresh Fruits And Vegetables
Fresh fruits and vegetables can be consumed in the form of salads and are extremely beneficial for women after delivery as they are loaded with nutrients like vitamins, minerals, dietary fiber and antioxidants which not only provide ample nutrition and immunity but also enable faster recovery.
7 Tips To Lose Weight Faster After Delivery
1. A Well Balanced Diet
Consume a well-balanced diet not only ensures adequate nutrition but also helps to speed up the process of recovery postpartum.
2. Avoid Skipping Meals
Skipping meals will make you lose out on energy; besides, losing weight loss by skipping meals is an unhealthy choice.
3. Smaller Meal Portions
Smaller meal portions are more beneficial as compared to consuming 2-3 large meals. Smaller divided meal portions help to keep the stomach full and also restrict the amount of food being eaten.
4. Drink Plenty Of Fluids
Drink plenty of fluids such as plain water, coconut water, lemon water, and freshly prepared fruit juices should be consumed at regular intervals throughout the day instead of packaged juices. These types of fluids ensure sufficient hydration and are also low-calorie drinks as compared to the packaged ones.
5. Breast Feed
Besides consuming a healthy diet, women are also advised to begin breastfeeding after delivery as it helps in accelerating weight loss. However, very few research papers support the theory that lactation and breastfeeding enhance weight loss in women after delivery.
6. Avoid Outside Food
After delivery, it is essential to consume home-cooked food only, as women are extremely vulnerable to infections during the postpartum period. Fast foods are also to be avoided completely as they are usually high in calories and trans fats. This also includes complete avoidance of packaged foods as they contain additives and preservatives.
7. Mobility
Women after delivery can begin walking or engage in low-intensity exercises after prior consultation with their doctor. Exercises postpartum must be done only under supervision.
The literature claims that most women return to their pre-pregnant weight by about 6 months following delivery. Some studies also claim that in the first three months following delivery, the amount of weight loss observed in females who breastfeed their babies is nearly the same as females who choose not to breastfeed.
It is also important to realize that despite all efforts, not all women lose weight postpartum, some women may even gain weight whether they breastfeed or not. This is because different bodies respond differently to diet and exercise.
Therefore, instead of blindly following a diet plan, it is important to consult your doctor as well as a qualified dietician and nutritionist to receive a comprehensive Indian diet plan to lose weight after delivery which will suit your particular body type and food tastes and preferences.