9 Products To Protect Hair Damage From Sun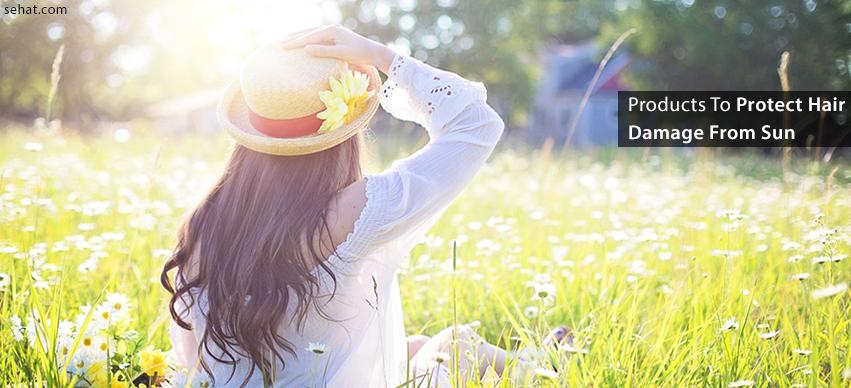 We all know the importance of protecting our skins for extreme sunlight. In fact, the majority of us pay much attention to different ways in how we can preserve our skins for the harmful sun rays. But, why do we forget to do the same for our hair? And, the hair is equally important. In fact, having damaged hair is embarrassing and very difficult to manage. So, the same way we pay attention to our skin should be done to the hair. Here are a few products to protect hair damage from sun.

Neglecting the health of your hair will contribute to hair damage which is characterized by dry and brittle strands, thinning, broken or split ends, and discolouration among others. And, prolonged exposure to sunlight is a contributing factor to damaged hair.

Products To Protect Hair Damage From Sun
Hair sunscreen products refer to UV-filtering substances that put a protective shield between your hair and the harmful sun rays. They help prevent scalp and hair damage. Try out these products especially if you are exposed to prolonged sunlight.
1. Aveda Sun Care Protective Hair Veil
Sun care hair veil is a lightweight, water-resistant ultraviolet protective mist. When used, it forms an invisible screen that protects your hair from harmful sun exposure. Therefore, it minimizes hair dryness and damage.

It's made up of essential components such as cinnamon bark oils, shea butter, and vitamin E among others. Additionally, the sun cares hair veil is water-resistant. Therefore, you can use it by the pool or beach. It's ideal for all hair types.

2. Sachajuan Hair In The Sun
This hair product acts as a mask, it's lightweight, and it helps to protect the hair from damage and discoloration. It delivers moisture to thirsty hair strands. The Sachajuan hair product can be used for both dry and wet hair.

The product is designed with UVQ technology, so it sits on the surface of the hair to absorb the ultraviolet rays. Additionally, it's water-resistant, so it will stay intact even when your swimming or you decide to visit the beach. It's among the most brilliant products for hair and scalp damage.

3. Mark Hill Protective UV Shield
The mark Hill cream is another amazing protective cream for hair protection against sunlight exposure. Mark Hill cream is made of elastin which increases the hair tensile strength. Therefore, your hair doesn't break easily.

Additionally, the special filters in the cream help to prevent the saltwater, UV light, and chlorine from altering the color of the hair. Directly apply the cream and comb through damp hair in the morning. Wash your hair before you sleep.

4. Soleil Creme
Soleil cream is a multi-tasking protector that helps protect your hair from harmful ultraviolet rays. Besides protecting your hair against exposure to sun, it also prevents damage from salty sea water and chlorinated pools.
5. Coola Organic Scalp & Hair Mist SPF 30
The coola organic cream is a moisturizer and sunscreen in one. Just spritz some it on your scalp and hair in the morning or before heading to the sun. The coola organic cream contains avobenzone that protects your scalp and hair from UV rays. Additionally, it contains panthenol compounds also acts as a natural moisturizer and therefore it's essential in strengthening your hair while keeping it healthy. This product is a perfect UV protection for color treated hair.
6. Oribe Power Drops Color Preservation Booster
Oribe power is a highly concentrated serum that is rich in antioxidants, amino acids, and Vitamin C. This product reduces the chances of free radical damage, and as well it provides a natural shield against UV rays and protects your hair from discoloration. Simply apply the cream directly to the hair before heading to the sun.
7. Phyto Plage Protective Sun Oil
The Phyto plage oil is specifically designed to protect your hair from being weakened by the harmful Sun rays. Directly spray the product on wet or dry hair before going out or after swimming.

The Phyto plage sun oil is packed with sunflower extract that contains antioxidants that protect your hair from damage due to sun exposure. When applied, it makes your hair smooth, silky, and shiny.

Some Best Natural Hair Products
UV protective hair products are numerous and readily available in your local stores. However, given that they are not 100% natural, the use of these products can sometimes pose some side effects. Therefore, don't overdo the use of these products.
1. Try Out A Hat
The best way to protect our hair from sun damage is through wearing a hat. Wearing a hat offers a protective shade thereby maintaining the healthy if your skin, hair, and scalp. Wearing a hat is not only fashionable, but it's also quite cost-effective and 100% natural.
2. Natural Hair Products
Alternatively, you can opt to go for natural home remedies. They are 100% and very effective with no side effects. For instance, natural sunscreen for hair includes olive oil, raspberries, avocado, Aloe Vera, tea oil, and coconut oil. They strengthen your hair while adding a shiny and smooth effect to it. These products also protect the scalp and hair from damage due to sun exposure.
Conclusion
Now that you know the various products to protect hair from sun damage, it's your choice to find out what works for you. Get it, and enjoy the sun without any worries.