When Can You Wear Makeup After Facelift?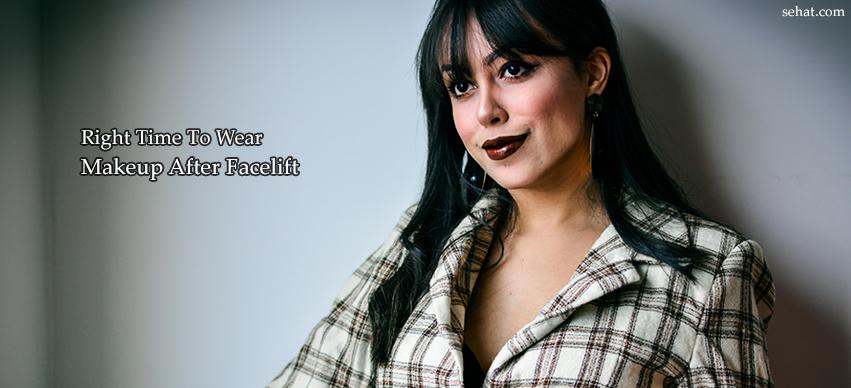 The cosmetic procedure leaves redness, bruises, scars or discolouration on your skin. These are temporary problems and take some time to heal. After a facelift, you may tempt to cover these scars with makeup but have patience. Putting makeup on your face (too soon) after Face Lift Mississauga may cause infection, decrease the speed of healing procedure and deteriorate scars.
The makeup can put pressure on your skin and force a doctor to reopen your incision. With smooth and quick healing procedure, you can decrease the appearance of marks and evade complications. Old patients have to wait for a longer duration before using makeup because their skin is thinner and prone to staining.
Discuss With Your Doctor
Before plastic surgery, you will need planning and preparation. Start your work by selecting the right surgeon. Women may not think about the effect of their cosmetic surgery. After this procedure, the doctor will discuss your beauty routine. You have to ask your doctor for how long you have to wait before using facial products or makeup. The general instructions from a doctor may help you to prepare your body for surgery.
Avoid The Use Of Heavy Makeup
Wait for almost ten days before using makeup after cosmetic surgery. Avoid heavy makeup to cover surgical scars or irregularities on the face. It may leave shadows and highlight scars on your face. Choose a sheer foundation and work on your cheekbones, lips, and eyes. By highlighting these areas, you can distract attention from scars. Consult your doctor before using high-coverage makeups. These can hide discolouration and cover surgical scars. Use a concealer with green tins to balance extra redness.
Don't Apply Pressure To Nose
Initial three weeks are necessary for your face after a facelift. Don't apply pressure to nose after your rhinoplasty. Try to apply makeup in different sections of your face, but avoid your nose. You can cover under eye bruises, produced by surgery, with a concealer. Prefer shade lighters over base colors and apply a lighter under foundations to get a seamless look.
Don't Wear Eye Makeup for Two Weeks
After eyelid and brow lift surgery, you have to avoid eye makeup for almost two weeks. Feel free to apply to makeup on other parts of the face, but avoid brows and eyelids. After 14 days, you can apply blue eyeliner to the bottom and top lids to decrease the appearance of bruising and redness around eyes.
Eyebrow Hair Loss
If you lose eyebrow hair because of surgical scars, you can use matte eyeshadows to fill in brows. Choose a shadow similar to your eyebrow colors. Use an angled, small brush to apply shadow. Smudge an eye shadow (soft) pencil toward outer corners of your eyes to conceal scars. After a chemical peel or skin resurfacing, you have to wait for almost seven days to let your skin regenerate. Apply water-based makeup only for the initial three weeks to remove it easily with water. Carefully buy cosmetics for your sensitive skin. After almost six to seven weeks, you will be able to use normal cosmetics.