5 Tips to Prepare for a Doctor Appointment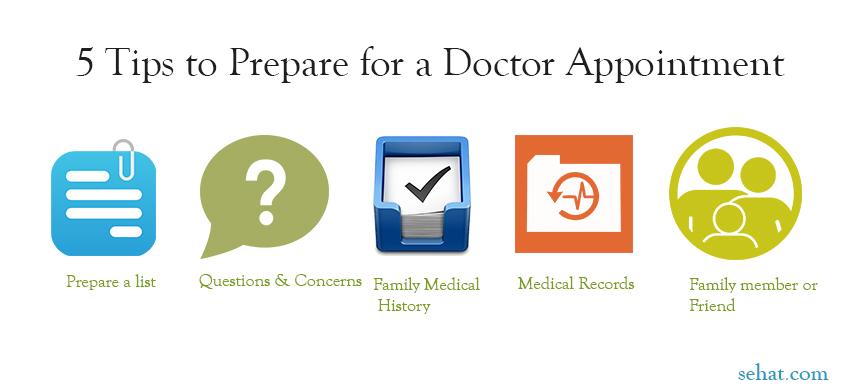 With growing age, it becomes important to consult a physician at times and get regular checkups. Your active participation is always welcomed by a good healthcare practitioner. Usually, it is very difficult to get ample one-on-one time with the doctor. It is, therefore, very important to make the best of every minute you get with your physician. This is possible only if you have prepared beforehand for the visit.
Preparatory Tips for a Doctor's Appointment
Making preparations for a doctor's appointment is one of the most important steps in health care. Moreover, these preparations can make the visit more productive. Here are some tips to help you prepare for a visit to your doctor.
1. Prepare a List
The initial step is to prepare a To-do list. This basically means you write down everything that you want to ask your healthcare provider or discuss with him. This way, you won't forget anything and will make the most of the time the doctor allots you.
2. Prioritize Your Questions and Concerns
Prepare a list of questions and concerns you want to share with your doctor. Then, rank these questions and concerns, according to priority, with the most important one first and least important last. This would prevent you from wasting time discussing unimportant concerns or holding small talk while you try and recollect what you want to ask. Also, note down other problems that might require you to make a separate appointment.
3. Be Prepared with the Family's Medical History
There are many medical conditions that occur because they are hereditary. Your doctor may ask you about such illnesses to check your susceptibility. Some of these illnesses include hypertension, diabetes, heart disease, mental diseases and cancer. It is, therefore, important to be aware of the health problems of your immediate family. So, spend time speaking to them and taking notes.
4. Carry Along Your Medical Records
Make sure you carry your medical reports, like MRIs and X-rays, from other physicians. If you are referred to some other doctor by your physician, it is advisable to speed up the exchange of medical records. Being quick with the exchange of records can help you save money, as you won't have to undergo expensive diagnostic tests again.
5. Bring Along a Friend or Family Member
Another important tip when visiting a doctor is getting a friend or family member to accompany. However, it is important that the person is acquainted with your health condition. This way, the accompanying person can help you listen and ask the right questions. Moreover, you can also consult the person to make certain important decisions while at the doctor's clinic.
These are just some of the tips to make the most of your visit to the doctor. Many times, doctors may ask you questions that you don't have answers to. Such instances can be avoided by properly preparing for the visit and doing your homework well. Above all, being well-prepared to meet your doctor will assist you and the doctor to come up with a health care plan that suits your health needs.